Woodford Reserve Toasted Oak Rye is an addition to Woodford Reserve's Distillery Series, a line of limited-edition expressions available only at the Versailles, Kentucky, distillery. These whiskeys are a site for experimentation, giving the distillery the chance to play with different mash bills, barrels, and fermentation techniques. One release back in 2015 was the Sweet Mash Redux, a whiskey made with a non-soured mash.
Earlier this summer, I got the chance to try the blended rye from this series. Woodford Reserve Toasted Oak is a follow-up to that whiskey, released in June. Information from the distillery on this release notes it's made with a "rye mash." that was first aged in used Woodford Reserve bourbon barrels and finished for two years in "new Woodford Reserve Double Oaked barrels."
I'm assuming that last bit means it's finished in the same barrels used to finish the distillery's Double Oaked expression. Those barrels are "deeply toasted before a light charring." Basically, it sounds like this is a rye with a little less of the caramel and vanilla flavors new charred oak barrels typically impart to bourbon and rye whiskeys.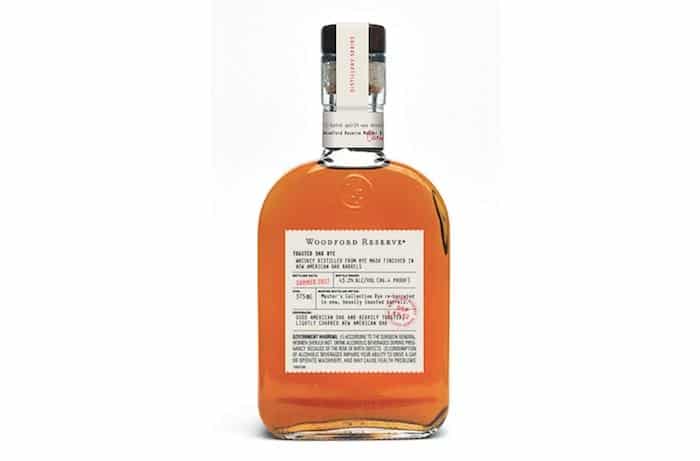 Tasting Notes: Woodford Reserve Toasted Oak Rye
Vital Stats: Bottled at 45.2%. No mash bill or age statement. Aged in used Woodford Reserve bourbon barrels, finished for two years in new toasted and "lightly charr[ed]" oak.
Color: Gold-amber
Nose: Juicy and fruity up front, followed by major spice. Think black cherries in syrup, cranberry sauce with cinnamon, and pears poached in red wine. After a few minutes in the glass, I get a sweeter side: vanilla bean, honey, and shortbread.
Palate: More fruit at the front of the palate. It's almost tart, like a thimbleberry. Some toasty grain underlies the fruit. Loads of warm spice at the back of the tongue, then vanilla and a faint whisper of oak on the finish. Solid on the palate.
The Takeaway
Summary
I like this rye very much, better even than the other Distillery Series rye expression I reviewed earlier this summer. The reduced influence of oak here lets the character of the rye itself shine through, but with the grain's fruit and warm spice side, rather than its hot, peppery side, leading. It's both a rye for people who like rye, and an approachable introduction for newcomers to this style of whiskey.
As with the other entries in the Distillery Series, this isn't an easy whiskey to buy, but if you can get your hands on a bottle, it's definitely worth a try.

Editor's Note: This whisky was...
Katelyn is a freelance writer in Portland, Oregon. She's a regular contributor to the Whiskey Wash with an affinity for the unique and weird side of whiskey.