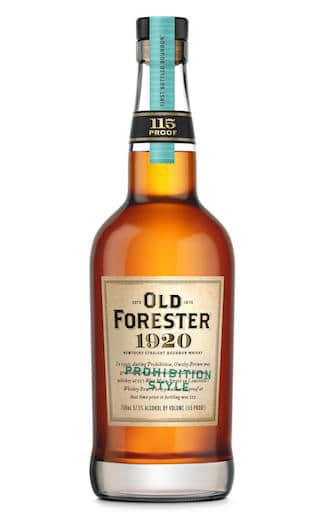 Editor's Note: A sample of this whiskey was provided to us by those behind it. The Whiskey Wash, while appreciative of this, keeps full independent editorial control over this article.
Brown-Forman's latest release for the Whiskey Row Series, which honors Louisville's famous whiskey complex of the same name, also pays homage to the period when not much whiskey was being made. Old Forester 1920 Prohibition Style bourbon (the subject of this review) joins two other previously released expressions in the series, 1897 Bottled in Bond and 1870 Original Batch.
While most distilleries shuttered during Prohibition, Brown-Forman received a federal license to continue making Old Forester for medicinal purposes. So, similar to the previous two releases, 1920 Prohibition Style reflects the style of whiskey that would have been distilled and bottled by Brown-Forman during Prohibition.
To mimic what a barrel proof bourbon would have tasted like during prohibition, 1920 Prohibition Style bourbon is bottled at 115 proof. Why 115 proof? During Prohibition, whiskey was required to be bottled at 100 proof. To keep from adding too much water to the aged whiskey to proof it down to 100 proof, distillers also barreled whiskey around 100 proof. Brown-Forman (and probably master distiller Chris Morris) estimates that, with "angel's share," an aged bourbon would have been about 115 proof out of the barrel.
With most other Kentucky distillers selling high proof bourbons, I'm quite pleased to see Brown-Forman joining the party. Let's see how it tastes.
Vital Stats: Since an age statement is not provided, and Old Forester 1920 Prohibition Style is a straight bourbon whiskey, that means the bourbon is at least four years old (and maybe 4.5 years). As discussed above, 1920 Prohibition Style went into the bottle at 115 proof. In addition, the mash bill is likely the same 72% corn, 18% rye, and 10% malted barley recipe used in other Brown-Forman bourbons. Old Forester 1920 Prohibition Style bourbon retails for about $60 per 750 mL bottle.
Appearance: Old Forester 1920 Prohibition Style bourbon appears deep amber brown in the glass.
Nose: Strong cherry and dark fruit notes dominate the nose, and some light notes of caramel and seasoned oak linger underneath.
Palate: On the front palate, a very brief berry note leads off the front and the flavor transitions to caramel and toasted nut notes. In the mid-palate, the caramel note drops off and seasoned oak and caramelized sugar lead into a light cream and seasoned oak finish.
Final Thoughts and Score/Buy A Bottle:
Score: 88/100
Old Forester 1920 Prohibition style bourbon is easily my favorite expression of the Whiskey Row Series. I've been a fan of Old Forester Signature, and 1920 Prohibition Style bourbon is has a similar flavor profile but much stronger. If I had one minor gripe, it would be that this expression likely started as normal barrels of Old Forester distillate, with a barrel entry proof of 125. If Brown-Forman really wanted to make an interesting bourbon, barreling some bourbon at 100 proof for a future release would be a more accurate reflection of a prohibition style whiskey.
Overall, I find the flavor profile to be interesting. And, I would certainly recommend this bottle, especially if you can find it below the suggested retail price.

Milam & Greene Whiskey recently...