Amidst his semi-retirement, distilling-novice Nick Quint recognized the potential for micro-distilleries to take off as micro-breweries had. Building on his professional experience in water filtration and bottled water, he sought out education on the distilling process and industry, and ultimately founded the now family-run Yahara Bay Distillers – the first in Madison, Wisconsin (and Dane County, in which it is situated) and second in the state. It's named for the Yahara River, which connects the lakes around Madison.
Since opening in 2006, Yahara Bay has grown from producing three to more than 40 spirits, including a variety of creative whiskey, vodka, rum, liqueurs and gin. This includes 22 Yahara Bay-branded products, along with a variety of other private label and contract products, including a partnership with Vom Fass. Quint acknowledged that "Most craft distilleries do not do this contract stuff because it's beneath their dignity … But my objective when I started this was to run it like a business. And for a business, a sale is a sale. We helped a lot of guys get going."
Its original spirits were made in small batches in a 90-gallon copper still from Germany, which was assembled by Nick and his stepson Lars Forde, the head distiller – but to keep up with their expanding product line and growing demand, Yahara Bay moved into a much larger facility in nearby Fitchburg, Wisconsin, last year. Just this May, a new 300-gallon, 24-plate copper fractional still was debuted at the distillery
The distillery stays away from anything artificial, including additives or coloring, in an effort to produce higher quality spirits. Among its mainstays is its best-selling Yahara Bay Whiskey, which is the first official aged whiskey produced in Wisconsin since prohibition.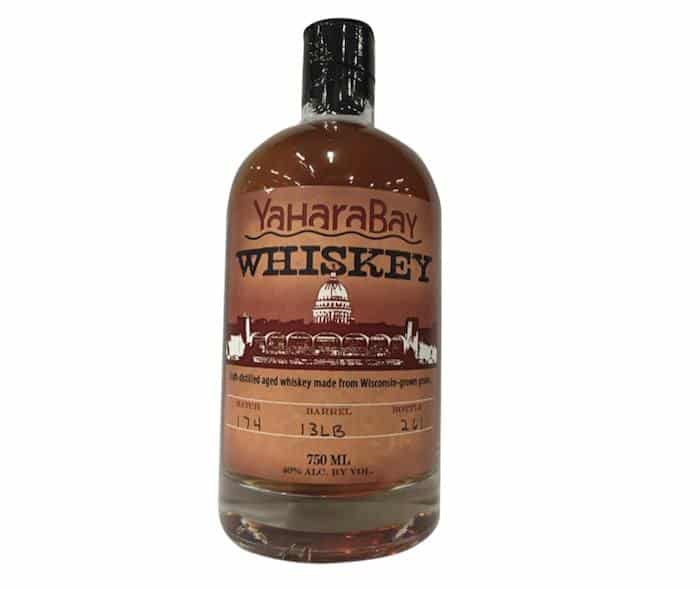 Tasting Notes: Yahara Bay Whiskey
Vital Stats: Yahara Bay Whiskey is a two-year, single batch, single barrel whiskey made from a combination of Wisconsin-grown corn, barley, wheat and rye. Aged in southern White American oak bourbon barrels for two years,  bottled in 750 ml bottles at 80 proof, and priced between $30-$40. Each bottle is hand numbered — mine indicated Batch Y8, Barrel 108, Bottle 325.
Appearance: Some small, flaky particulate floats in the whiskey. The color is a tan, like a standard hardwood floor, and pours notably lighter in the glass. When swirled, fine legs can be seen.
Nose: A variety of notes poke through, including sweet tones of Halloween pumpkin candy, a sweet/savory aroma of grilled corn, a tang of turpentine, and floral honeysuckle as it breathes.
Palate: An initial touch of spice hits the tip of the tongue, tempered by a mellow sugar cookie sweetness and slight vegetal savory quality. This is smooth and simple, a quick ride from sip through swallow and dissipation. The nose proved to offer more complexity than the taste journey.
The Takeaway
This was literally a tough bottle to get into — thanks to a beautiful, thick wax coating the top — but easy to drink in its simplicity. It is good! It is not a whiskey to reach for when looking for more clearly discernible and defined notes on the palate, but this isn't unexpected for such a young whiskey.
It would be a welcome in a hot toddy, when the warming and general pleasantness of whiskey is desired without being too intense, or mixed with iced lemonade (as suggested by the distillery) on a warm summer day.
User Review
2.44

(

9

votes)

Maine's Wiggly Bridge Distillery has...