In the heart of bourbon country in Bardstown, Kentucky, is Barton 1792 Distillery, which has been around since its establishment in 1879. Since 2009, it has been owned by the Sazerac Company. Barton produces an extensive line of spirits, including a line of smaller-batch bourbons targeting the higher-end of the market and aficionados.
Its 1792 Bourbon has earned a string of awards and accolades, and has branched into a series of limited edition expressions. Among these special release bottles is the Bottled in Bond varietal.
"Bottled in Bond" indicates a certain label for a spirit produced in America, and refers specifically to an eponymous 1897 Act that set legal regulations "contained in the United States government's Standards of Identity for Distilled Spirits". This act was brought about in response to "widespread adulteration of American whiskey", and in turn made the federal government the guarantor of distilled spirits. If, like me, you enjoy nerding out on the details, additional specifics about the requirements of "bottled in bond" can be found here.
Unlike some other descriptors or qualifiers that have more subjectivity, bottled-in-bond actually carries some weight. Barton goes as far as to say the act "revolutionized the quality of American whiskey," and this year's 1792 Bottled in Bond Bourbon was created in testament to that tradition.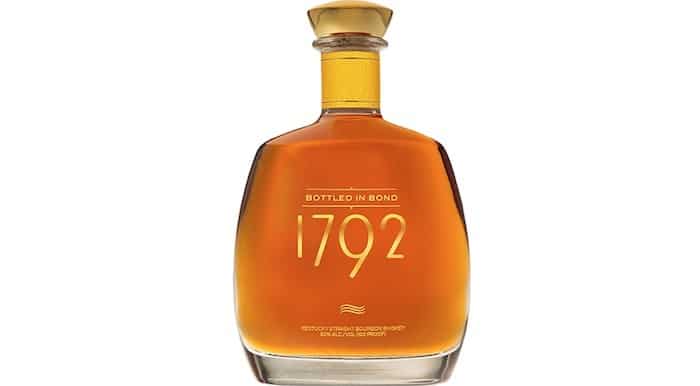 Vital Stats: This straight Kentucky bourbon whiskey is "from barrels all filled during the same season was bottled at exactly 100 proof." It's a no age statement bourbon, though the distillery described it as "well aged," and a 750 mL bottle is priced at around $36.
Appearance: The color of a rich wildflower honey. It thinly coats and clings to the glass.
Nose: Top notes of honeysuckle and clover honey, rounded out with char, vanilla oak and an herby brightness. Spice rumbles beneath the surface.
Palate: Warm and full, and more mouth-forward. The aromas are brought through in the flavor, with a layered maple and coffee-toffee sweetness and oak grounded by an earthy quality. The finish lingers, with a smooth yet spicy and savory buzz.
The Takeaway
If you're a fan of 1792 bourbon, you'll likely enjoy this. It's well-balanced, nuanced and versatile, and holds its own when sipped neat, with a small rock or two, as well as with a couple of drops of bitters.

Editor's Note: This whiskey was...