Irish whiskey producer Walsh Whiskey Distillery is known primarily for its The Irishman range of expressions. A few years back, founder Bernard Walsh went on a trip to Italy, laying the groundwork for a partnership with the Florio winery in the town of Marsala in Sicily that would ultimately result in two new bottlings finished in ex-sweet Marsala wine casks.
The new The Irishman Founder's Reserve – Florio Marsala Cask Finish and The Irishman 12 Year Old Single Malt – Florio Marsala Cask Finish, according to those behind them, were finished a minimum of one year in special hogshead casks which once housed Marsala wine from Florio. The reason Walsh had ended up at this winery was due to research into into new cask finishes for his portfolio of whiskeys which has also seen him visit Spain, France, Portugal, St. Lucia, China, Kentucky, and other parts of Italy.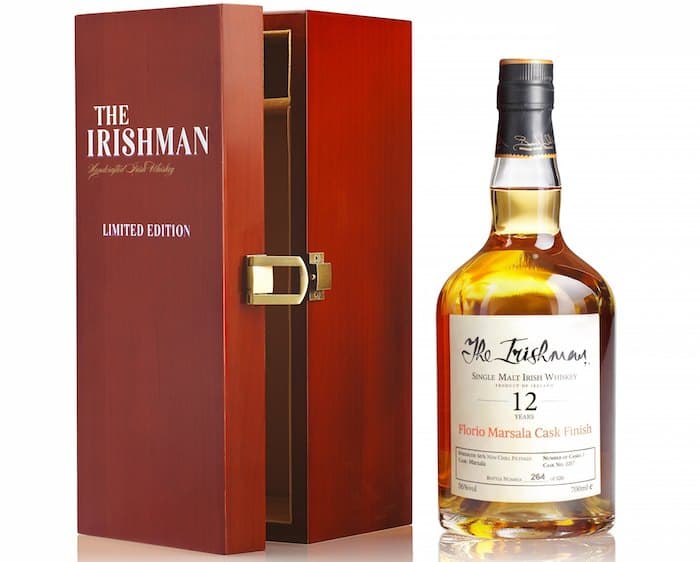 Information from the distillery indicates that, due to the evaporation during finishing that accounts for the so-called "angel's share," just 2,970 bottles of the Founder's Reserve were filled last month from nine casks. This release will be spread across seven markets: Ireland, Italy, France, Holland, Switzerland, Travel Retail and Germany. It is a triple-distilled, non chill filtered whiskey that has an ABV of 46%.
The 12 Year Old, meanwhile, was pulled from just a single cask, resulting in a 56% ABV, cask strength offering. It will be available just at the distillery, and is also triple-distilled and non chill filtered.
"I have always loved sweet tasting wines," said Walsh in a prepared statement, "so I was drawn to the Marsala from the outset, but I didn't want it to overpower The Irishman expressions either. I am delighted that we have achieved two beautifully balanced whiskeys which we are proud to make the ninth and tenth expressions in our portfolio."
You'll find official tasting notes for each below:
The Irishman Founder's Reserve – Florio Marsala Cask Finish
Nose: Sweet Marsala, zesty spice, vanilla, summer fruits
Taste: Malty aromas, red berries, bourbon oak, floral notes
Finish: Hazelnut, oak spices, nougat, reminiscent of an Italian summer
The Irishman 12 Year Old Single Malt – Florio Marsala Cask Finish
Nose: Delicious dark chocolate, sweet vanilla, apples and pears
Taste: Sundried fruits, peppercorns and spicy sultanas
Finish: Lingering tones of honey and orange peel

Glenfiddich Single Malt Scotch recently...
Nino Kilgore-Marchetti is the founder and editor-in-chief of The Whiskey Wash, an award winning whiskey lifestyle website dedicated to informing and entertaining consumers about whisk(e)y on a global level. As a whisk(e)y journalist, expert and judge he has written about the subject extensively, been interviewed in various media outlets and...