According to Filibuster Distillery's co-founder and Master Blender Sid Dilawri, the name is apropos because the whiskey is "so good… that you won't stop talking about it." He in fact developed the brand after years of experience as a spirits buyer in Washington D.C., as a means to help "unusual blends and barrels 'Be Heard.'" "Filibuster" as a name also happens to hold particular relevance now, given the current political landscape in the U.S.… however, whereas Congressional filibusters tend to be partisan, Filibuster Distillery is producing spirits with presumably much more of an all-inclusive appeal in mind.
Filibuster Distillery was founded in 2013 in Washington D.C. "with the idea of offering discerning spirits consumers a creative alternative to larger production brands." Taking inspiration from Scotland's varied cooperage traditions in regards to whiskey, Filibuster attempts a differentiated approach to the aging process for their bourbon and rye. Specifically with its "Dual Cask" series, which includes a bourbon, rye and gin, the American tradition of aging in new charred oak barrels is upheld – but then followed by a second aging in French wine oak barrels.
The wine barrels are intended to impart specific, unique flavor notes to the whiskey as it ages without inorganically accelerating the process (such as when whiskey is suffused with chips or sticks), with variation expected across batches/vintages. This variability may also be a primary reason for some disparities across reviews of the whiskeys over the last several years, though it is worth noting both the Dual Cask Bourbon and Dual Cask Rye have been well-received by Wine Enthusiast in 2013 (receiving scores of 92 and 90, respectively). The Dual Cask Rye also was awarded a silver medal at the 2014 San Francisco World Spirits Competition.
Since 2014, Filibuster Distillery has found its home in a large former apple-packaging warehouse in Mauretown, Virginia, within the Shenandoah Valley. About a one-hour drive from D.C., this area purportedly offers desirable water quality, which certainly can impact the final profile of the whiskey it cuts. Like many other "craft" producers, Filibuster has not actually distilled its own spirits, reportedly sourcing from MPG of Indiana. However, that is in the process of shifting as a new 14-foot continuous still was recently installed at Filibuster — but presumably bottles resulting from this in-house distillation won't be sold for several years giving the aging process time.
Filibuster Distillery spirits are now distributed in more than 20 states. Presumably to emphasize the small-batch approach, Filibuster Distillery includes on each bottle label the batch and total bottles numbers. For this review, I tried the Filibuster Dual Cask Straight Bourbon Whiskey (Batch No. 19, Total Bottles 3870) and the Filibuster Dual Cask Rye Whiskey (Batch No. 9, Total Bottles 2580).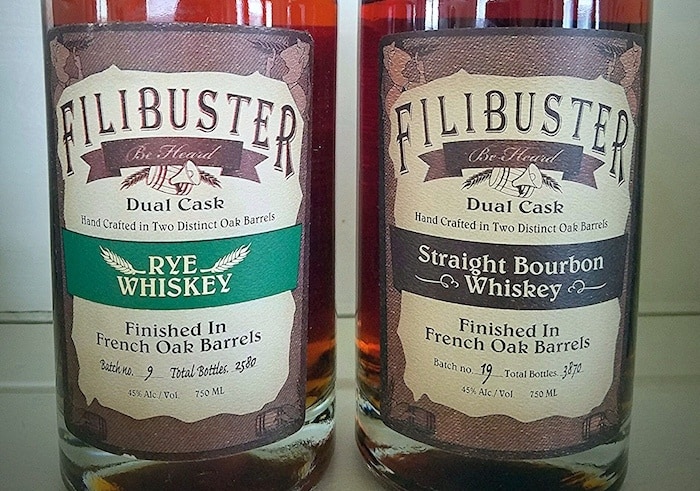 Tasting Notes
Filibuster Dual Cask Straight Bourbon Whiskey

Vital Stats: Filibuster Dual Cask Bourbon is aged in charred new American oak casks for up to six years, and finishes maturing in toasted French oak barrels (emptied of any one of several fermented grape varietals) for 45-90 days. The mash bill is a "high rye" blend of 75% corn, 21% rye and 4% malted barley. Bottled at 90 proof, retail pricing appears to range from $40-5o.
Appearance: Rich amber
Nose: Delicate but sweet aromas of brandied cherries and honeyed apricots are balanced by just a whiff of spice.
Palate: Filibuster Dual Cask Bourbon is gently sweet, with notes of caramelized banana and stone fruit, and slightly viscous, but not cloyingly so. The most noticeable heat, black pepper, briefly warms the back of throat, before everything dissipates with a soft, smooth finish. For how light this bourbon is, it has a great depth of flavor.
Final Thoughts / Score: 4/5
This bourbon is an easy and light sipper without being thin or weak. It is delicate, yet quite nuanced. Try it as a digestif, or paired with a bit of very dark chocolate (think 80% or more cacao). For Scotch enthusiasts dipping their toes in the world of rye, Filibuster Dual Cask Bourbon might work well as a bridge.
Filibuster Dual Cask Rye Whiskey
Vital Stats: The Filibuster Dual Cask Rye mash bill is composed of 95% rye and 5% malted barley. After initial maturation in new charred American oak casks, two-to-three-year-old ex-chardonnay French oak barrels are used for the final aging process. Filibuster Dual Cask Rye is bottled at 90 proof, and retails for an average of $40.
Appearance: Honey gold
Nose: Unexpected sweet floral tones are first apparent, with toasted sourdough rye bread on the back end.
Palate: Smoooth. Floral notes and beeswax honeycomb sweetness are balanced by a grapey dryness. The viscosity is greater than typical rye, but not intrusively so. There is an unusual, but delightful, bell curve of sweet-and-dry – with apple pie sweetness upfront, a drier finish, and then a hint of re-emergent sweet left lingering on the tongue. The most notable heat is a residual warmth in the chest.
Final Thoughts / Score: 4/5
Filibuster Dual Cask Rye is simple yet highly enjoyable. Absent is the herbaceous quality of many rye whiskeys; this is softer and just-sweet-enough. As both a compare-and-contrast, Filibuster Dual Cask Rye has a commonality with High West Distillery's Double Rye in floral botanical notes, yet High West has an intensity of grassiness and overall boldness that Filibuster's rye does not. If experimenting with this rye in a cocktail, consider the "Filibuster" — a rye cocktail created by longtime San Francisco bartender Eric Adkins that is begging to be made with this rye (the name alone calls for it!).
The Takeaway
User Review
3.06

(

47

votes)

Filmland Spirits, founded in 2020,...