My bags are packed, and my car is loaded. Well, my tiny Scion FR-S is as loaded as it gets, but there's not all that much space. In Wedding Crashers, we learned certain things could be built for speed or comfort. The Scion FRS is built for speed.
While I've managed to shove a few suitcases in there, the rest of my ride is actually loaded with whiskey. I'm not just embarking on a temporary adventure, I'm moving out. It's an "everything must go" situation, and lord knows I'm not trusting my collectible bottles to the movers, so I'm embarking on a whiskey road trip,with a car loaded with whiskey. Priorities.
The genesis of this trip was driving my car from point A, Washington, D.C., to point B, Scottsdale, Arizona. A direct route could be taken, sure, but why not stop in for some whiskey along the way? The idea soon morphed into a cobbled together, zigzagging 4,100 mile, 10-day journey stopping at distilleries in Nashville, Louisville, Denver, Utah and Wyoming. Much whiskey was had. And much coffee, for that matter. All of it was served with a healthy dose of Americana, connecting whiskey from the around the country to the places its made and the people who make it.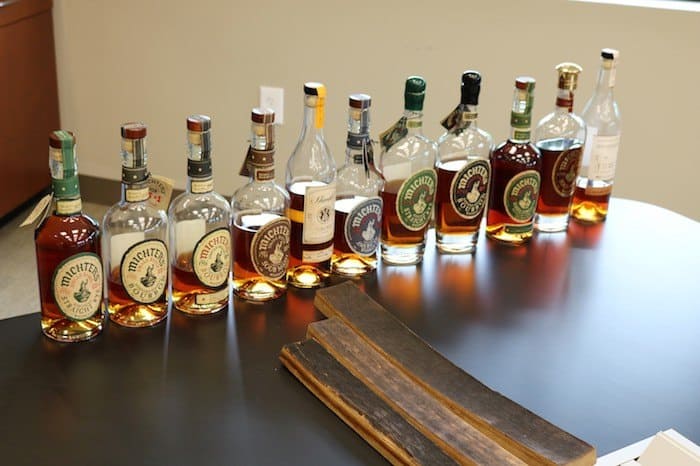 Nashville
Ten hours and 650 miles gets me to Nashville to visit Nelson's Green Brier Distillery. It's a good day to be in town, as brothers Andy and Charlie Nelson are unveiling First 108, the distillery's initial self-distilled offering. It debuts 108 years after whiskey was last distilled by Nelson's Green Brier, and the release is comprised of two year old juice from 108 30-gallon barrels, made from a wheated mash bill of 70% corn, 16% wheat and 14% malted barley.
Like all things at the distillery, the recipe is a historical one from the family's past. They're peddling a grand story about their history, but the catch is even better – that it's all true. The ties to the past are everywhere. For instance, their still is named Louisa for their triple great grandmother, the wife of the distillery's original founder, Charles Nelson. Louisa ended up running the distillery after his death for longer than he initially did. "First 108 a taste of history, and an idea of where Nelson's Green Brier is going," Charlie Nelson said during the event, telling the passionate crowd of local supporters, "I hope you'll grow with us."
Louisville
Nashville to Louisville is a blissfully short 180-mile, two and a half hour drive, though it entailed staving off a hangover from perhaps one too many the night prior with the Nelson brothers. I arrive in Louisville, a town literally brimming with bourbon, and my first visit is to… Copper & Kings. Yes, my apologies to The Whiskey Wash faithful, but I went to a brandy distillery in bourbon country.
Their ties to the whiskey industry are deep though. "We're making brandy for the bourbon drinker," says head distiller Brandon O'Daniel. Being in proximity to myriad distilleries ensures they can source their choice of used whiskey barrels. They also double distill their brandies on Vendome copper pot stills, made by the famed manufacturer who also happens to be located down the street. So there's plenty familiar for the whiskey drinker who's dabbling with brandy, and their diverse and delicious product line ensures a rewarding visit.
Still, it's time to get back on track, and so the next morning I head to Shively to visit Michter's. They're awaiting a shiny new visitor's experience to debut in downtown Louisville next year, but Shively is where production will remain. Michter's is a mix of old and new school: as a revived brand, it's less than three decades old, but its history stretches back over 250 years; they proudly display their old stills, and then you walk into a sensory laboratory where a single piece of machinery costs $170,000. Old and new.
At their Shively site they deploy a 46-foot tall, 32-inch diameter column still, housing 19 trays and 11,000 pounds of copper. It's pure whiskey firepower.
While they don't disclose mashbill specifics or a variety of other details, they do share several keys to their production, including a low 103-proof barrel entry. "One of the most special things we invest in is the lower entry proof," says master of maturation Andrea Wilson. The result is a house style which, "gives you a nice hug instead of a burn." They also share that they heat cycle their warehouses, which they believe adds the equivalent of about an extra six months of maturation time per winter.
While not officially back on the road, my next visit nonetheless takes me 50 miles outside of town to Buffalo Trace in Frankfort. Whether you view the mammoth, wondrous distillery grounds as a bourbon Mecca or a bourbon Disneyland, you won't be disappointed. Buffalo Trace currently houses 400,000 barrels across 15 warehouses, and during the next eight years will be building a new warehouse every five to six months, increasing their storage capacity to a million barrels.
Seek out bourbon legend Freddie Johnson to guide you through the distillery if he's available, and you'll come away loaded with new knowledge and facts, no matter how much you thought you knew about bourbon before. A visit here is also a bit like a choose your own adventure story. Do you want to see the excavated "Bourbon Pompeii," or the high-tech Warehouse X? A warehouse tour, a tasting, a trip to the single cask bottling line for Blanton's? There's a world of bourbon at your fingertips at Buffalo Trace.
Denver
It's July 4th, and I dare any reader to tell me they had a more American holiday than mine. On the 'Merican holiday I embark to Denver en route from Louisville, with four distilleries under my belt in the previous three days. With 1,100 miles of open road awaiting me, I wasn't entirely confident I'd reach my destination in a single day. Yet the vast sprawl of Kansas couldn't hold me back, and I manage to complete the journey all at once, arriving into Denver in time to see fireworks light up the sky above Coors Field after the conclusion of a Colorado Rockies game.
Denver may be best known for its beer – at least for those of us who drink as opposed to partaking in other recreational activities – but Stranahan's is one of the icons of craft whiskey in the U.S. They're the first distillery in Colorado since Prohibition, and just the 21st in the country to get a new license for distillation since Prohibition.
The distillery's beer connection goes deeper than just their Denver locale, too. George Stranahan, co-founder and namesake of the distillery, is also co-founder of Flying Dog Brewery, which at first was literally piping over beer for them to distill. When Flying Dog moved to Maryland, Stranahan's briefly contracted with Oskar Blues brewery, before eventually moving fermentation in-house.
American single malt is the name of the game at Stranahan's, where they deploy a set of three 800-gallon hybrid column pot stills, feeding a set of two 160-gallon spirit stills. Their locale certainly provides another key to their whiskey. "It's all about your water source," says master distiller Rob Dietrich. "For us, it's Rocky Mountain spring water."
Their flagship is between two and five years of age, while the annual wintertime Snowflake release is always a unique blend. "Snowflake is where I get to have all the fun, and color outside the lines," Dietrich says. He incorporates a smorgasbord of cask types to achieve a new edition each year, and then names it after a 14,000-foot peak in the state of Colorado. There are 53 such "fourteeners" in the state, so there's plenty of source material to choose from.
Park City
Seven hours behind the wheel and 500 more miles the next morning takes me into Park City, where High West Distillery awaited. You may have already read about my visit there to see what the distillery's plans are post-Constellation acquisition.
A visit to High West entails a trip to the Saloon, located along Park City's buzzing main street of bars and restaurants, as well as a visit 30 minutes away to Wanship, where their full distillery and visitor's experience is located. Wanship houses a hybrid 1,580 gallon pot still made by Forsyths, with room for three replicas to be added in the future, so it's not hard to figure out that High West, too, figures to be a major player in the American single malt game. That said, they aren't forgoing their blending roots, either, and will be retaining that as a fundamental component to their production.
Kirby
On the road again…Six hours and 350 miles brings me to the town of Kirby, Wyoming – home to 92 residents, and one thriving bourbon distillery, Wyoming Whiskey. For those of you keeping track at home, no, Denver to Park City to Kirby was not a streamlined route. However, it was the only way to coordinate dates for each distillery, allowing me to revel in even… more… time… on the open road. Good thing I had miles to spare on my lease.
While the Vendome stills proudly showcased in Louisville had a considerably shorter distance to travel to their distilleries, one Vendome column nevertheless managed to make its way here. The distillery's 38-foot, 18-inch column is the showpiece of their distillery, sitting in a stillhouse alongside several warehouses and a shop, surrounded by a thousand acres of ranch land.
When Wyoming Whiskey began production, former Maker's Mark master distiller Steve Nally helmed the ship, and the distillery retains a range of Makers-esque characteristics. Sam Mead runs the operation now though, and his approach to whiskey production comes from his Wyoming lifestyle.
The Mead family are ranchers, and they're Wyoming through and through. So is their whiskey, from Wyoming-grown grain to an underground limestone aquifer, from harsh weather extremes to a no-BS attitude of making things they want to drink in a way they're proud to make them, at a price they're willing to pay.
Full-size barrels. Quality ingredients. Whiskey that's now a minimum of five years old. Something that surely makes all 92 residents of Kirby proud. About 5,000 visitors pass through the distillery each year, though most are tourist passersby as opposed to whiskey roadtrippers like myself.
And with the 7th distillery visited, the whiskey road trip concluded. I still had some 1,200 more miles of driving to look forward to, taking me from Kirby up and through the majestic Teton Mountains, down through Montana and into Utah, moving into Arizona and visiting the wonders of the Grand Canyon until finally putting the car into park once and for all in Scottsdale. I know the car is ready for more action. I think I am, too. So who's up for a drive?

InchDairnie Distillery recently announced its...
Jake Emen is a freelance writer based in San Diego, and a lover of all types of whiskey. He's passionate about food, drink and travel, and lucky enough to write on such topics as he explores both newly burgeoning regions around the United States, and others across the globe. For...