The rise in whiskey sales in 2019 was led once again by market leader Jameson, which recorded an 8.2 per cent jump in volumes. Jameson is owned by Irish Distillers, which in turn is part of the Pernod Ricard global group. Recently Whiskyslijterij De Koning zoomed in on some beauties at a retail tasting that have been under everyone's radar too long.
Wonderful: The Whistler Calvados Cask Finish 43% abv
Hints of apples and sometimes pears enter my nose. A bit of vanilla too. Great ! It's like having spring in my glass. It makes me slightly giddy. No need explaining why the stopper goes with a whistling tune on the side. I can't wait to compare the two Whistlers and therefore our host Rob Stevens pours both glasses. Oops! Smelling the second one puts me off slightly. I read the story on the Whistler's website and try to figure out which goddess from Celtic mythology is responsible. It's Boann, definitely.
No, I'm sorry: The Whistler Imperial Stout Cask Finish 43% abv
A wonderful dark glassed bottle and a perfectly designed label. So far so good. However, hints of metal linger in my nose and don't seem to go away. They even dominate the expected caramelized effect of the stout beer. After having added a few drops of water and having left it there for ten minutes it still couldn't convince me of its dark brilliance. The taste is mediocre. While my mouth and tongue are desperately searching for traces of  the Imperial Stout beer my brain gives in and orders my hand to put back the glass.
The basic treatment of the casks are clear: after having housed a 7 yo sourced Irish whiskey, the casks are emptied end refilled with stout beer for some time. Then the beer is replaced with another sourced whiskey. We don't know which one but our tasting table has a wild guess: Midleton, because they have lots.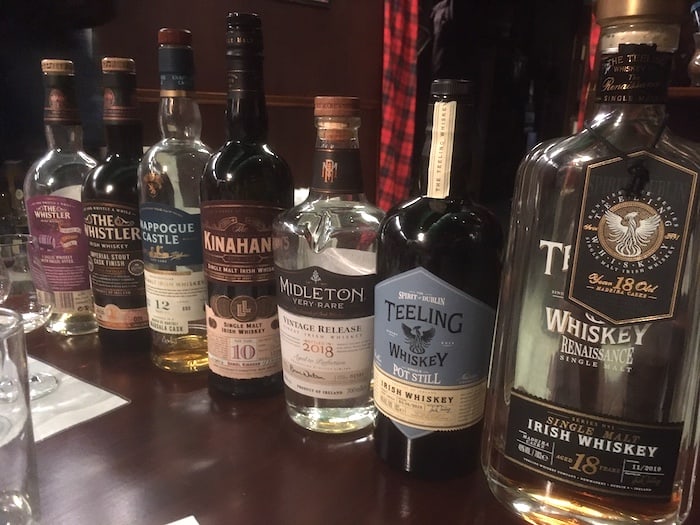 Great: Kinahan's 10y 46% abv Single Malt
Since the weather today has been truly sheit: wet, windy and chilly, this whiskey brings everyone in a positive state of mind. Although this 10 yo has no finish it really surprises me in its subtlety. Again, I smell and taste hints of fruit, chocolate and apples. This award-winning Heritage Collection was released in 2015 and for me represents a new brand Irish whiskey from Dublin. So much effort has been put in the label design, that it congruents the content of the bottle completely.
Very good: Knappogue Castle 12y 43% Single Malt Marsala Cask.
Before mingling into the discussion about how to pronounce Knappogue [Nah-poog] (with a 'silent k') my nose is drawn towards this great single malt whiskey. Lovely hints of fresh fruit welcome me. Currently in Pernod Ricard's portfolio, and for quite a few years produced by Castle Brands Inc., Knappogue started off as a product of independent bottler Mark Edwin Andrews in 1966 when he purchased Knappogue Castle, a 15th century castle in County Clare, Ireland.
It was around this time that American born Andrews returned to the land of his ancestors and began buying casks of fine pot still whiskey from top distilleries in the country . The casks were further aged and bottled under what is now known as the Knappogue Castle label. The vintage bottlings were initially sourced from Cooley and Bushmills, except for the legendary 1951 Pure Pot Still – still available for € 1800 – that was purchased from the old Tullamore Distillery, closed permanently in 1954.
Sublime: Midleton Very Rare  40% abv, 12-30 yo (2018)
Another Midleton Vintage release: Aged to Perfection. The 35th edition (bottled in 2018) of the 'very rare' series, which started in 1984 by (now emeritus) master distiller Barry Crockett, is a must for every collector. I guess without the exquisite wooden box the price of this extraordinary bottle would be within reach for me. Not today though.
Throughout the years Midleton picks casks from in between 8 and 30 years to create a new 'very rare' edition. My tasting friends smell fresh grass, sugary notes, toasted oak, cinnamon. All this goes with a soft mouth feel. A sublime dram by present day master distiller Brian Nation.
Mediocre: Teeling Pot Still whiskey 46% abv  (6/2019) 
Before ending up with the last dram in our line-up of Irish whiskeys, our host takes us back to Teeling's Real Pot Still whiskey, bottled by the owner's son Jack Teeling. Not being my favourite dram – probably after being scared off by the Brabazon Bottling series no 1 – it is well made and still in a different league compared to my Whistler Imperial Stout. This bottle will never end up on my top shelf, but certainly somewhere at the back.
Wauw: Teeling The Renaissance 18 yo , 46% abv 
I know there's always a surprise at these Whiskyslijterij De Koning tastings. Here it is: a commemoration bottling to the opening of the Teeling Distillery. The Renaissance will be the first in its series. How do we please and tease our collectors ? This spirit has matured on Madeira casks for 18 months and can be taken home gift wrapped in a huge cathedral shaped bottle for 150 euros. Only 9000 bottles on the market.
As a buyer of whisky and whisky lover I am sometimes crushed between sheer beauty and financial feasibility. That's why it took me quite some time to leave the shop before going home lost in thoughts through the cold wind and the rain. But I guess I didn't notice the weather thanks to today's Irish surprises.

Filmland Spirits, founded in 2020,...
I write about all sorts of beverages of which whisk(e)y is my favorite. Traveling, interviewing and writing are combined in most of the stories on my blog. I have to admit that the occasional cigar is a companion that I love to pair with food, (port) wine, cognac and again...