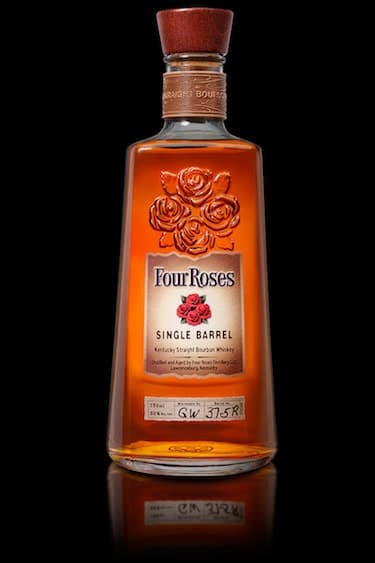 Editor's Note: This whiskey was provided to us as a free sample to review by the party behind it. The Whiskey Wash, while appreciative of this, did keep full independent editorial control over this article.
There are some whiskies that show their quality time and time again. You can sip or use them for a Manhattan, and you know they will never steer you wrong.
I feel like that about Four Roses.
I'm not the only one with this assessment: Four Roses has been named American Whisky Distiller of the Year for 2011, 2012 and 2013—three years in a row—by Whisky Magazine. It's also won numerous awards, the most recent including Double Gold at the 2014 Denver International Spirits Competition and Gold Medals at the San Francisco World Spirits Competition in 2009, 2010, and 2012.
If you want to know where your bourbon comes from, Four Roses makes it (kind of) easy: Their process uses two mash bills and five proprietary yeast strains to produce 10 unique bourbon recipes. Four Roses' infographic describes the process in detail (a little like the Mendelian DNA from school days).
Once you decipher said grid, you can better understand the family tree of what's in your glass. Maybe with a lesser quality bourbon this would be gimmicky, but when drinking Four Roses this is actually interesting and provides simple background of what's in your glass.
The Four Roses Single Barrel's profile involves a mash bill of 60% corn, 35% malted rye and 5% malted barley, along with yeast blends that reflect fruity, vanilla, and caramel flavors. It is 100 proof and aged for 10 years.
In the glass: The Four Roses Single Barrel is a light amber color, and its nose is surprisingly light as well, with echoes of honey and vanilla.
The palate: Despite the high proof, its gentleness continues onto the palate, with a slight spice and bite, though it fades fast and gallantly. It has almost a savory quality:
Pairings: If you were to drink it straight or on the rocks, it would go excellently with something light but rich, like devilled eggs or bacon-wrapped shrimp. Or if you were to make a mixed drink, I'd try an Old Fashioned; its lightness makes it highly drinkable and versatile.
Rating: 85 points.  For its adaptability and generally genial nature. I don't get to Four Roses often, but when I do, I wonder why it's been so long. For about $40, it's a great bottle to have on your shelf this holiday season—or any time of year.
[graphiq id="3PJ9exwdJoF" title="Four Roses Single Barrel Kentucky Straight Bourbon Overview " width="700″ height="544″ url="https://w.graphiq.com/w/3PJ9exwdJoF" link="https://whiskey.underthelabel.com/l/448/Four-Roses-Single-Barrel-Kentucky-Straight-Bourbon" link_text="Four Roses Single Barrel Kentucky Straight Bourbon Overview | UnderTheLabel"]

One of the best-known Irish...
A decade ago, I traded a 5th floor walkup in Hoboken, NJ for a house in SE Portland and remain grateful for the swap. Portland's a great whiskey town: It fits the weather and my general mood (even improves it sometimes). I enjoy exploring the many shades of brown liquor...