Garrison Brothers out of Texas most recently was on our radar due to the release of its popular and very limited edition Cowboy Bourbon. It turns out this wasn't the only whiskey it was going to put out to market, however, with word from this distillery of three new limited edition releases each available in special 375 ml, flask style bottles.
The first of this trio of new expressions is the Garrison Brothers Boot Flask. It is called such because of being "ergonomically designed to fit snugly around your calf in your most comfortable pair of boots. The metal star juts out from the bottle locking the package into the boot-leather." Notes on this particular bottling indicate it is bottled at 94 proof and that the youngest barrel in the bourbon is four years old. It will price at $40 and be available at general retail.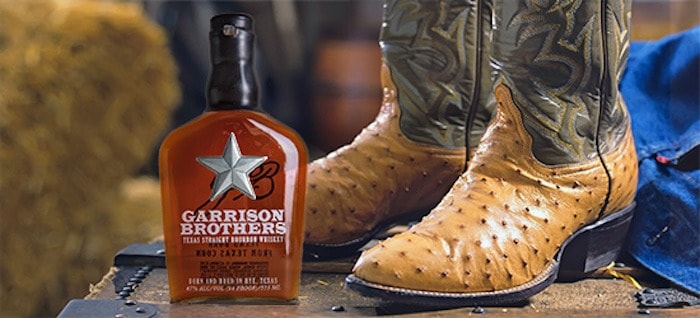 Joining Boot Flask are two semi-variants housed in the same style bottling. The first of these is Balmorhea, a 4,008 bottle release with a rather interesting history. It started out in 2012 or 2013 as 114 proof white dog. In 2015 it was dumped from the barrels it was aged in into stainless steel tanks, and then placed into a second round of barrels that had "far different lignin and chemical compositions than the original barrels because they had been scorched and toasted differently, thus caramelizing the sugars."
This year these barrels were dumped and bottled at 107 proof. Available only at the distillery for around $70 for a 375 ml bottle, limited official tasting notes suggest "bourbon candy. Frozen Popsicle fudgsicle bars, amaretto coffee with cream, sticky buns and pecan brittle. Thick white chocolate syrup."
The third and final expression in this trio of new releases is Garrison Brothers Estacado. This particular bottling came about as a result of a joint venture with Llano Estacado Winery. Texas bourbon was first aged in white American oak for two years before being transferred for nine months to French oak casks that formerly held Llano Estacado Port Wine. It is bottled at 115 proof and will also price at $70 for a 375 ml bottle.

Pursuit Spirits, founded by the...
Nino Kilgore-Marchetti is the founder and editor-in-chief of The Whiskey Wash, an award winning whiskey lifestyle website dedicated to informing and entertaining consumers about whisk(e)y on a global level. As a whisk(e)y journalist, expert and judge he has written about the subject extensively, been interviewed in various media outlets and...