Chicken Cock is a historic bourbon brand that I first wrote about a few years back in regards to some flavored whiskies being released in aluminum bottles that can be chilled for use in shots. Not exactly what we cover on a regular basis here, which is why it is nice to see those behind this label have stepped up the game in more recent times, releasing for your consideration a bourbon celebrating 160 years as a whiskey offering.
The Chicken Cock 160th Anniversary Limited Release Single Barrel 8-Year-Old Bourbon is a whiskey distilled in "Lawrenceburg, Indiana" (likely MGP) that's eight years old and aged in fresh, white American oak barrels. It is bottled at 90 proof and is a high rye bourbon, consisting of a mash bill that's 70% corn, 21% rye and 9% malted barley. It was aged and bottled in Owensboro, Kentucky.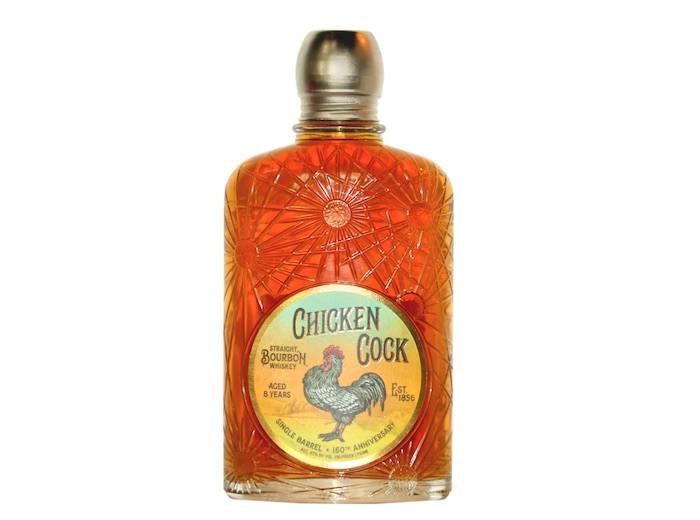 Plans call for 30 of these barrels of whiskey to be released in total, with bottles from the first barrels pricing between $95 and $100. The bourbon is housed in a replica of a pre-prohibition Chicken Cock bottle discovered at the Lexington, KY Visitor's Center.
The Chicken Cock brand, for those unfamiliar with it, was first distilled in Paris, Kentucky in 1856. While the bourbon brand was reportedly popular during the 19th century, Chicken Cock is said to have really hit its stride during prohibition as the house whiskey at the famous Cotton Club in Harlem, New York. There, it became known as "The Whiskey in a Tin Can" because it was smuggled into the country in tin cans to avoid legal authorities.
After prohibition, a distillery fire in the 1950's put an end to the brand's initial run, and it all but disappeared. Multiple attempts were made to bring "the famous old brand" back to its former glory. In the most recent attempt spirits company Grain & Barrel in 2013 purchased Chicken Cock and is now running with it.

New York's Black Button Distilling...
Nino Kilgore-Marchetti is the founder and editor-in-chief of The Whiskey Wash, an award winning whiskey lifestyle website dedicated to informing and entertaining consumers about whisk(e)y on a global level. As a whisk(e)y journalist, expert and judge he has written about the subject extensively, been interviewed in various media outlets and...