New York City and the Hudson Valley areas have become home to a slew of micro-distilleries amidst the industry boom over the last decade plus. One such outfit is husband-and-wife owned Nahmias et Fils. Nahmias et Fils, a distillery best known for its mahia, a traditional Moroccan and Jewish schnapps made from figs.
Co-owner and Master Distiller David Nahmias was raised in Morocco, and mahia ran in his blood, so to speak — it was distilled by his familial predecessors. It makes sense that he and his wife Dorit experimented as home-distillers on the side of their respectively successful careers, using a "small alembic pot still." But in 2009, inspired by several major life changes, they decided to take a career diversion, found space to rent in Yonkers, upgraded their equipment to a large copper, four-plate still imported from Germany and officially established Nahmias et Fils.
In addition to mahia, Nahmias et Fils is also producing Legs Diamond Rye Whiskey in two varieties: unaged and aged. If the name sounds familiar, it's because these whiskies are named after notorious Prohibition-era gangster and bootlegger Jack "Legs" Diamond.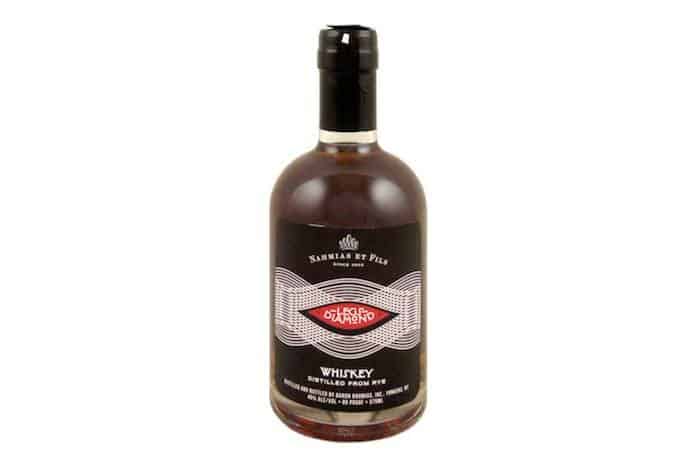 Tasting Notes: Legs Diamond Rye Whiskey
Vital Stats: Legs Diamond Rye Whiskey is made in small batches from 100% organic rye sourced locally from New York State farms. It is aged for 12 months in 15-gallon new American oak barrels with #3 char, and the final spirit is brought to 80 proof and hand-bottled in 375 ML bottles that retail for about $39.99. It is also certified kosher.
Appearance: Wildflower honey. Not particularly viscous, with more delicate legs.
Nose: There is a stone fruit sweetness on the nose at first, followed by a savory and astringent tones reminiscent of leatherwork, and then an almost medicinal herbal quality.
Palate: Surprising! There is an almost brandy-esque flavor and mouth-feel upfront. It melds into a pleasant honeycomb and figgy sweetness that is cool on the tongue, evolving to cinnamon stick and peppery warmth going down. The herbal quality apparent in the nose peeks through in the finish, but is overall balanced and dominated(in a good way) by the preceding flavors. 
The Takeaway
For a 100% rye whiskey, Legs Diamond Rye Whiskey is certainly unique — and appealing. It's sweeter and more interesting than expected for a young rye, especially without being cut with other grain. It stands on its own neat or in a bitters-forward cocktail. It's a great example of just how nuanced distilling really can be.
Take WhistlePig Straight Rye Whiskey, which comparatively is also 100% rye-based and similar in price point per volume. Conversely, WhistlePig is aged longer and cut at a higher proof, and has an overall spicier profile. It goes to show how much the grain itself — even if using 100% of one varietal — as well as how it's fermented and aged can result in such varied spirits. The possibilities are quite literally endless.
User Review
3.14

(

7

votes)

Britain spirits and wine merchant...