Editor's Note: This whiskey was provided to us as a review sample by Laws Whiskey House. This in no way, per our editorial policies, influenced the final outcome of this review. It should also be noted that by clicking the buy link towards the bottom of this review our site receives a small referral payment which helps to support, but not influence, our editorial and other costs.
The team at the Laws Whiskey House is nothing if not versatile: straight whiskey, bottled in bond, cask strength, their flagship four grain bourbon mash bill, rye, and different barrel expressions.
This review singles out Laws' wheat whiskey, which is one of the few (and the proud) wheat whiskeys that is locally sourced, distilled, bottled in bond, and aged five years at that. It's also a 100% heirloom wheat mash bill from local farms.
The producer states, "We wouldn't make a wheat whiskey if we hadn't discovered Centennial, the heirloom spring varietal grown for us in the San Luis Valley. Unlike commercialized wheat grown nearly everywhere today, in the pre-industrial Centennial grain, we are able to distill and ferment a spectrum of diverse flavors. With a splash of water or an ice cube, Centennial Wheat is our unadulterated summer sipper."
Al Laws, Founder, says "At Laws, we pride ourselves in seeking out the distinct flavors of each American mother grain in our whiskies. We believe that the soul of whiskey is comprised of the people who grow it, the people who make it, and the people who drink it. We're excited to be on this journey of Laws' commitment to creating exceptional Bottled-in-Bond Whiskey and we hope you enjoy this special whiskey as much as we do."
Aside from having grains abound, the distillery is based in Denver, Colorado, which gives it access to quite the climate for aging. High elevation, plus big swings in temperature throughout the day and year, can certainly affect what happens in the barrel.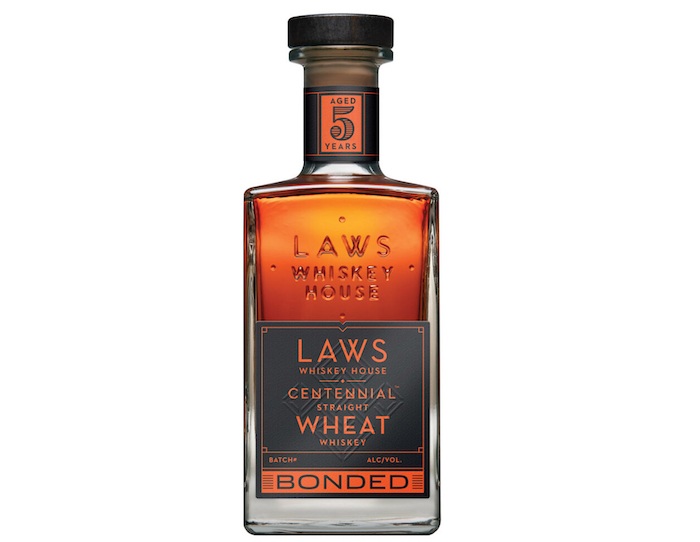 Tasting Notes: Laws Centennial Wheat Bottled in Bond
Vital Stats: 100 proof, 50% ABV and Bottled in Bond. Aged about five years and uses a recipe of 100% heirloom wheat from local sources.
Appearance: A lighter shade of orange, similar to a candy. In the glass, the legs were slow to form and pretty widely dispersed to start.
Nose: A fair amount of heat to start. There was also a prominent presence of candied orange marmalade. Given the age and proof, the finish was satisfying with a touch of brightness.
Palate: This one was surprisingly complex given the lightness of the body. Honey and orange spice. However, there was an odd bitterness towards the end.
The Takeaway
Summary
Balance is where this one missed the mark. It has cool accents, but as a whole, may need another grain added to the mash bill to make it work. It's not bad, but that weird hint of bitter towards the end of the tasting experience was a tad bit off putting. This is more of a cocktail whiskey than a sipper. Water or ice helped, but it just wasn't ever quite there.
Kenji is a bartender in Portland, Oregon at the Pope House Bourbon Lounge. A bourbon enthusiast for decades. He likes big whiskeys, pretty much anything over 100 proof.