It's true: MGP, uncredited producer of a thousand slickly-branded whiskeys at startup distilleries across the land, is selling their juice under their own label.
I have to be honest and admit that I'm excited for this. Thanks to the craze for small-batch and craft everything, a lot of consumers have come to expect that what comes out of a small distillery should be just as good, or better, than what they can buy from Maker's Mark or Johnnie Walker. That's how it often works with beer, or coffee, so why not whiskey?
Many craft distilleries make very good whiskey, and it's often more interesting, in some sense, than what the big names sell; that's the true part of that expectation. Smaller producers really are better at experimenting than their more established counterparts and often come up with unique, exciting expressions. The untrue part is that producing whiskey is much more time-consuming than brewing beer or roasting coffee, and distillers have to wait so long after their initial investment to start turning a profit that it's often unreasonable to expect a craft distillery to be able to sell whiskey that's a) good, and b) made completely on-site, within less than a few years of opening.
Enter sourcing. Often seen as a less-than-honest practice by consumers, sourcing distillate, or even mature whiskey, from an industrial distiller allows craft producers to keep operating while they wait for their own whiskey to age. The giant in that business is Midwest Grain Products in Lawrenceburg, Indiana. MGP makes spirits sold under dozens of labels. Their rye whiskey, for instance, is sold as Angel's Envy, Bulleit Rye, Filibuster, George Dickel Rye, High West, James E. Pepper, Redemption, Smooth Ambler, and Templeton Rye, to name a few.
The reason MGP products are so popular in the industry is that they do a pretty bang-up job, churning out drinkable, reliable spirits in huge volumes. When it comes to the actual whiskey, there's not much to object to.
Nonetheless, because of the unsavory business practices of some non-distilling producers—as well as a generalized disdain for words like "industrial" or "factory" among people who are into Nice Things—MGP has become something of a dirty word among certain whiskey drinkers.
George Remus Bourbon is MGP's new house label. George Remus was reportedly a Prohibition-era bootlegger, and the brand name was actually acquired from Queen City Whiskey Co., a Cincinnati distillery, last November. Another admission, on my part: I find the branding here, which so closely resembles the branding of untold hundreds of the craft distilleries that source from them, faintly disappointing. What would be more fun, here, than a plain white label reading "MGP BOURBON, GENERIC," or perhaps "ACME BOURBON"?
The whiskey itself, according to a press release, is a high-rye blend aged at least four years.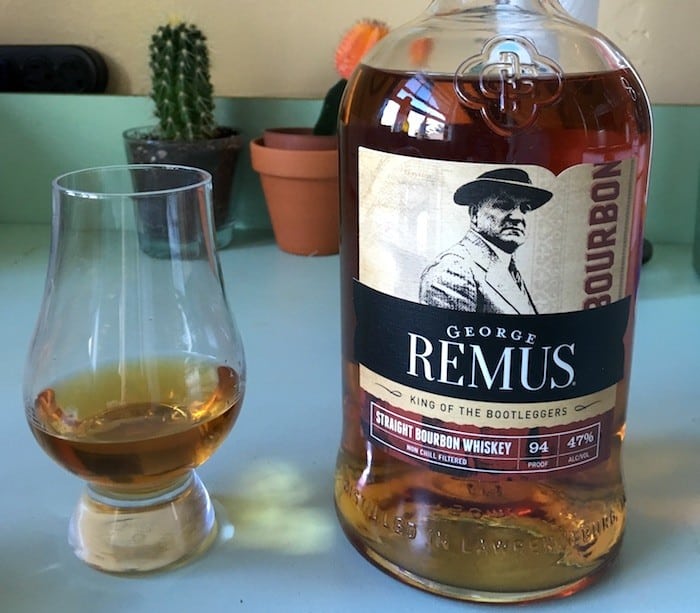 Tasting Notes: George Remus Bourbon
Vital stats: straight bourbon, high-rye mash bill, at least four years old, non-chill filtered. 47% ABV. Retails between $35 and $45.
Color: Deep gold/pale amber
Nose: Caramel and vanilla blend with a big dose of warm spices—cinnamon, allspice, and nutmeg. Wood.
Palate: Very much like the nose: sweet caramel and vanilla followed by plenty of spice on the finish. The finish is warm, not huge, and some oak sticks around. The texture is sturdy but not super heavy.
The Takeaway
Pretty much as expected, this is a very sippable high-rye bourbon—it's spicy enough, in fact, that I could mistake it for Bulleit Rye, or one of the many other labels MGP rye is sold under. In other words, there's nothing unexpected here, but I'd happily sip it neat, paired with a creamy dessert, or in a Manhattan. If you're going to drink MGP, why not get it straight from the source?
User Review
3.23

(

47

votes)

Scotland's Tomatin Single Malt recently...
Katelyn is a freelance writer in Portland, Oregon. She's a regular contributor to the Whiskey Wash with an affinity for the unique and weird side of whiskey.