Al Young has been an integral part of the Four Roses organization for 50 years. He spent the earlier part of his career in various quality control and management positions, eventually becoming Distillery Manager in 1990. He was named a Brand Ambassador in 2007, and currently holds the proud position of Senior Brand Manager. Back in March, we announced the special blend that Young would create with current Master Distiller Brent Elliott to honor the legacy and loyalty shown over the past half-century. Finally, we're able to taste it.
This entry in Four Roses' Small Batch Limited Edition series was made using four of the distilleries' ten base recipes of various ages, ranging from 12 to 23 year old liquid. The final blend, according to Four Roses, is broken down thusly: 5% 23-year OBSV, 25% 15-year OBSK, 50% 13-year OESV, and 20% 12-year OBSF. If you're having trouble deciphering these four-letter codes (which represent production facility, mashbill, distillation process, and yeast strain,) Four Roses has a simple online educational tool for you.
This relatively small bottling, capped at 10,000 retro 1967-era glass decanters, is currently available, and is already inflating like a pool toy on the secondary market.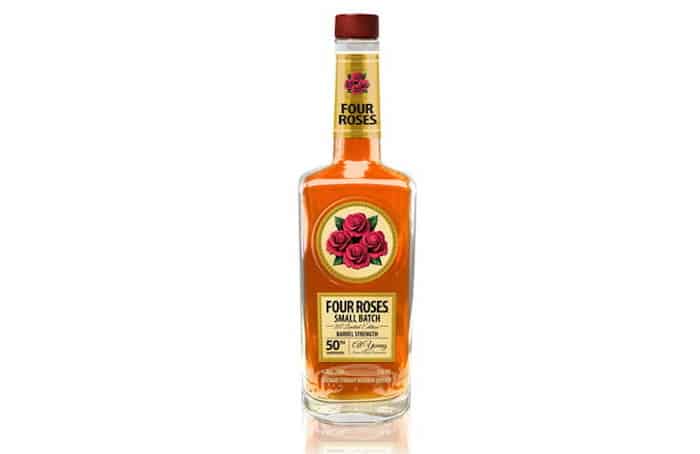 Vital Stats: 109.98 Proof. Blend of 12, 13, 15, and 23-year bourbons.
Appearance: Pours a subtle toasted amber with expert clarity. The legs are multi-layered and slow to cascade. The mass of liquid in the glass seems to move around slower, with ripples and waves that keep those legs sticky and drippy.
Nose: The aroma seems to be actively escaping the glass, even from a foot away. Close inhales immediately bring to mind old books, enrobed by the familiar perfume of vanillin. A hint of maple syrup fights to the surface, as well as notes of dried date and prune. A soft dustiness, leather, and a heaping helping of raw earth and clay round out the perceived sweetness in the nose. From the balance and complexity shown through long sniffs, excitement builds for the first sip.
Palate: The lack of boozy fire on the nose had me forgetting that this is barrel strength, but the sensation of heat grips my tongue as the first wave washes over. The early palate shows this fiery bite playing nicely with a coating sweetness that exhibits flavors of citrus and honeysuckle. Post-swallow, a soft frosting of candied macadamia lingers, carrying with it a more familiar honey-like note. The late palate is clean in terms of excessive bitterness and astringency, but leaves behind just enough seasoned oak spice and a sting of alcohol to allow for a long yet unobtrusive finish.
The Takeaway
Most whiskies are blended for optimal quality and flavor consistency. When blending is used to achieve something more heady, like to celebrate one of the most important figures in whiskey today, the creation of a unique expression of a much-loved bourbon stock is something that bourbon enthusiasts should certainly get excited about.
In the case of Al Young's commemorative batch, it's the bottle of Four Roses that I will be most excited about returning to in the future. Not because it's rare or special, but because it marries together so many of the elements that I love over the masterful spectrum of Four Roses' various releases.
User Review
3.15

(

110

votes)

The Florida Craft Spirits Association...