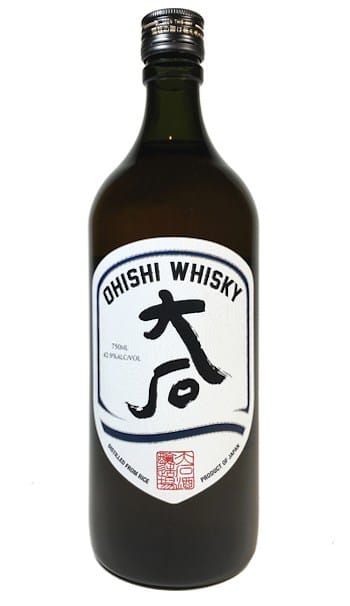 Japanese whiskies have been counted amongst some of the most in-demand spirits worldwide in recent years. This can be attributed at least in part to Jim Murray naming a bottle of 2013 Yamazaki Single Malt Sherry Cask his World Whisky of the Year in the 2015 edition of Jim Murray's Whisky Bible.
While Beam Suntory Inc.'s Yamazaki was not necessarily a dark horse in the spirit world by this time, it publicity served to introduce Japan to many who had not previously been aware of whiskies produced outside of Scotland, Ireland, and North America. While larger labels such as the aforementioned Yamazaki and Hakushu easily translate to the palates of those familiar with similarly distilled Scotch whiskies, the Japanese whisky scene at large offers labels which can provide a more unique experience to those seeking them out. This is the case with Ohishi Whisky.
Ohishi Whisky is imported by the Georgia Royal Collection Inc. out of South San Francisco, California. The spirit is distilled and bottled at Ohishi Distillery located near the fast-flowing Kuma River in Japan. Unlike other whiskies which have their production techniques firmly rooted in the Scotch single malt tradition, Ohishi utilizes malted and unmalted rice in lieu of malted barley. Rice can't be malted in the same way as barley, so "malted" in this context often refers to rice innoculated with kome-koji, a mold also used in sake production. Specifically, gohyakumanishi rice is married with mochi rice in the mash bill, with the former grown while using koi fish as a form of chemical-free weed eradication.
Using rice in the production relates this whisky to the Japanese distilled liquor known as shochu. Traditional shochu production uses a wide variety of methods and ingredients, including but not limited to rice and vegetables, to create a spirit with an alcohol content averaging between 25%-37%, but below 45% ABV. Ohishi Whisky is bottled at 42.9% ABV. Currently, Ohishi is offered in standard and single cask versions featuring sherry or brandy cask finishes. The version being reviewed here is a standard bottling with no special sherry or brandy finishing listed.
Tasting Notes: Ohishi Whisky
Vital Stats: 42.9% ABV (85.8 proof), no age statement, distilled using malted and unmalted rice, available around $70-80 per 750 ml bottle.
Appearance: Mahogany. Medium legs. Darker than expected given the very dark green bottle.
Nose: Very warm, high alcohol presence. Much like a very young single malt. Notes of brown sugar and dried flowers.
Palate: Sweet on the front end, floral progressing through the finish. Flavors of black licorice candy and spiced gumdrops. Hint of clove. The finish is quite floral, somewhat reminiscent of some Speyside malts and high-rye bourbons. Medium burn. Bright and warm throughout the finish.
Conclusion:
Admittedly, the sparse presentation on the labeling and promotional materials accompanying this whisky left a lot to the imagination prior to pouring a dram. Once in a glass, Ohishi performed decently, if unexceptionally. It is sweet, bright, and light. Unfortunately, due to current market conditions complicated by a certain level of hype surrounding any whisky currently originating in Japan, Ohishi Whisky commands a price that is difficult to rationalize given the rather underwhelming experience of actually drinking it.
FINAL SCORE: 78/100 [SHOP FOR A BOTTLE OF OHISHI WHISKY]

Pernod Ricard officials recently signed...
When not sampling whiskey, Joshua St. John can most likely be found running the trails of the Pacific Northwest surrounding his home in Portland, Oregon. A lifelong world-traveler, Joshua was first introduced to single malts while visiting distilleries in Scotland, and continues to explore the world through the countless interpretations...