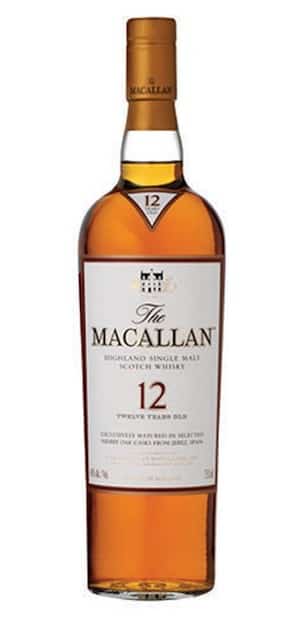 Every so often, it pays to return to the basics. Few in the spirit world can even dream of attempting to offer a portfolio as deep and varied as The Macallan.  As of March, 2016, four out of the the top ten most expensive whiskies to sell at auction were Macallans. At the time of this writing, The Macallan has swept the top five spots for most expensive bottles currently available via the website wine-searcher.com, in addition to nabbing a total of nine of the top 25 spots on that list. So, why could such a prestigious label be considered one of the basics?
Releases from The Macallan commonly serve as a solid examples of several core attributes contained within a host of arguably more complicated Scotch whiskies. Malt notes are typically clear, and the impact of wood in the aging process is readily apparent.
This 12-year-old non-peated single malt from the Speyside region of Scotland sips cleanly while also featuring additional maturation in sherry casks. This is the source of the name for the line of Macallans to which this dram belongs; Sherry Oak. Bottled at 40% ABV for most markets and 43% ABV for the US, the whisky is at least seemingly designed to be approachable first and foremost.
Vital Stats: 40% ABV (80 proof), 43% ABV (86 proof in the American release), 12 years old, 100% malted barley, available around $65 per 750 ml bottle
Appearance: Deep amber with strong legs.
Nose: Oaky and hot right off the pour. Loads of oak and perfume reads as somewhat bitter at first, with notes reminiscent of an amaretto sour and a hint of spiced plums. The nose softens dramatically after a few minutes, settling into dark sherry and plum sweetness.
Palate: Sweet and full, but not overly complex. Lots of sherry, plums, powdered sugar, cinnamon and nutmeg give it a silky, round mouthfeel. The finish is quick, with a mild burn and a long, lingering presence of sweetness reminding me of iced cinnamon rolls.
Conclusion:
The official website for The Macallan flatly states that this incarnation is meant to be enjoyed with friends. This is precisely where this single malt finds its highest value. The dramatic fashion in which the nose changes over a short period of time serves to teach newcomers patience when forming opinions on any whisky they may encounter in the future. The flavors are well-balanced, and the dry sherry notes are easily identifiable within the clean palate. This affords the opportunity for the sipper to become acquainted with those characteristics in a friendly environment before venturing into what are arguably more challenging sherried drams.
There is not an abundance of mystery in picking apart the 12-year offering from The Macallan. Going in with that understanding lends a great deal of versatility to the bottle which might otherwise go unnoticed in more deeply-stocked Scotch collections. This is a great example of an ambassador to the world of single malts by which you can possibly make converts of your more trepidatious friends. In terms of my own sipping,
I don't find myself reaching for The Macallan 12 often, but I am rarely disappointed when I do. With a price around the $65 mark, the truest test of value will likely be how often you may be introducing others to Scotch whisky.
FINAL SCORE: 85/100

Britain spirits and wine merchant...
When not sampling whiskey, Joshua St. John can most likely be found running the trails of the Pacific Northwest surrounding his home in Portland, Oregon. A lifelong world-traveler, Joshua was first introduced to single malts while visiting distilleries in Scotland, and continues to explore the world through the countless interpretations...