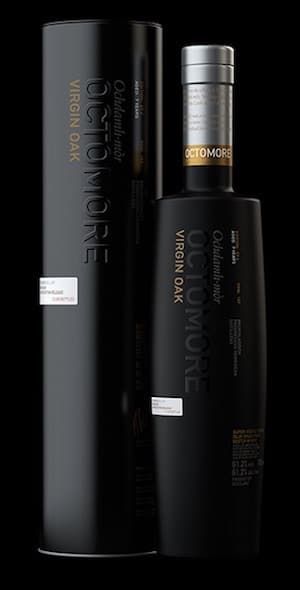 Scotch whisky and peat – it is what Bruichladdich distillery in Scotland does best with its exploratory Octomore series. We will be delving into this fascinating project further in the next month or so, but for now lets focus on the latest release to this peat monster series – 07.4.
Octomore 07.4, according to Bruichladdich, takes your typical high-phenol parts per million (ppm) whisky – in this case, 167 ppm – and ages it in virgin oak casks made from wood harvested from "the great French oak forests of Allier." This is said to be a first, in that nobody has ever reportedly taken "spirit [that's] distilled from Scottish malting barley and peated to these colossal levels" and matured it in fresh wood.
Why might they do this, you ask? To answer a "what if" question, the motivation said to be at the heart of the experimental Octomore project since the beginning.
The result is a seven-year-old whisky, bottled at 61.2% ABV, that was laid down back in 2008 in the "far corner" of the distillery's 1845 Port Charlotte warehouses. Head distiller Adam Hannett is said to have carefully watched over the evolution of this experiment, which now fills a limited run of 12,000 bottles for global distribution.
Official expanded tasting notes for this rich chestnut colored whisky are below from Bruichladdich. It is pricing for at least $170 a bottle so far.
Nose: Here is huge presence with this whisky, taking the cork from the bottle will unleash something unique. The room fills with the sweet, smoky aroma as the first glass is poured and you know this is the prelude to a whisky like no other. The smoke is powerful but tempered by sweet, rich oak, two heavyweights that complement each other – there is balance between them. As the whisky opens, the complexity and intensity of the virgin oak gives notes of dried fruit, raisin and apricot then toasted bread, chocolate orange, coffee, coconut, buttery vanilla. There is a hint of barbeque and pine needles along with more fruit, this time from the spirit – green apples and grapefruit with a dusting of cloves and cinnamon. 
Palate: Prepare for an elevation in the octomore experience. As the first taste of 7.4 meets your taste buds the sensation is truly spectacular. The mouthfeel is rich and sumptuous then there is a detonation of flavour. Sweetness, peat smoke and the richness of toasted oak clamour for your attention as the warming strength of the spirit ignites. Wow! A drop of water will release exotic coconut and clove, lemon peel, caramel, turkish delight. Sweet orange blossom honey and more and more oak fill the palate, all of this is veiled in peat smoke, almost medicinal in its character it is peppered with sweet spicy notes of cinnamon and clove. 
Finish: True to our beliefs this distillation was slow and careful to ensure the texture and balance is perfect and this allows the flavour to last for an eternity. Honeysuckle and rose mingle with liquorice and clove, dried dates, apricots and honeyed vanilla released from the oak will slowly fade then the smoke will linger for an age competing with the sweetness of the oak for the last word on an unforgettable experience.

Kentucky's Augusta Distillery recently broke...
Nino Kilgore-Marchetti is the founder and editor-in-chief of The Whiskey Wash, an award winning whiskey lifestyle website dedicated to informing and entertaining consumers about whisk(e)y on a global level. As a whisk(e)y journalist, expert and judge he has written about the subject extensively, been interviewed in various media outlets and...