Redbreast Irish Whiskey, a luxury whiskey label produced by Irish Distillers (Jameson)/Pernod Ricard, has at the top of its normal range of bottlings a rather decadent 21 year old. Rarely has one seen an older expression then this for this brand, until now anyhow. Enter the over three decades old Redbreast Dream Cask.
Redbreast Dream Cask, according to those behind it, is a single cask, 32 year old single pot still Irish whiskey that was hand selected last year by Redbreast master blender Billy Leighton as his favorite. It was unveiled on Facebook a year ago to mark World Whisky Day 2017, at which time it is said "participants and viewers praised the quality and rarity of what is now the oldest Redbreast Irish whiskey ever to go on sale, with many requesting that the whiskey be made available to buy."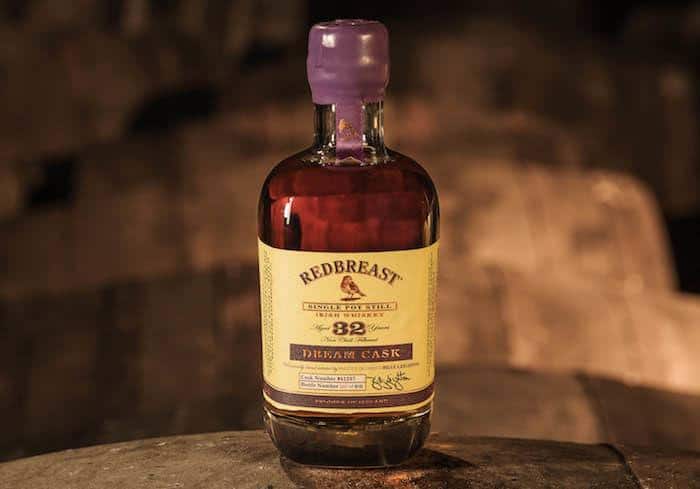 The history of Dream Cask's evolution is rather quite interesting. It was originally distilled on October 31, 1985, being laid down as single pot still Irish whiskey in refill American oak, ex-bourbon barrels. Close to 26 years later, on March 8, 2011, it was then recasked into a first fill, Oloroso sherry-seasoned butt before being bottled recently without chill filtration at 46.5% ABV.
"In almost 40 years as a blender, Redbreast Dream Cask is a real highlight as I am able to select my own, personal dream Irish whiskey and share it with the world," said Leighton in a prepared statement. "Our inaugural tasting in 2017 was by far the largest whiskey tasting I have ever held, and the feedback we have received from the whiskey community on the liquid has been phenomenal, so it's an honour to see it bottled to mark World Whisky Day 2018 – and watch this space for our 2019 plans."
Plans call for this Irish whiskey to be released in limited numbers on World Whisky Day 2018 (May 19) through the brand's online membership club in eligible countries. The price point for Dream Cask will be €500, or close to $600 USD, for a 500 ml bottle. You'll find official tasting notes for it below from Redbreast.
Aroma: Combination of fruit, herbs and spices. Notes of orange peel and blackcurrant that move to deeper richer notes including dark chocolate and bitter almond with a heavy oak influence in the background
Taste: Mixed fruit tones within the typical style of Irish single pot still whiskey. Light touch of menthol to liquorice. Exotic fruits alongside spices, herbs and Spanish toasted oak
Finish: The balance of fruit, oak and barley is slow to fade

Tamdhu Speyside Single Malt Scotch...
Nino Kilgore-Marchetti is the founder and editor-in-chief of The Whiskey Wash, an award winning whiskey lifestyle website dedicated to informing and entertaining consumers about whisk(e)y on a global level. As a whisk(e)y journalist, expert and judge he has written about the subject extensively, been interviewed in various media outlets and...