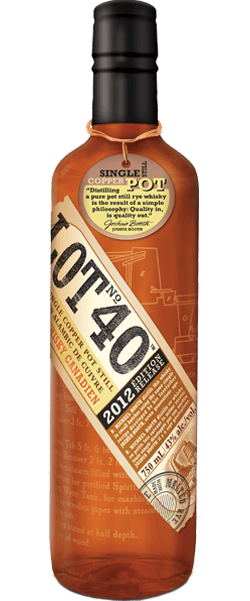 Rye is sturdy stuff. Where corn basks in six-month southern summers and wheat bends under the first touch of frost, rye prefers the biting wind and freezing winters of more continental climes. These tougher conditions lead to rye having less starch than any other grain used for whiskey production, which means smaller yields and bolder flavors.  Inland North America's cold winters, warm summers, and rich continental prairie soil makes it an ideal growing site for rye, which was originally brought across the Atlantic from Turkey and central Europe.
While the United States was once an enormous producer of rye whiskey, Prohibition and shifting post-WWII tastes stomped out much of it. Canada continued along with rye, but much of it was used in assembling light, easy-drinking blends and bottom-shelf mixing spirits.
Today, rye whiskey has exploded in popularity in the United States, and the scene is loaded with new labels from both the big players and upstart craft distillers. Once relegated to the blending bin, premium Canadian whisky is capitalizing on the rye buzz and staging a major comeback. Canadian producers are meeting demand with some outstanding releases, including this one: Lot No. 40.
Released in 2012 by Pernod-Ricard, Lot No. 40 is actually a revival of a whiskey from the late 1990's, when Corby (a major Canadian distributor affiliated with Pernod-Ricard) introduced a line of premium whiskies under the Canada Whisky Guild series. One of those was called Lot 40, named after the plot of land home to the historic Ontario farm of Joshua Booth, the ancestor of one of Hiram Walker's distillers and a Canadian pioneer, politician, and distiller. Despite a kind of cult-like popularity, the Canada Whisky Guild series was eventually discontinued, though those who had tasted Lot 40 mourned its passing for years afterwards.
In 2012, however, Pernod-Ricard re-introduced the Lot No. 40 label in response to growing demand for premium ryes. The contents of this bottle are made from a mash of 90% rye and 10% malted rye, made at Hiram Walker distillery and reportedly aged for seven to eight years. It's bottled at 86 proof, and sells for around $50.
Tasting Notes:
Appearance: Bright new copper penny with long, faint legs.
Nose: Lot No. 40 offers clear notes of rye from start to finish, beginning with fruity plum and menthol followed by cinnamon, clove, and a hint of smoky black cardamom. There is a touch of dill mingling with a slight prickle of alcohol heat, which marries nicely with the heavy rye aromas.
Palate: A wonderful, rich mouth feel with a full, spicy character. An initial light brown sugar sweetness transitions to a dry mid-palate full of rye bread, black pepper, brine, and a mouthwatering sourness, like a deli pickle. The finish is amazingly long and savory with the numbing quality of cloves and capsaicin on top of toasted oak, rye grain, and dusty cinnamon.
Conclusion:
This is a completely delicious rye that manages to capture the herbal, fruity, and spicy notes of the grain all at once. Lot No. 40 combines a rich, full flavor with a very soft mouth feel and understated alcohol, making it approachable yet satisfying. Hopefully Canadian producers, inspired by the success of whiskies like WhistlePig, Masterson's, and Lot No. 40, will start to dig into their stocks and save more treasures like these from the bland blends of the past.
Score: 93/100 

The Craft Irish Whiskey Co....
Margarett Waterbury is the author of Scotch: A Complete Introduction to Scotland's Whiskies and a full-time freelance writer and editor. Her work has appeared in Whisky Advocate, Food and Wine, Spirited Magazine, Artisan Spirit, Edible Seattle, Sip Northwest, Civil Eats, Travel Oregon, Artisan Spirit, and many other publications. She is...