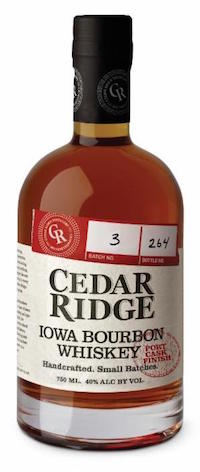 Editor's Note: This whiskey was provided to us as a free sample to review by the party behind it. The Whiskey Wash, while appreciative of this, did keep full independent editorial control over this article.
Hailing from that great state of Iowa, Cedar Ridge Distillery creates small batch whiskeys while sharing real estate with their own winery. This co-location affords their distillers a selection of casks other distilleries would have to pay good money to acquire. Intended to evoke the, eh, spirit of the holiday season, Cedar Ridge has created a cask strength bourbon which has also spent 12 months finishing in port wine casks. The result is Cedar Ridge Port Cask Finish Iowa Bourbon Whiskey.
Cedar Ridge Port Cask Finish Bourbon, as far as the sample goes that I got, clocked in at around 111 proof. The distillery recommended partaking in this dram over ice or mixed into a cocktail, but I prefer reviewing and enjoying my whiskeys neat. This is also how I humbly suggest you try this lovely whiskey.
I was very impressed by my first encounter with Cedar Ridge in the form of their single malt whiskey. Hopes were high for me before cracking this bottle. Not only was I not disappointed, I was blown away. This is a very, very good whiskey, though you may have a hard time finding it at market right now due to its limited edition focus.
Tasting Notes:
Appearance: Dark caramel, almost mahogany.
Nose: Candied fruit, cherries to be specific, vanilla, and hint of spice.
Palate: Sweet, somewhat thin mouthfeel, notes of cherries, vanilla, and a slight saltiness. Great balance of sweet and savory.
Finish: Warm, dry, definite port influences.
Conclusion:
In an industry which can often be stifled by tradition, it is good to see smaller distilleries taking risks and experimenting in small batch releases. The balance achieved in this bourbon is very enjoyable with the higher ABV saving this release from becoming too sweet. Flavorful, warm, and just fun, I found myself wanting another taste immediately.
Score: 92/100 

Tamdhu Speyside Single Malt Scotch...
When not sampling whiskey, Joshua St. John can most likely be found running the trails of the Pacific Northwest surrounding his home in Portland, Oregon. A lifelong world-traveler, Joshua was first introduced to single malts while visiting distilleries in Scotland, and continues to explore the world through the countless interpretations...