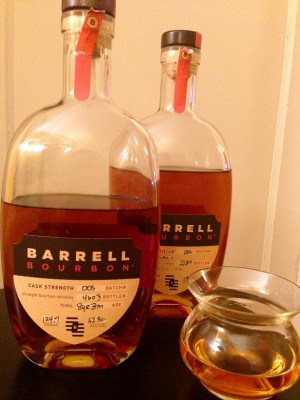 Editor's Note: This whiskey was provided to us as a free sample to review by the party behind it. The Whiskey Wash, while appreciative of this, did keep full independent editorial control over this article.
Barrell Craft Spirits is a relatively new non-distiller producer that has focused on sourcing unique, cask-strength expressions of American whiskeys. Rather than hide behind an invented backstory or obfuscate their products' origins, they've taken a page from the independent bottlers of Scotland and are forthright about the fact they're sourcing their whiskey.
In Scotland, independent bottlers like Signatory or Cadenhead's are a respected part of the whisky industry. They serve an important function in the market as a way for producers to dispose of barrels that don't fit their standard flavor profiles. They also offer alternative takes on established whiskies to the consumer – like cask-strength variants or unique blends.
Each batch Barrell Craft Spirits has released comes is detailed on their website with the mash bill, proof, age, barrel type, and state where the contents were made. Every handsome oval bottle is hand-labeled with key attributes and a unique bottle number – a craft-inspired touch.
Until now, Barrell Craft Spirits has confined itself almost exclusively to bourbons, though they recently released a blended American Whiskey expression. However, based on their mission "to find and curate the best barrels and batches of whiskey, wherever they may be," they aren't limiting themselves.
Their releases have won some major accolades, including several Double Golds at the San Francisco Spirits Competition as well as a highly-touted tie with Pappy Van Winkle 15 year at the Ultimate Spirits Challenge.
The Barrell bourbons are almost entirely devoid of backstory or romance, a peculiar situation in these days when every bottle seems to be made from a secret pre-prohibition great-grand-pappy's recipe saved from obscurity by a team of wild-west gunslingers, Chicago mobsters, and folksy backwoods moonshiners. Without any marketing copy, it's up to the whiskey to sell itself, and fortunately these expressions have a loud, clear voice.
Tasting Notes:
We received two bottles of Barrell Bourbon to  review: Batch 004, and Batch 005.
Batch 004
Aged six years and bottled at 116.7 proof, Barrell Bourbon Batch 004 was distilled at an undisclosed location in Kentucky.
Appearance: Medium caramelized sugar in color, long and persistent legs in the glass.
Nose: A honeyed nose somehow reminiscent of mulled wine, with ample cinnamon. Fresh orange zest mingles with caramel cream, clove, and a touch of sun-warmed hay.
Palate: I found a bit of water was essential to appreciating this high-proof whiskey. There's a lot of round sweetness in the entry and mid-palate, with notes of toast, vanilla, caramel, and citrus. The finish is long and surprisingly maritime, with creamy, oyster-like briny notes.
Barrell Batch 004 is a beautiful crowd-pleaser with a rich mouth feel and complex finish that saves it from being syrupy.
Score: 89/100
Batch 005
Aged eight years, three months, and bottled at a strapping 124.9 proof, this is a bruiser of a bourbon. Batch 005 was distilled at an undisclosed location in Tennessee.
Appearance: Slightly darker than the 004, with a burgundy cast. Very viscous in the glass.
Nose: Intensely nutty with tons of buttery esters, giving the distinct impression of a fresh pecan pie.
Palate: Like the 004, without water, it's a bit closed, but a few drops remedies that situation nicely. Strong notes of hazelnut and pastry precede a mid palate dominated by molasses and demerara, again evoking nut pie. The finish moves in a drier direction, introducing some juicy satsuma tartness as well as a bit of cola-like phosphoric acid, before trailing off with a hint of slight French roast bitterness. This whiskey excels as a highball or over ice, with the high strength leaving plenty of room for dilution, while still retaining a robust flavor.
Barrell Bourbon 005 is enjoyable from start to finish, moving seamlessly from sweet to sour to bitter in a masterful, mouth-filling dance.
Score: 91/100

Irish Distillers, maker of Method...
Margarett Waterbury is the author of Scotch: A Complete Introduction to Scotland's Whiskies and a full-time freelance writer and editor. Her work has appeared in Whisky Advocate, Food and Wine, Spirited Magazine, Artisan Spirit, Edible Seattle, Sip Northwest, Civil Eats, Travel Oregon, Artisan Spirit, and many other publications. She is...