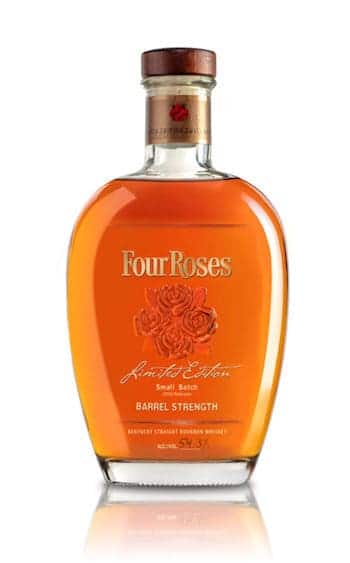 Editor's Note: This whiskey was provided to us as a free sample to review by the party behind it. The Whiskey Wash, while appreciative of this, did keep full independent editorial control over this article.
Kentucky-based whiskey writers are a lucky lot. Not only do we get new release samples well ahead of the general press and the public, they're sometimes hand delivered to our offices, as happened last week with the 2016 Four Roses Limited Edition Small Batch.
As the name states, this is a Small Batch, meaning the bottling is the end product of multiple comingled barrels. Four Roses' master distiller Brent Elliott chose an undisclosed number of 12-year-old casks containing the distillery's OESO recipe and OBSV recipes, as well as its 16-year-old OESK recipe. The blend was bottled at barrel strength, 111.2 proof.
According to a news release, Elliott selected the OESO recipe as the blend's anchor recipe because his tasting panel was "able to highlight its exceptional fruitiness and balance it out with more age and spice from the two other recipes."
If you're not a Four Roses nerd (which is a cool nerd, by the way), know that E = its high-corn mash bill of 75 percent corn, 20 percent rye and 5 percent malted barley, and O = one of its five yeast strains known best for its "rich fruitiness, light vanilla, caramel and full bodied" accents.
Four Roses' tasting notes on this release mention "sweet cherry and crisp green apples, mingled with rich apricot and structured rye aromas. Tart citrus flavors greet the palate, then give way to hints of sweet molasses, peppery spices and decadent crème brulée. The finish is long and gentle, with delicate honey and light mint."
Based on that, "E" made quite a stand on the palates of the distillery's tasting panel.
I and a friend, who happened by the day I got my sample, did not read that info before our sipping and nosing, yet we found many similarities, especially aromas of stone fruit, cherry, spearmint and toasted wood, and rich flavors of toffee, oak and custard. The texture was lush and creamy on the palate, which gave way to a slightly dry finish. As he finished his pour, my friend muttered, "Balanced, really balanced."
The Lawrenceburg, Ky., distillery said 9,258 hand-numbered bottles will be released in the U.S. only, and that fans could look forward to it on retailer's shelves by mid-September. No price was mentioned in the news release, but given that last year's Small Batch retailed for $129, it's likely to cost similarly. Doubtless, serious "Fo-Ro" fans will line up for this release when it becomes available at its gift shops on Sept. 16.
Fun note: Last year, a fan drove seven hours through the night from Michigan to be first in line for the release at 4:30 a.m. At 8 a.m. that day, Elliott, then the newly anointed master distiller, was serving hot coffee to him and the 40 others who'd queued behind him. Yes, Kentucky whiskey people are hospitable folk.
Vital Stats: 111.2 proof. Blend of 12- and 16-year bourbons. 75% corn; 20% rye, 5% malted barley. No price set.
Appearance: Golden, wide-spaced legs.
Nose: Stone fruit, cherry and some apricot, spearmint and toasted wood.
Palate: Rich flavors of toffee, oak and custard. Texture is lush and creamy on the palate.  At this proof, it brings a little heat, but a rest in the glass cools that some while amplifying the dark fruit notes and caramel. Adding a few drops of water to a small taste makes the whiskey velvety at mid-palate.
Finish: Slightly dry, yet easy all the way down, even at such as sturdy proof.
Final Thoughts:
I like this release far better than the 2015 Four Roses Limited Edition Small Batch, which was hot on my palate despite a lower 108 proof. My Whiskey Wash colleague, however, loved it, which is part of why whiskey sipping is so fun. There's always something for everyone.
Score: 90/100

The West Fork Whiskey Company...
Steve Coomes is an award-winning journalist and book author specializing in whiskey and food. In his 30-year career, he has edited and written for national trade and consumer publications including USA Today, Southern Living, Delta Sky Magazine, Nation's Restaurant News, Pizza Today, Restaurant Business, Bourbon + and American Whiskey magazine....