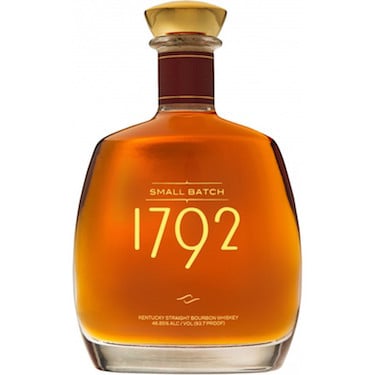 Editor's Note: This whiskey was provided to us as a free sample to review by the party behind it. The Whiskey Wash, while appreciative of this, did keep full independent editorial control over this article.
1792 Small Batch Bourbon is a higher-end bourbon from Barton, itself one of a number of bourbon brands owned by Sazerac. It was originally sold as 1792 Ridgewood Reserve, until Brown-Forman successfully sued Barton in 2004, arguing that consumers would confuse it with Woodford Reserve. The name refers to the year Kentucky gained statehood, a nod to bourbon history by a company that's only been in business since 1933.
This is a higher-rye bourbon, with about 20% of the mash bill consisting of the peppery grain. It's aged eight years, bottled at 93.7 proof and priced and marketed to compete against labels like Knob Creek and, indeed, Woodford Reserve.
The Review:
In appearance, this bourbon is a deep caramel color, and a swirl forms legs that stick like a beaded necklace to the glass, then sluggishly make their way back down.
Nose: a palate of sweet honey and vanilla tones is balanced with orange and spice, hinting at the relatively high rye content. A few minutes in the glass lets the nose open up nicely. A distinct woodiness sits in the background.
Palate: quite tannic and fairly peppery, with a heavily woody flavor profile. A hint of maple is noticeable, but more than anything, what stands out is the dry, tongue-coating mouthfeel.
Finish: oak predominates on a long, but drying, nearly hot finish. Some vanilla also peeks through.
Though the spicy, fruity character imparted by a higher rye content is noticeable here, more than I taste rye, I taste all eight years this bourbon spent in the barrel. 1792's nose is fairly well balanced, but the tannic mouthfeel throws me off, and the finish is as dry as the Kalahari.
It's enough to considerably temper my enjoyment of an otherwise good whiskey, and all things considered, I give 1792 Small Batch Bourbon a score of 84. 

[graphiq id="YdLqFurcJD" title="1792 Small Batch Overview " width="700″ height="514″ url="https://w.graphiq.com/w/YdLqFurcJD" link="https://whiskey.underthelabel.com/l/1880/1792-Small-Batch" link_text="1792 Small Batch Overview | UnderTheLabel"]
User Review
2.86

(

7

votes)

Editor's Note: This coffee was...
Katelyn is a freelance writer in Portland, Oregon. She's a regular contributor to the Whiskey Wash with an affinity for the unique and weird side of whiskey.