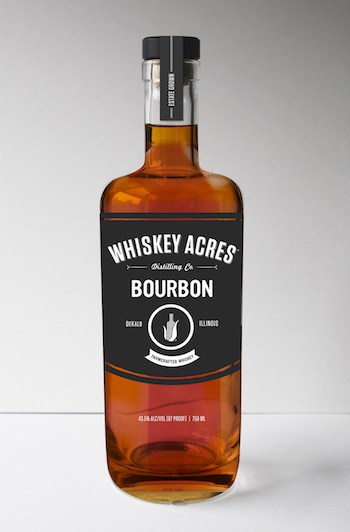 What is a farm distillery, you might wonder? For the purposes of this story, and for our site in general, it refers to a place where grains are grown on the same property as the distilling operation itself. It is a rare beast in the U.S. indeed which does this – Far North Spirits and its Roknar Rye are some current examples – so it is pretty cool to call to your attention Whiskey Acres and its recently released Farmcrafted Bourbon.
Whiskey Acres, which consulted with regarded master distiller Dave Pickerell during its inception process, bills itself as a "seed to spirit" distillery. It is run by fifth-generation farmers Jim and Jamie Walter, along with Nick Nagele, and makes use of grains grown on Walter Farms, according to Chicago Reader, which has been owned by the Walter family since the 1930s.
Called by some as Illinois' first estate distillery, Whiskey Acres has already released a corn whiskey that's unaged and also non-chill filtered. It is said to have a "slightly sweet, bold front end" on the palate which finishes "with a notably smooth deliberate grain flavor." The Farmcrafted Bourbon, meanwhile, makes uses of wheat as the second grain in its mash bill, resulting in a bourbon that's softer and more rounded. It has already gotten some notoriety in the judging world, earring a silver medal at the San Francisco World Spirits Competition, and a bronze at the American Craft Spirits Competition.
Though there were no tasting notes available from Whiskey Acres as we put this story together, I have included notes below from liquor retailer Binny's, which is selling bottles of the bourbon for $45. There's no specific age statement for the release, but an article [PDF] from a local farm bureau magazine suggests at least 18 months. It should be noted as well that the distillery is working on a high rye whiskey as well as an "artisan" series making use of heirloom corn varieties.
"The color is bright and shiny like a new copper penny. The bourbon clings to the glass, and slowly releases down the sides. The aromas jump out of the glass. The wheat and corn are evident and up front on the nose. Cornbread certainly comes to mind. In the background flavors of orange peel, toffee, vanilla, and a soft dose of anise from the wood."

On the palate, the bourbon feels fat and viscous. Upon tasting, a dose of fruit shows up. Dark Cherries, cooked blackberry, vanilla, toffee, and subtle cinnamon, along with orange peel and spice. Quite vibrant on the tongue. The finish is medium in length, warming and pleasant with persistent flavors. Orange peel, toffee, vanilla, oak, and spice. A wonderful addition to the bourbon aisle."

Irish Distillers, maker of Method...
Nino Kilgore-Marchetti is the founder and editor-in-chief of The Whiskey Wash, an award winning whiskey lifestyle website dedicated to informing and entertaining consumers about whisk(e)y on a global level. As a whisk(e)y journalist, expert and judge he has written about the subject extensively, been interviewed in various media outlets and...