Musician and Grammy award-winning producer Neil Giraldo is a musical artist best known for having written over 100 songs that have been instrumental in selling over 45 million records. He's worked with the best in the industry, including Pat Benatar, John Waite, Rick Springfield, Kenny Loggins, Steve Forbert, The Del Lords, Beth Hart, The Coors and others. Giraldo now believes he can bring his musical expertise to the world of whiskey, and has released a new bourbon influenced by what's described as tonal vibrations.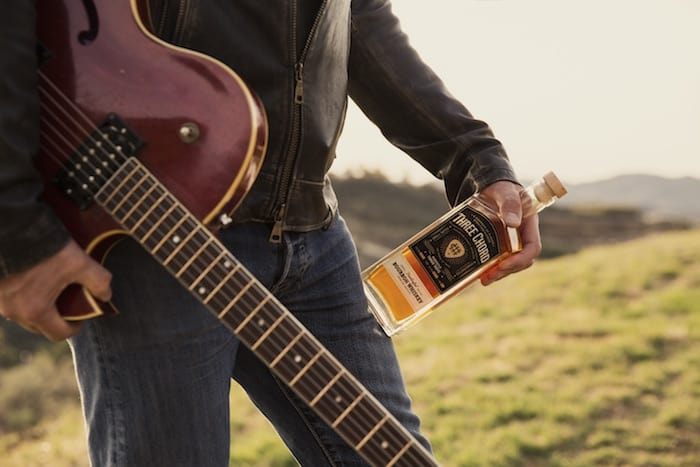 Three Chords Blended Bourbon, according to those behind it, starts off
with carefully sourced barrels from select American Cooperages. Implementing the latest barrel-toasting techniques, American Oak from the Missouri Ozarks is charred to a precise temperature, which allows for the extraction of the unique flavors of maple syrup, vanilla, and caramel embodied in the wood. Three Chord sources up to 12-year-old bourbons from distillers in Kentucky and Tennessee. Then, Master Distiller Ari Sussman handcrafts the perfect blend of aged bourbon and the Three Chord toasted oak techniques to create an authentic taste profile.

Using a proprietary and unique process, Three Chord applies tonal vibrations to finish the blend and extract additional caramel, vanilla, and maple notes from the barrel. These tonal vibrations make the liquids in the bourbon expand and collapse, developing a nuanced taste, aroma, and character that is more typical of a seasoned spirit. This process brings out Three Chord's flavors and marries them together in perfect harmony.
This tonal vibration finishing technique reportedly influences the molecular structure of the bourbon, resulting in the above described final product that's then bottled at 40.5% ABV.
"When I first began playing guitar, I understood the influence of three basic chords — the roots of the blues — and recognized that the beauty of the perfect melody, the arrangement of notes and vibrations of tones, could impact one's mood and elicit powerful emotions," said Giraldo in a prepared statement. "I also saw how drinks resting on our guitar amplifiers would vibrate and wondered if the implementation of sound and vibrations could also be used to alter and enhance the structure of a seasoned spirit. I wanted to take that same philosophy and apply it to making bourbon."
Plans call for Three Chord Blended Bourbon, produced by Giraldo's Steel Bending Spirits, to price around $40. It is a high rye variant, with a mash bill that's 75% corn, 22% rye and 4% malted barley. You'll find official tasting notes for it below for your consideration.
Nose: Warm, rich caramel, vanilla, and maple on the nose.
Taste: Created to reach all areas of your palette with different flavor senses. It begins with a smooth start, developing spicier complexity at mid-palette, finishing off long as it moves to the back of your tongue revealing bold, spicy, and smooth flavors.
Finish: Silky smooth vanilla and caramel tones that linger warm and satisfying.
Nino Kilgore-Marchetti is the founder and editor-in-chief of The Whiskey Wash, an award winning whiskey lifestyle website dedicated to informing and entertaining consumers about whisk(e)y on a global level. As a whisk(e)y journalist, expert and judge he has written about the subject extensively, been interviewed in various media outlets and...