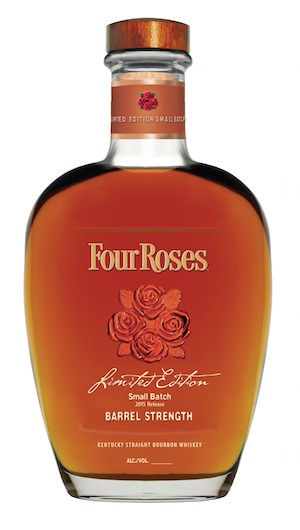 The pending retirement of Four Roses master distilling legend Jim Rutledge and the appointment of his successor Brent Elliot isn't the only big news of the moment coming from this Kentucky bourbon distillery. The ever forward production schedule of good whiskey continues as well, this time with the debut of the Four Roses 2015 Limited Edition Small Batch Bourbon.
Four Roses, for this year's Small Batch blend, has drawn upon some rather aged bourbons for the bottling. The distillery, for those who don't know, is rathe unique in the industry in that it combines two mashbills with five proprietary yeast strains to produce ten distinct bourbon recipes. What's in the bottle for 2015 is a blend of a a 16-year-old bourbon from Four Roses' OBSK recipe, a 15-year-old OESK, a 14-year-old OESK and an 11-year-old OBSV.
This bourbon, bottled at a hearty 108.5 proof, will be released in mid-September, with approximately 12,600 hand-numbered bottles being distributed. It is a fitting tribute to the retiring Rutledge, who we had the great privilege of interviewing recently on his transition.
Official tasting notes for the Four Roses 2015 Limited Edition Small Batch Bourbon indicate a mingling together of "aromas of ripe cherry, caramel custard and fresh magnolia. Spicy cinnamon and clove flavors give way to subtle tastes of orange peel, apricot and light honey. The long, velvety finish leaves lingering hints of creamy vanilla and fresh spearmint."
"This combination of mature bourbons is something truly special," said Rutledge in a statement. "It's great when you can go out on a high note, and this bourbon delivers that."

New York's Black Button Distilling...
Nino Kilgore-Marchetti is the founder and editor-in-chief of The Whiskey Wash, an award winning whiskey lifestyle website dedicated to informing and entertaining consumers about whisk(e)y on a global level. As a whisk(e)y journalist, expert and judge he has written about the subject extensively, been interviewed in various media outlets and...