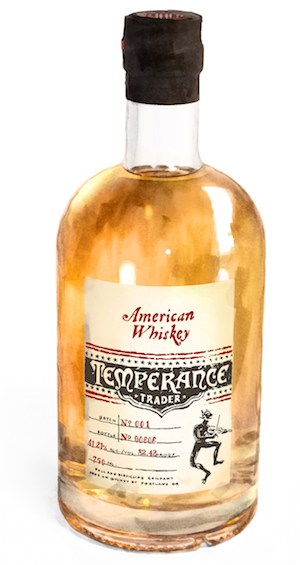 Editor's Note: This whiskey was provided to us as a free sample to review by the party behind it. The Whiskey Wash, while appreciative of this, did keep full independent editorial control over this article.
Named after Portland's famously pure aquifer, Bull Run Distilling was founded in 2010 by Lee Madoff (the co-founder of Portland distillery juggernaut House Spirits) and his business partner, Patrick Bernards. They offer a full spirit portfolio of gin, vodka, rum, aquavit, and whiskey, all characterized by a confident, precise, well-made flavor that's sometimes missing from craft products.
While Madoff and crew are hard at work on their own house-distilled whiskey, they're also releasing select casks poached away from Indiana's MGP and finished at the distillery. These whiskies are bottled under the Temperance Trader label, which so far includes a bourbon (in standard, barrel-strength, and vermouth-finished variants) as well as the unusual and delicious Temperance Trader American Whiskey.
All of the Temperance Trader releases are quite tasty, but the American Whiskey represents Bull Run's first departure from its flagship high-rye bourbon mash bill. Instead, this expression is a corn whiskey made from 92% corn and 8% malted barley. Corn whiskey is essentially bourbon aged in a used barrel rather than the charred new oak required to carry the bourbon name. Echoing Scotch whisky, used barrels impart a distinct set of flavors, with lighter, less astringent, and more grain-forward notes than traditional bourbons.
In the glass I found this 82.4 proof, non age statement whiskey to have a light blonde color. My tasting notes for it are below:
Aroma: A sweet, clean aroma with a real tropical, Tiki Bar kind of feel. Strong notes of rum and Tahitian vanilla bean mingle with Christmas cookies, nutmeg, pineapple, and banana.
Palate: This whiskey is quite aperitif-like, light and sweet with a syrupy mouth feel. Delightful notes of orange, verjus, and aromatic white grapes remind me of Lillet Blanc, while more grounded flavors of hazelnut, smoky praline, and intense nutmeg give a counterpoint to all that sweetness.
Finish: Short and focused with a slight cocoa/nutmeg bitterness.
This whiskey is all pleasure. Free from vegetal off notes and heavy new oak, corn is showcased here in all its exotic, tropical new-world glory. While bourbon can be somewhat bombastic, this "American Whiskey" is more mild and nuanced, and worked great both neat or over ice and in highballs.
I give Bull Run's Temperance Trader American Whiskey a score of 89 Points.

Editor's Note: This whisky was...
Margarett Waterbury is the author of Scotch: A Complete Introduction to Scotland's Whiskies and a full-time freelance writer and editor. Her work has appeared in Whisky Advocate, Food and Wine, Spirited Magazine, Artisan Spirit, Edible Seattle, Sip Northwest, Civil Eats, Travel Oregon, Artisan Spirit, and many other publications. She is...