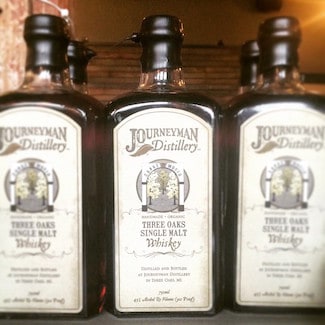 Editor's Note: This whiskey was provided to us as a free sample to review by the party behind it. The Whiskey Wash, while appreciative of this, did keep full independent editorial control over this article.
Journeyman Distillery is, satisfyingly, located in a 130-year-old warehouse that once housed a buggy whip and corset bone factory owned by an ardent prohibitionist named E. K. Warren. Now that buggies, corsets, and prohibition have all long gone out of style, the historic building is quietly churning out some of the tastiest craft spirits in the Midwest.
Based in Three Oaks, Michigan, Journeyman Distillery is right on the northern edge of the grain-fed American heartland, so it seems fitting that whiskey is their largest product category. In addition to the second annual release of the Three Oaks Single Malt, their portfolio includes rye, bourbon, and Silver Cross, a four-grain whiskey. They also have an extensive lineup of gin, rum, brandy, vodka, and liqueurs, if you're into that sort of thing. Notably, all of their spirits are certified organic.
Last year, this American single malt expression sold out fast. On July 4th this year, Journeyman released its second batch. Made from 100% malted two-row barley, the 2015 Three Oaks Single Malt has seen the inside of three different types of barrels: one year in Featherbone Bourbon barrels, nearly 18 months in Road's End Rum barrels and two final months in imported Port casks. That's a total of 32 months in the barrel, which puts Three Oaks Single Malt on the older side for a craft whiskey.
This is a real gourmand of a spirit. The nose is heavy, syrupy, and a little musty, with strong notes of praline, marzipan, blackberry, mushroom, and potpourri. With water, the fruitier elements of the nose like green apple and grape come through more strongly.
In the mouth, the flavor is less intense than you'd expect from that powerful aroma. Caramel, butterscotch, and brown sugar provide a sweet counterpoint to a pleasingly bitter, cocoa-like finish. There's also something a bit vaporous about the spirit; if I didn't know it was bottled at 90 proof, I'd guess it was stronger.
This is a very dessert-y whiskey that tastes older than it is. Though the flavor doesn't quite follow through on the epic promises of the nose, the Journeyman Three Oaks Single Malt is so easy to like, especially if you prefer a less oak-forward spirit. At $60 for a 750ml bottle, it's also honestly priced. As for getting hold of a bottle of this limited release, you may be able to find it in one of the handful of states where the distillery's products are distributed.
I give this American single malt whiskey a score of 90.


Maine's Wiggly Bridge Distillery has...
Margarett Waterbury is the author of Scotch: A Complete Introduction to Scotland's Whiskies and a full-time freelance writer and editor. Her work has appeared in Whisky Advocate, Food and Wine, Spirited Magazine, Artisan Spirit, Edible Seattle, Sip Northwest, Civil Eats, Travel Oregon, Artisan Spirit, and many other publications. She is...