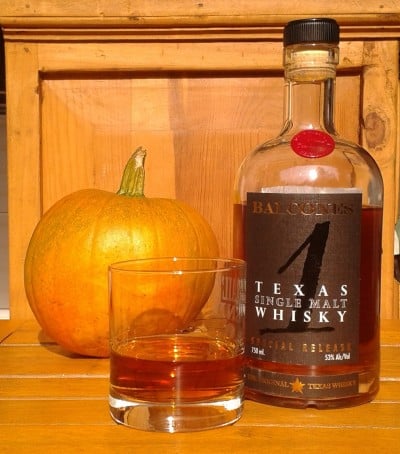 Editor's Note: This review sample was pulled from the personal collection of The Whiskey Wash's founder.
According to Jim Murray's 2013 Whiskey Bible, Balcones Distilling in Waco, Texas, is putting out some mighty fine product.  A decade ago, ask anyone about Texas whiskey, and a blank stare was about all you could expect.  Now, the state boasts over a dozen producers of American spirits, and Balcones is one of those at the forefront.
Seven years ago, with true Texan spirit, founder Chip Tate welded together his own stills in an old warehouse under a bridge.  Born from a passion for distilling, the Balcones brand insists that it was a love of whiskey that fuels its distilling, rather than a jump-on-the-bandwagon business mentality that has seen so many other distilleries open with mixed success.
The secret to the Balcones Distillery's success is their commitment to releasing whiskey only when its truly ready.  So far, their offerings includes their award winning single malt, several versions of Texas corn whiskey, a bourbon, a dark rum and a spirit called Rumble made from wildflower honey, figs, and turbinado sugar.
In August of 2014 Tate found himself on the outside looking in after a dispute with his investors went very sour.  Although a good portion of the product currently in barrels and bottles around the country was distilled under Tate's careful eye, the distillery is quick to reassure the drinking public that the whiskies will not change.  Having a bottle of Balcones "1" Texas Single Malt was an opportunity to find out just what should be expected from future releases.
Bottled at a rather high 53%, and aged on average 14 to 24 months per batch depending upon what barrels are drawn from, the Balcones 1 Texas Single Malt gleams.
In the glass:  An intense bright copper gold, the whiskey falls in slow legs of tiny drops.
On the nose: Fruity and nuanced, with pear and nougat, followed by celeriac, marzipan, and elderflower
On the palate: Summer wood reminiscent of classic Speyside flavors blurs the line between tannic and sweet, with buttery apricot and stone fruits mingled with tobacco and fresh hay
The Finish: Long and drying, the finish shifts quickly from toasted oak to Ecuadorean dark chocolate to a lingering essence of Brazil nuts
Complex and well balanced, this is a satisfying dram worthy of searching out, and I give it a score of 89 Points.

[graphiq id="1uxBexWdovH" title="Balcones 1 Texas Single Malt Overview " width="700″ height="500″ url="https://w.graphiq.com/w/1uxBexWdovH" link="https://whiskey.underthelabel.com/l/498/Balcones-1-Texas-Single-Malt" link_text="Balcones 1 Texas Single Malt Overview | UnderTheLabel"]

A special edition bourbon celebrating...
Tish Lester is a former restauranteur whose love of good flavors led her to the world of whiskey, where she is an avid participant, having attended nosings, tastings and master classes throughout Europe and the United States. She has recently discovered the truth that for every moment in our lives,...