Stranahan's Whiskey out of Colorado is one of my favorite American whiskies. I have worked at the distillery for a year now as a tour guide but sadly I must move on to new ventures and adventures.
Stranahan's was established in 2004 in downtown Denver using the wort from Flying Dog Brewery. George Stranahan, its name sake and founder, teamed up with Jess Graber to start the first legal distillery in Colorado since Prohibition. Garber was a volunteer firefighter and met Stranahan while fighting a fire on the latter's ranch in Woody Creek, Colorado, which is just outside of Aspen. Stranahan was an owner of Flying Dog so it was natural to use the brewery as a launching pad for the new whiskey. Garber, for his part, had been doing "artisanal experiments with alcohol" in the back woods for many years.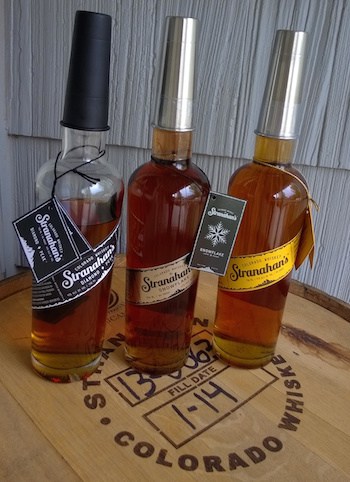 The strange thing about Flying Dog was that its beers turned out to be more popular on the East Coast than they were here out West, so they relocated to Frederick, Maryland. In 2009 Stranahan's moved into what had been the old Heavenly Daze Brewery at 200 So. Kalamath St. They have been making whiskey from grain to bottle there ever since.
Stranahan's was also one of the first American whiskies in the United States to be made from 100% malted barley. It is finished in new charred white oak American barrels and is aged for two to five years in the barrel. Every bottle of the original Stranahan's has whiskey aged two to five years in it, with the different ages being married together for consistency.
On the nose the original Stranahan's exudes aromas of caramel, vanilla and spice. On the palate there are flavors of orange zest, cinnamon, tobacco and leather with hints of fig. The finish is long, smooth and warm with hints of anise. Bottled at 94 proof it is smoother than one would expect. The addition of a few drops of water releases flavors of butterscotch, honey and toffee as well. It also makes a mean Stranhattan! (Two parts Stranahan's, one part sweet vermouth, dash of bitters and a Luxardo cherry.) The Stranahan's Original Straight American Whiskey retails for about $55 per bottle and is now available pretty much nationally.
The big S also produces a very special limited release whiskey called Snowflake. Snowflake is Stranahan's aged additionally in wine barrels, and the wine barrels are sourced from local Denver wineries. It is released twice a year in June and December and no two releases are alike.
Snowflake is named after the 14,000 ft. peaks around Colorado, and when it was first released it was a one barrel shot producing about 300 bottles. They have since upped production so that more people can get some and the last release, Mt. Bierstadt, was a combination of the whiskey aged in 40 year old Spanish Olorosso sherry barrels, French cognac barrels and a cherry wine barrel. Mt. Bierstadt was the biggest and most ambitious Snowflake release to date and clocked in at about 1200 bottles. It is rich, complex and tantalizingly unique.
So, you want some Snowflake? You'll need to pack your bags then and get on a plane in most cases, because the only way you can get some is to come to Denver when it is released. The release date is posted on Facebook about two weeks prior and it is $99 per bottle. Each person who arrives early enough to get a ticket is allowed to purchase two bottles and when it is gone, it's gone. The day before the release date people start lining up at the distillery around 3pm. The line goes around the block and they camp out overnight. It is the Black Friday of whiskey, make no mistake about it! And once you taste it you understand why folks are willing to camp out overnight for it.
The latest addition to the Stranahan's line up is the Diamond Peak (aka Black Label). Released a couple of weeks ago on April 16th at the Dstill Denver grand tasting, it is a four year old whiskey. It is a limited edition item available at the distillery while supplies last and will also be distributed to select liquor stores in the Denver area. Pricing for around $70, here are master distiller Rob Dietrich's official tasting notes:
Nose: Dried apricot, tack-shed leather, black licorice, hint of wet cedar.
Palate: Turkish, dark roast coffee, butterscotch oak, cayenne and Mexican hot chocolate with a parting gift of a rolling creamy finish.
Stranahan's was sold to Proximo Spirits in 2010. Happily Proximo has provided the funding so that the distillery can grow much faster than it could have on its own, while allowing the craft spirit making process to remain as it always has, by hand from grain to bottle on site. Since then Stranahan has retired and Graber has started his own project called Tin Cup, a light style bourbon made from corn, barley and rye that is available nationally.

The Craft Irish Whiskey Co....
Lisa Graziano grew up with a German father and Irish-American mother in Los Angeles, California. An education in beer, wine and spirits came with this upbringing. She has pursued the study of wine and spirits seriously for the past eight years, earning both Certified Specialist of Wine and Spirits from...