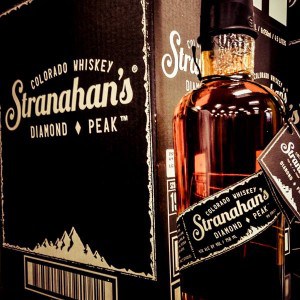 The Stranahan's Colorado Whiskey story is likely one of the most successful thus far in the craft whiskey world. It is an extremely popular American single malt expression, made from 100% malted barley and finished in new charred white oak American barrels for two to five years. There's now a new expression joining the line up which is already out in select markets around the country that's known as Diamond Peak.
Stranahan's Diamond Peak, as we talked about when we profiled the distillery back in May, is a four year old bottling, pricing around $70, that was initially selling out quite quickly in Stranhan's gift shop. It's been mentioned there's six total batches of this out there, and if you are a fan of these guys it may well be worth hunting a bottle or two of it down.
Diamond Peak, for the curious, is said to be the Black Label version of the regular Stranahan's. It clocks in at 94 proof and is non-chill filtered. Tasting notes previously provided to us by master distiller Rob Dietrich are presented below for your consideration.
Nose: Dried apricot, tack-shed leather, black licorice, hint of wet cedar.
Palate: Turkish, dark roast coffee, butterscotch oak, cayenne and Mexican hot chocolate with a parting gift of a rolling creamy finish.

Twisted Tea Hard Iced Tea...
Nino Kilgore-Marchetti is the founder and editor-in-chief of The Whiskey Wash, an award winning whiskey lifestyle website dedicated to informing and entertaining consumers about whisk(e)y on a global level. As a whisk(e)y journalist, expert and judge he has written about the subject extensively, been interviewed in various media outlets and...