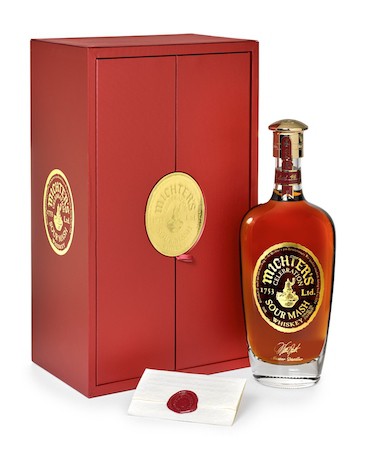 If you go back in time to the early days of The Whiskey Wash, circa October, 2013, you'll see I covered at the launch of Michter's Celebration Sour Mash. This whiskey, said to contain some of Michter's oldest sourced whiskies, was priced at retail between $3,000 and $4,000 a bottle. Fast forward to today, and you'll find this expression continues to sit at the top of the most expensive American whiskies ever to hit retail. It is now set to further cement its place in that list, courtesy of a 2016 variant just announced that's coming in at around $5,000 a bottle.
Michter's Celebration Sour Mash 2016, like its predecessor a few years back, will likely stir the fires of controversy around American whiskey pricing. Whatever the case, what we can tell you about it this go around is it's a blend of six barrels chosen by outgoing Michter's master distiller Willie Pratt. This release is his final swan song before he's replaced by Pamela Heilmann at the helm as the first ever female master distiller at a Kentucky facility currently producing whiskey.
As for what's in the bottle, it is said to a blend which ranges from over a decade to nearly 33-years-old. Michter's Celebration Sour Mash 2016 has been bottled at 116.8 proof and will be extremely limited in release, totaling just 256 bottles.
"Our Michter's team takes great pride in every single bottle of whiskey we offer," said Michter's President Joseph J. Magliocco in a prepared statement. "When we first released Michter's Celebration Sour Mash in 2013, it was our goal to show that an extraordinary American whiskey could rival the very finest spirits produced anywhere in the world."
This year, Willie has done just that yet again. With his masterful barrel selection and blending, Willie's sum of the parts is even greater than each of those remarkable parts independently."

Milam & Greene Whiskey recently...
Nino Kilgore-Marchetti is the founder and editor-in-chief of The Whiskey Wash, an award winning whiskey lifestyle website dedicated to informing and entertaining consumers about whisk(e)y on a global level. As a whisk(e)y journalist, expert and judge he has written about the subject extensively, been interviewed in various media outlets and...