Solera Whiskey – Real or Historic Fraction?
Most people associate the concept of innovation with modern technology – new cell phones, cooking gadgets, medical devices, video game graphics, safety features for cars, etc. However, when it comes to whiskey, sometimes in order to make something seem new, the innovation is informed by techniques that are centuries old. That is how a technique as old school as solera maturation became part of the modern whiskey renaissance.
Solera is an arduous maturation and blending method that is most commonly used to produce styles of fortified wine such as sherry, Port, Madeira, and Marsala, but also products such as rum, brandy, and vinegar. The main allure for solera aged products, especially fortified wines, is that the final blend may contain a measure of liquid that is quite old – in some blends that drop might even be more than several decades old. However, when it comes to whiskey, especially younger American whiskey, is "solera aging" really a true way to label the blending technique used to make it, or is it just a fancy way to market whiskey that comes together through fractional blending?
What is Solera Aging?
It's somewhat complicated to tell rather than show, but here's an interpretation that might help explain it: Barrels of liquid of different maturation levels are stacked in a pyramid, with the oldest liquid on the bottom and the youngest on top. Each layer in the stack contains liquid of approximately the same age (in sherry these stacks are called "criaderas").
As the liquid eventually evaporates from the oldest barrel in the stack, liquid is extracted from the next youngest barrel above it and added to that barrel, and so on for each level of the stack until the desired blend is achieved in the oldest barrel, which provides the bottling stock. The bottling blend will contain remnants of the original liquid, as well as some slightly younger liquids, and a larger portion of the youngest liquids. And, in theory, every batch from a solera system will include at least a little bit of the oldest, original liquid.
This laborious process can go on almost indefinitely, depending on desired level of nuance. Some sherries, for example, are created from a solera that was started nearly a century ago.
How does solera aging work with whiskey maturation? Is it the same thing?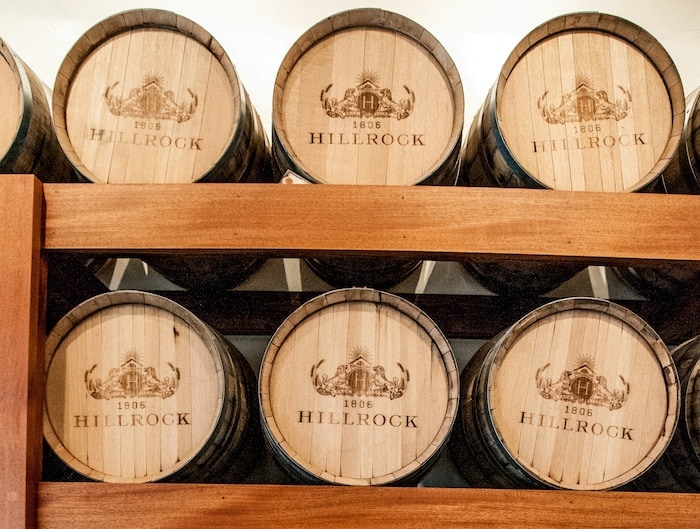 A few years ago, master distiller David Pickerell decided to create a solera aged bourbon for Hillrock Estate Distillery in New York's Hudson Valley. "The main inspiration in creating Hillrock's solera was first to create a whiskey that was differentiated from the pack by uncommon depth of character and consistency. Second, to use a technique that has substantial historical roots. Third, to capitalize on the wine background of the owner, Jeff Baker, and distillery manager, Tim Welly. The solera system seemed the best answer to all of the above."
Pickerell drew his methodology largely from the Lustau sherry bodega, and he maintains it's a true interpretation: "We only made two concessions in the solera design. The first is that the final tier is ex-Oloroso sherry barrels, while the middle two tiers are ex-bourbon barrels. The second concession is that the top tier consist of new, charred oak barrels. When the whiskey from one of these barrels is called down, it is replaced with another new, charred barrel. This is because the spirit needs first to qualify as bourbon."
But it's not only renegade craft whiskey producers who are jumping on the solera barrel wagon. Glenfiddich's 15 Year Old Scotch is also created using a solera aging system (in some markets it is also called "Solera Reserve"). Malt master Brian Kinsman says the inspiration comes from a desire to tinker with different cask finishes. "The new flavor profile was mainly driven through experiments using virgin American oak for the first time at Glenfiddich. [Master Blender] David Stewart brought over a variety of different American oak barrels with different toast and char levels to allow us to experiment to find the different flavor possibilities."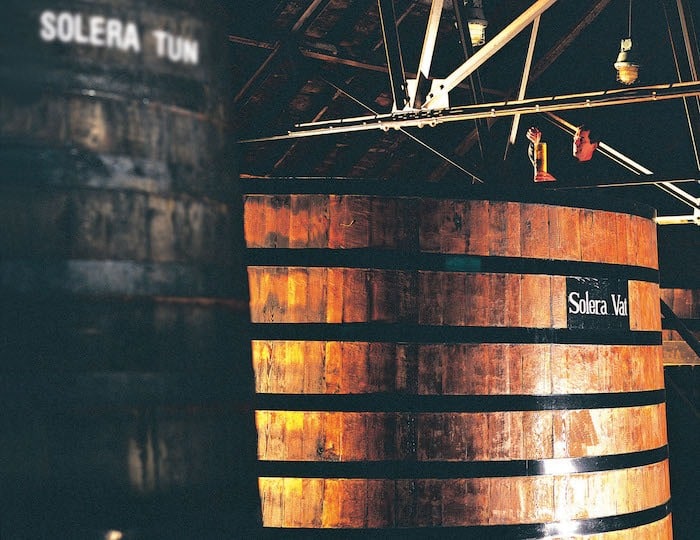 How does each cask finish affect the overall flavor profile? Kinsman explains, "The virgin oak accentuates the spice notes (ginger, cinnamon) found in solera and also adds lovely sweet, vanilla, toffee flavours. We then combine the Virgin oak with traditional oak (a mix of refill casks and bourbon casks) and European oak sherry casks in the solera vat."
He maintains that it is akin to a true solera in that "…the vat hasn't been emptied since David first filled it back in 1998. As a result, every single bottle of Solera Reserve contains some of the same whisky, and the consistency of flavour across the years has been maintained."
So how do these methods differ from simple fractional blending?
Kinsman was happy to share how the sausage is made: "The solera process we use mixes together different oaks rather than different vintages and that is the main difference from the sherry process." However, in theory it's a very similar technique. "At Glenfiddich we were inspired by the process in Spain and we vat together the different components of our solera as follows:
Glenfiddich matured in European oak sherry casks for 15 years are vatted together and filled into marrying tuns (2000 litre vessels made of Portuguese oak)
Glenfiddich matured in American oak for 15 years is vatted and filled into virgin American oak barrels.  I then samples these every month until the sweet, toffee, spicy notes I am looking for appear.  At that point (normally around 4 months) the whisky is filled to marrying tuns.
Glenfiddich matured in Refill American oak and Bourbon casks are vatted together and then transferred to the Solera vat along with some of the Sherry cask and Virgin oak from marrying tuns
The vat is roused to make sure everything is well mixed together then half of it is drawn off into marrying tuns.
The process then starts again"
At Hillrock, Pickerell defends the notion that it's a genuine solera. "There is a substantial difference between a true solera system, like ours, and a fractional blending method as in the bottomless tank," he explains. "Typically, spirits that are fractionally blended spend almost all of their life in a regular aging system and are dumped into the tank in a very narrow age range and maturation essentially is over. In a true solera, the spirits are married over and over in barrels where maturation can continue and the spirits are exposed to a wide range of age as soon as it leaves the top tier."
It's a lot of work for a whiskey – is it worth it? Pickerell is pleased with the results. "We believe our method, while difficult to employ, results in greater depth of character, and longer term consistency of quality." Because it takes so much time and patience, for Kinsman, whose blend started so long ago, it's been a thrill to see it come to maturity. "For me it has been great to be part of the solera process since day one because I have been working on it since 1998 when I was working as a chemist in the lab. I worked with David on the analysis of the experimental casks and the first ever Solera vattings."
By very nature, solera whiskey isn't going to be one that can boast a vintage from the early 19th century in the same way as a solera aged sherry or Madeira. However, one can still appreciate the effort it took to produce the final blend. After all, a whiskey is only as good as the skills of its master blender anyway.

Independent Scotch whisky bottler Douglas...
Amanda Schuster is a freelance writer, marketer and consultant and the Editor in Chief of online drinks site The Alcohol Professor. With advanced training in both wine and spririts, she likes to think of herself as "bi-spiritual." She also makes jewelry and strives to find at least one weekday afternoon...