Many people don't realize that Bruichladdich's Octomore series is actually named after James Brown's farm, which is located just above Port Charlotte on Islay, Scotland. "Get on up!" Wait, hang on . . . that's the wrong James Brown.  Farmer Brown might also be a sex machine, for all we know. But it's a fact that he grows the crops used to make, what Bruichladdich calls, "the most heavily-peated barley humanly possible."
Back in 1816, Octomore farm once housed a distillery of its own that has long since crumbled into ruin, the remnants of which were used in the building of fences. I seriously doubt if the whisky distilled back then was even remotely as smoky as Octomores of the 21st Century, although it may have been smoky by the standards of the day.
Most distillers back in the early-to-mid 1800's tried to keep smokiness to a minimum, rather than the other way round, despite burning peat as their primary means to dry malted barley. After all, we are talking about a "pre-electrical" society. Heavily peated (extra smoky) whisky was considered to be rough, crude, and unsophisticated. This just goes to show you that one century's "poison" can be another century's novelty.
Bruichladdich Distillery is located on the Rhinns of the isle of Islay. It mainly produces single malt Scotch whisky (both peated and unpeated), but has also been known to produce artisanal gin. I've never tasted the gin, but I have tasted dozens of bottles of Bruichladdich single malt Scotch whisky–both peated and unpeated.
All three "Masterclass" Octomores that I will be reviewing today were created and put into casks by former Master Distiller, Jim McEwan, before he retired in 2015. This said, Adam Hannett, the new Head Distiller, played a major role in guiding maturation, as did Allan Logan, Bruichladdich's Production Director.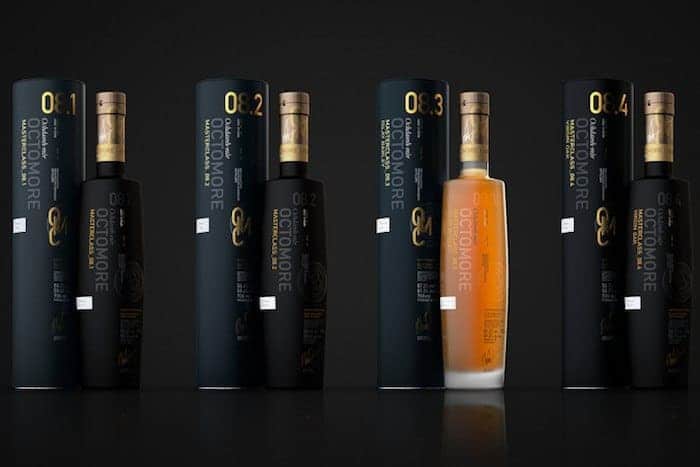 Tasting Notes:
Octomore Masterclass 08.1 "American Oak"; 8 years old; 59.3% ABV; 187 ppm; 2009-2017; 1st Fill American Oak Casks; 42,000 bottles
Appearance: Pale straw in color with slushy, unfocused legs and negligible beading.
Nose: Well-rounded peat smoke; tarry creosote; star anise; ocean sand; wet leather; Thai iced tea; marshmallow; hemp rope.
Palate: Very nice balance of sweet and peat; well integrated harmoniously; malted milk balls; cream of tartar "metallic" overtones; vanilla sour cream cake icing; more of that well-rounded, Octomore-style peat smoke; lemon zest; red apple skin; honey comb. The finish is medium-to-long.
Rating: 4 out of 5
Octomore Masterclass 08.2 "European Oak"; 8 years old; 58.4% ABV; 187 ppm; 2008-2017; Mourvedre, Sauternes, Sweet Wine, and Amarone casks; 36,000 bottles
Appearance: Pink gold in color with surprisingly well-formed legs and petite beads. Fairly uncommon for a whisky of eight years.
Nose: Wow, this one is so different from the first! So many sweet scents rising up gently to greet the nostrils! How can such a high ABV come across as this soft and agreeable? It's like a miracle. The procession of scents include Bit-O-Honey, almond paste, strawberry topping, golden raisin, guava, pineapple baked ham, brine, wet sand, turpentine, and of course the ubiquitous peat smoke. There's also a strong note of cork tree bark (not from the actual cork in the bottle). In time, all of the billowy sweetness recedes in one's glass, while a strong-yet-sophisticated peat presence moves front and center.
Palate: Sweet seems to have turned savory at first, with notes of barbecued pork ribs, grilled rib eye, creosote, peat smoke, cold Honduran cigar ash, mango, papaya, dark chocolate, and bitter espresso. The finish is long, with espresso and peat smoke lingering on the tongue. Now is the time to take a good whiff of your glass, after the last sip is gone. If any whisky can go the distance–life after death–it's this one. Let the dried remains pair with the finish in your mouth. C'mon, get your nose down in there. That's right. Bellissimo.     
Rating: 5 out of 5
Octomore Masterclass 08.3; 5 years old; 58.4% ABV; 309 ppm; 2011-2017; 56% ex-Bourbon casks, 44% European casks; 18,000 bottles
Appearance: Old gold in color with haphazard legs, and little in the way of beading.
Nose: Aside from a blast of tangy peat smoke, I'm picking up scents of old books, leather, butter caramel, limestone, blue cheese crumbles, smoked salmon, hazelnut, white grape, sweet bourbon, and a faint whisper of mint (which is usually found in 18-plus year single malt Scotch whiskies). Perhaps refill wood that formerly had housed older whiskies was used in this Octomore's aging process for some of the casks?
Palate: The dominating peat presence is not unexpected for a whisky with over 300 ppm! The peat is multiform, rather than merely uniform. Within an outer shell of dried bog-on-fire, one catches hints of burning briar wood, burning driftwood, and even the glowing end of a lit sage stick. Yes, and there's also a "gourmet" bong resin type thing going on. Hmm. Am I allowed to say that? In my younger years, I roomed with hipsters who left funny looking contraptions lying around, but of course I never attempted to use one.
Aside from peat, peat, and more peat . . . let's explore what else the elemental spirit has to offer. I'm also getting pan-fried rattle snake, black truffle, wasabi, dried seaweed, baker's chocolate, maraschino cherry, bergamot, sawdust, used motor oil, and an Australian oilskin jacket exhumed from the grave of Ned Kelly. All told, such a diverse spectrum of flavors makes for a very unique tasting experience. As for the length of this "undead" finish, it will keep haunting your mouth like vampire blood–that is, unless you decide to brush your teeth, gargle with mouthwash, and bless yourself with holy water.
p.s. If you drink this whisky first at a tasting, then you are clearly insane . . . or a newbie.
Rating: 4.5 out of 5
The Takeaway
I've been gladly drinking Octomores since Orpheus burst onto the scene in 2009. Comus, another one that I dearly loved, was released in 2012. Octomore Edition 6.3 also favorably impressed me right before Jim McEwan's retirement. Yes, these whiskies are my "dark ladies," so to speak. William Shakespeare wrote the "Dark Lady Sonnets," which are, in my opinion, among his most original. These lines capture my appreciation of a good Octomore: "Here's what love is: a smoke made out of lovers' sighs. When the smoke clears, love is a fire burning in your lover's eyes."
Then again, on the other hand, I'm no "peat whore." Smoke–and smoke alone–does not love make (or even lust). Over the years, there have been more than a few Octomores, which have sparked neither my interest, my admiration, nor my devotion. As for the three Octomore Masterclass releases that I currently reviewed, they're all winners in my book. Yes, I tend to put 8.2 at the front of the line, with 8.3 coming in second, and 8.1 bringing up the rear. On the nose, both two and three remind me quite a bit of Ye Olde Uigeadails that I dearly loved in the mid-2000's. It's hard to believe that 8.3 has 142 more phenols (smoke) per million than either the 8.2 or 8.1.
For me, a ppm level that falls between 50-170 is a sweet spot. More than 170 seems overly ambitious. In fact, whiskies like Octomore 8.3 kind of remind me of the same mentality that Pacific Northwest beer drinkers exhibit in regard to their love of ridiculously over-hopped IPAs. Hey, every man is entitled to his opinion–especially if he also happens to be a critic. In Whisky Kirk's playbook, too much is rarely a good thing. Be this as it may, there are always exceptions to the general rule. Speaking of which, you may have noticed that I rated Octomore 8.3 higher than the 8.1, despite its whopping 309 ppm level.
When Octomore 02.2 "Orpheus" hit the market nine years ago, 140 ppm seemed very high. Of course, back then, Ardbeg was considered peaty with a ppm level that (still) hovers around 50-55 ppm. Lagavulin whiskies are one notch below that–and yet, the Lag 12's are still quite satisfying when it comes to packing complex, peaty punches.
Who knows, maybe 309 ppm will seem low in another nine years. One can only hope that peat-junkies won't be taking hits of 618 ppm single malt Scotch in 2027, wishing for EVEN MORE SMOKE . . . while puffing on Cuban cigar vapes that steam up their Google Glass.

Editor's Note: These whiskeys were...
Kirk discovered the brilliance of Scottish whisky in 1987 while vacationing in Edinburgh. Over the course of three and a half decades that followed, he's built upon a knowledge of distilleries and the industry, as well as world whisky. Kirk prides himself on speaking honestly while avoiding the usual flattery...