I don't know about you, but I've always wanted to visit the land of kiwis, hobbits, and "Moehau Man" (a miniature version of Bigfoot). Some of New Zealand's climate and topography is reputedly quite a bit like my native state of Oregon.
In this review, we're going to focus on three whiskies that constitute the New Zealand Whisky Collection. Each of these helped to make me feel at home. In fact, I went ahead and photographed the handy lil' 200ml "nipper" bottles on a picnic table in my backyard.
The New Zealand Whisky Collection Triple Pack adds a bit of credence to the adage that "world whisky" is the most exciting thing happening in the industry today.
Normally world whiskies are fairly youthful. However, all three of the whiskies I had the chance to taste were "up there" in age, especially for uisge beatha (water of life) that came from Down Under.
Cyril's Singlewood 20 Year Old Batch 02
The first thing I notice about this offering is the fact that it's been aged in single barrels for twenty years. Often, whiskies from far away parts of the world just don't have that luxury. Since Cyril's was bottled in 2014, that means it was originally distilled in 1994.
Back then, I was playing drums in rock bands while living in New York's East Village and attending graduate school at NYU. Nelson Mandela became the president of South Africa. OJ Simpson fled from the police in the now-famous freeway chase. And down under, in New Zealand, Cyril Yates was helping Willowbank distillery to create some fairly ambitious whisky in American oak barrels.
Appearance:  A nice friendly lager-colored gold
Nose: Freshly sliced Bartlett pear, Graham crackers, grass sap, white chocolate, and a whisp of light rum.
Palate: Pear again, custard, white grape, lemon.
Finish: A rather clean and refreshing medium-length finish with lingering white grape and a touch of oaky bitterness that evokes Cayenne pepper on the tip of the tongue.
Rating: 84
South Island 21 Year Old
This whisky also hails from Willowbank distillery. The full bottle (not pictured) features a photograph of the Water of Leith distillery, the site upon which Willowbank was eventually built. Both distilleries have since closed and been demolished.
Appearance: Mid-gold with a splash of copper
Nose:  A rather subdued and urbane nose offers floral overtones, along with Asian pear, allspice, guava, and papaya. In time, the scent caramelizes into a lovely hint of toffee and toasted oak.
Palate:  Agave syrup, saccharine, bitter oak, lemon rind, and toffee.
Finish: Medium to short with a surprisingly downplayed oak presence. The entire tongue is affected equally, swaddled in a creaminess that seems to overpower any promise of subtler notes.
Rating: 82
New Zealand Doublewood 15 Year Old
Appearance:  Burnished copper
Nose: Pinot noir, Elmer's glue, saffron, cane sugar, Worcestershire sauce.
Palate: Strong red wine presence dominates with hints of rosewater, patchouli, and paprika.
Finish: Medium to long. The red wine influence turns sugary, and then builds into red peppers. Both fraternize together on the tongue for quite some time. A trace of oak follows on crimson coattails.
Rating: 79
Final Thoughts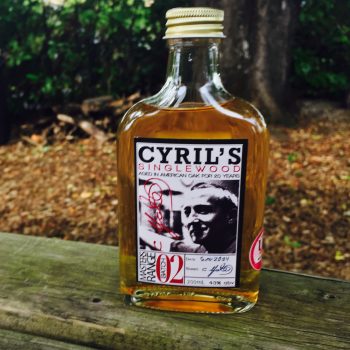 The balance in Cyril's Singlewood is the most mature and complex of the bunch. It reminds me a little of Balvenie's Caribbean Cask, although the palate of Cyril's is not necessarily reminiscent of a Speyside.
Two decades of maturation is quite luxurious when compared with most whiskies from the Southern Hemisphere. For example, Sullivan's Cove offerings from Australia are NAS, which means young. This said, when a whisky is really good, it doesn't matter how old it is. But in the larger scheme of things, well-aged single malt whisky is becoming more and more rare, and more and more sought after.
The advanced age of Cyril's Singlewood 20 Year Old Batch 02 helps to make it a very fun whisky from New Zealand, as well as a warm tribute to Cyril Yates, who is currently a Brand Ambassador for the New Zealand Whisky Company.

Irish Distillers, maker of Method...
Kirk discovered the brilliance of Scottish whisky in 1987 while vacationing in Edinburgh. Over the course of three and a half decades that followed, he's built upon a knowledge of distilleries and the industry, as well as world whisky. Kirk prides himself on speaking honestly while avoiding the usual flattery...