While I'm a lover of all whiskeys, my day to day drinking tends to be dominated by American whiskey. For me, Scotch is a celebratory whisky. I got a bottle of Scotch when I finished my undergraduate thesis and have gifted bottles upon the birth of friends' children and as wedding gifts – there is something about a good single malt Scotch that makes it the perfect thing to commemorate a milestone.
Since opening over 200 years ago Laphroaig is considered one of the top distilleries of Scotland. They cling tightly to the claim of being the "most richly flavored of all Scotch whiskies." Years ago, Laphroaig began the Friends of Laphroaig marketing initiative, which they give members a lifetime lease on a square foot of land that the distillery property . Each year the members collect their yearly "rent" in the form of a dram of special edition whisky.
The Laphroaig Cairdeas Quarter Cask is one of those special edition whiskies, with Cairdeas meaning friend in Gaelic. It's the cask strength version of their popular quarter cask expression.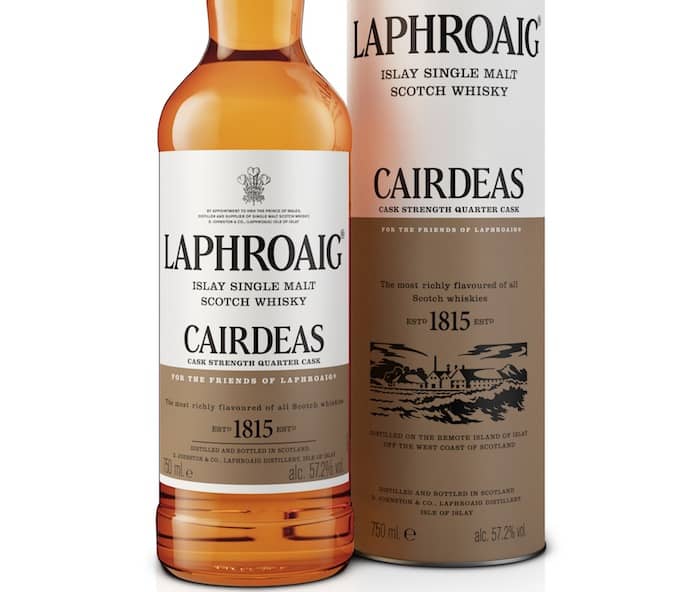 Tasting Notes: Laphroaig Cairdeas Quarter Cask
Vital Stats: ABV: 57.2% aged in first fill Makers Mark casks and then transferred to quarter casks (125lt) for the last six months of aging. 700ml bottles. £77
Appearance: Pale gold champagne hue with long legs befitting a whisky with its high alcohol content.
Nose: The nose contains a light and sweet woodsy scent, with notes of lingering smoke, pear, berries and a hint of black olives and leather. A few drops of water reveals smells of the ocean and saltwater.
Palate: The whisky opens with a strong, excitable malty flavor before an explosion of peat and alcohol emerges in the back of the throat. The flavor continues to open up in the chest as the whisky goes down. Adding a few drops of water allows for the taste of leather to emerge with accompanying cinnamon notes and a black pepper spice.
The Takeaway
The cask strength is no joke and inexperienced Scotch drinkers will most certainly benefit from a few drops of water before tackling this behemoth head on. It's a LONG sipper, and experimenting with different amounts of water give this whisky a number of different flavors, adding to the value.
This is a rich and sumptuous whisky from the nose all the way to the last lingering traced of peaty aftertaste. If you can get your hands on a bottle this makes a handsome gift and is something to truly savor as we move in to the later months of the year.
User Review
4.14

(

14

votes)

Editor's Note: This whiskey was...