Glenmorangie is a pioneer when it comes to 21st Century wine finishes for single malt Scotch. My review of Nectar d'Or last summer explained how Glenmorangie Company was one of the first to legitimize the practice of finishing its whiskies in wine casks. Yes, I realize that, historically speaking, wine finishes were all the rage . . . in the Victorian era.
That was then, this is now. Fashions tend to move in cycles. In the 1970's and 1980's, wine finishes were on the outs. By the early 2000's, however, finishing whiskies in separate wine casks (usually in the last 2-5 years years of maturation) was starting to make a come-back.
Today, wine finishes are done quite a lot by some very reputable distilleries. Glenmorangie deserves credit for reminding the world how it was done– not only in terms of creating some award-winning single malt Scotch whiskies– but also in demonstrating how the practice of finishing batches in wine and port casks could be profitable.
Companta was made by combining two separate casks of wine-finished whisky. The first cask was nine year-old ex-bourbon Glenmorangie that was finished for five years in red Grand Cru Burgundy wine casks from Clos de Tart (Pinot Noir grapes). The second cask was ten year-old Glenmorangie finished for eight years in "a lusciously sweet fortified wine from Cotes du Rhone." This fortified wine is known as "Rasteau," which is made from a special preparation of Grenache grapes. To make matters even more complex, the first cask was larger than the second by approximately twenty percent.
How's that for confusing? Well, I must say the resulting color of this whisky is more than a little enticing. Let's move into the tasting notes, and give the blushing bride a swirl, a sniff, and a smack of the tongue.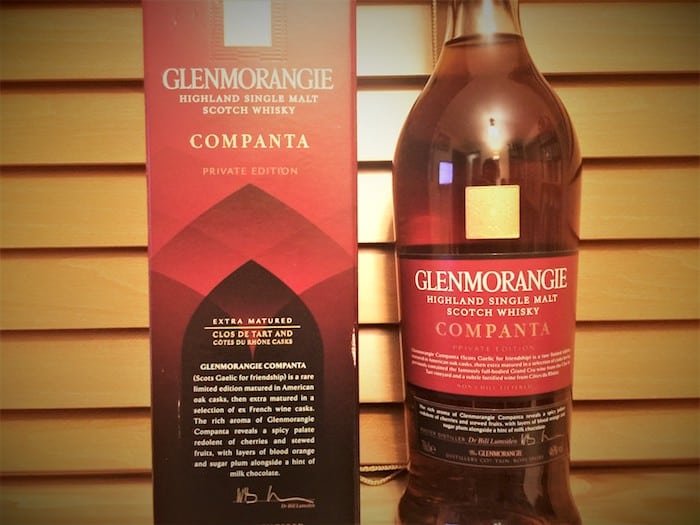 Tasting Notes
Vital Stats: Glenmorangie Companta Private Edition; 46% ABV; 2014 release; single malt; 70cl; price varies dramatically.
Appearance: Pinot noir in color, this wine offers big tears and quick beads that are commensurate with a fairly weak, young (ish) whisky.
Aroma: Vine fruits come to the fore, with a blast of raspberry. I'm also getting the unmistakable note of Pinot Noir grape. This shouldn't come as a surprise considering how 60% of the whisky was aged. Speaking of which, the sugary cask wood also delivers a bit of musty fustiness. Marzipan loiters in the background, along with three other players: rum raisin, medjool date, and rosewater. I'm fond of everything but eau de toilette of rose. Why? Because it reminds me of old lady perfume.
Taste: The mouth feel is not as oily (decadent) as I had expected . . . but it's not exactly thin, either. Rum raisin from the nose has evolved into into Aurum liqueur (brandy with a citrus fruit infusion).  Of course, whenever I'm reminded of Aurum, then Parrozzo cake is never far behind. Buon appetito. There's also dark chocolate, jasmine green tea, and a crust of peasant bread. Yes, that satisfying bread note is the toasted barley talking. Lastly, I'm getting some candy on the mid-palate. Vermont maple leaf candy, to be exact, with raspberry preserves on top.
Finish: There isn't any obvious tannin presence, merely a trace of dried orange peel. Could that be the wood talking? Probably, but in a hushed tone. As death becomes her, Companta's finish brightens up the corners. Orange peel becomes Orangina: light, delicate, refreshing. But wait, there's more. Just when you think the whisky has rubbed itself out, a stale crumb of peasant bread remains. In other words, despite all of the fancy-schmancy cask wood that went into maturation, good ole-fashioned barley malt wins the day. Ha, ha! This early 2000's-era barley is noticeably better than what you tend to get today in whiskies of a comparable age. The rich, toasted maltiness reminds me a little of Springbank's local barley ten year-old.
Preparation: Need I caution against adding more than a drop or two of water? As William Blake once wrote, "Enough! or Too much." Then again, who am I to law down the law? Good taste becomes tasteless in the mouth of a tyrant. If you prefer your whisky more winey than a wino's, then, by all means . . . drown that dram. Water perks up the grapes in Companta, pretty much to the exclusion of all else.
Personally, I'm good with a front-and-center cask finish dialed in at 46%. Well, actually . . . truth be told, I would have preferred a more generous 48%. Then again, 46% is certainly better than the miserly 43% offered these days in Glenmorangie's core and prestige expressions.
The Takeaway
Carnivalesque wine finishes like Companta's never used to please Europeans. These days they are all the rage. With a taste for all things sweet, Americans have always tended to enjoy wine finishes. The bigger, the better.
Companta "private edition" was released in early 2014, but I never had a chance to taste the broth until now. Good things come to those who wait . . . to open bottles in their collections. Glenmorangie delivered the goods with this one. Too bad it's hard to find now, at least for a reasonable price.
One store in Washington DC would be happy to sell its remaining inventory for $250 a pop. That price seems high, even at auction. Most of us have better sense than to pull the trigger on such an eccentric purchase. We've got better things to do with our graven images of Ben Franklin. If a penny saved was a penny earned in 1735, then what of a hundred dollar bill today? Time is money, but saving money is timeless .  . . until the next irresistible bottle of whisky comes along.
Speak of the devil: Glenmorangie Signet costs $150. In my opinion, it's a more sophisticated dram than Companta, while offering many of the same malty, sweet notes. It's also widely available. This said, Glenmorangie Signet is not a collector's item . . . unless you happen to find a rare 2008 OB. Hey, don't laugh. More than a few are still floating around.

Editor's Note: This whiskey was...
Kirk discovered the brilliance of Scottish whisky in 1987 while vacationing in Edinburgh. Over the course of three and a half decades that followed, he's built upon a knowledge of distilleries and the industry, as well as world whisky. Kirk prides himself on speaking honestly while avoiding the usual flattery...