If you ask a typical bloke off the street to name a brand of single malt whisky, he'll probably say Glenfiddich, Chivas Regal, or Johnnie Walker. Yes, it's true that Glenfiddich 12-Year-Old is the most common twelve year old single malt whisky on the planet. When it comes to production, Glenfiddich cranks out more 12-year-old Scotch than any other distillery. Like The Dalmore, it uses a stag's head with rack of antlers as its brand symbol–with perhaps, a bit less artistic flair. The name Glenfiddich means "Valley of the Deer" in Scottish Gaelic.
Glenfiddich distillery, as well as the river from which it takes its name, are both located a hop, skip, and a jump from Balvenie Distillery in the Speyside region of Scotland.  Its water source is not the river, however. The Robbie Dhu Spring is used to make this famous single malt Scotch whisky.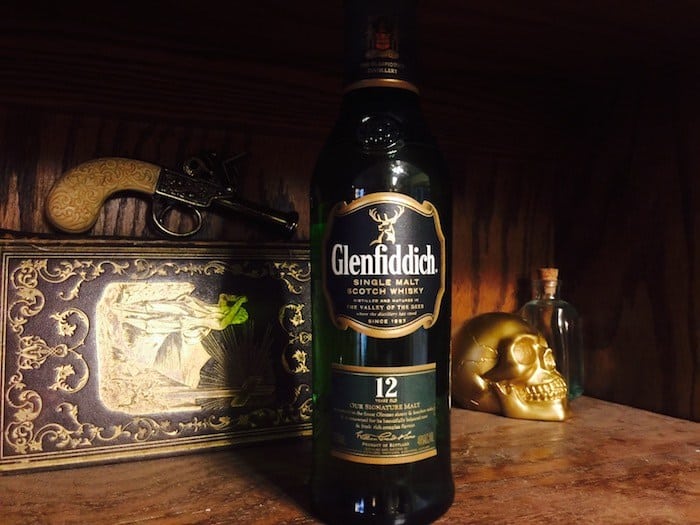 Vital Stats: Glenfiddich 12 Year Old Single Malt Scotch; 750 ml; 40% abv / 80 proof/ $22-$32 price range.
Appearance: Old gold.
Nose: Canned pear in light syrup; green apple; honey; pie crust; saw dust; limestone; dried riesling; malted milk chocolate.
Palate: Apple cobbler; orchard fruits; artificial vanilla extract; caramel; bitter oak; cinnamon; English breakfast tea.
The finish is medium to short with a bittersweet death. This malt is a quintessential yet unremarkable Speyside. I've tasted very good independent bottlings of Glenfiddich over the years, especially from Signatory, but all of the decent ones were over twenty years of age with a dramatic, sherry-enhanced presentation.
The Takeaway
Would I personally order Glenfiddich 12 in a bar? Probably not, unless I was already knackered. Many things can be said about this single malt Scotch, but few critics have ever called it rough tasting, or unpleasantly bitter. I tend to avoid using the word "smooth" in the writing of whisky reviews; however, in this case, the label fits.
Yes, the whisky tastes a bit flat, partly due to a low ABV, but it is reliable without any glaring faults. As far as taking home a bottle . . . price is its number one selling point, with availability coming in second, and reliability third. All of these factors can be a really good thing when you find yourself sitting in an unfamiliar pub, and there are no other single malt scotches available. Like Starbuck's coffee, the quality of this whisky is not awe-inspiring, but it's predictably consistent.
Believe it or not, bottles of the Twelve-Year-Old are smaller, and often tend to be more expensive in the United Kingdom. In America, however, the price-point is extremely favorable. So, if your wallet is wearing a bit thin, then Glenfiddich 12 Year Old Single Malt Scotch Whisky could be the one to drink when you're drinkin' more than one.
User Review
2.95

(

37

votes)

Tamdhu Speyside Single Malt Scotch...
Kirk discovered the brilliance of Scottish whisky in 1987 while vacationing in Edinburgh. Over the course of three and a half decades that followed, he's built upon a knowledge of distilleries and the industry, as well as world whisky. Kirk prides himself on speaking honestly while avoiding the usual flattery...