The Balvenie is located in the Speyside region of Scotland. This Dufftown distillery continues to produce (some of) its own barley, which is quite impressive in a time when a great deal of the malting is outsourced. It's hard work turning barley, after all. Monkey shoulders be damned! These days, modern technology aids in keeping maltsters from developing crooked shoulders and bad backs. The Balvenie is no exception to this rule with its top-of-the-line malting floor.
Today's review concerns a limited release that sounds more like a mathematical equation than the title of an expensive whisky. Whatever happened to the unpronounceable Scottish Gaelic that we all know and love? If I were naming this one, I might call it, "A bheil Beurla agat." Or perhaps "Dance If Ye Can," to quote the late great William Wallace. But no matter.
The "tun" in Tun 1509 Batch 4 makes reference to an oak marrying vessel that's really just an exceptionally large cask. Obviously, the number of the tun vessel used to produce this series is 1509. You might have already surmised that there were three other batches married in Tun 1509, prior to the one currently under review.
Batch 4 is a vatting of 23 casks, including bourbon and sherry wood. Although I didn't taste the notorious Batch 2, which was supposed to be less than impressive, I must say that I'm not all that taken with Batch 4. Yes, it's garnered plenty of favorable acclaim from critics, but I feel their praise is short-sighted. Why would I withhold praise for such an eagerly awaited whisky? Well, it's probably worth mentioning that the 1509 series follows on the heals of The Balvenie Tun 1401 series. Nine batches were produced from ye olde tun.
Back in spring of 2013, I drove to a nearby town in search of Batch 3. Lucky for me, I found a bottle. The whisky did not disappoint. I say this, despite its fairly high price tag at the time. How much did my bottle of Tun 1401 Batch 3 cost five years ago? About half the price of Tun 1509 Batch 4 today!
Okay, enough backstory. When my tasting notes from Tun 1401 Batch 3 are compared with today's notes about Tun 1509 Batch 4, the outcome is certain. A general trend in the whisky industry holds true in this case: whiskies bottled longer ago are often preferable. Deeper and richer in color, the 2012 release is far and away better.
If I were to guess what made Tun 1401 Batch 3 so bloody brilliant, I would say that it must have contained some older spirit, along with a near-perfect balance of exceptional sherry casks. And let's not forget good old-fashioned serendipity. Chance often plays a role in producing greatness, as well.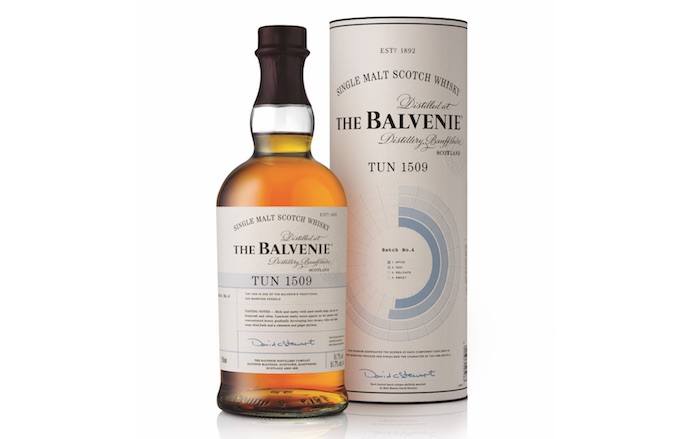 Vital Stats: Single malt whisky; 750 ml; 51.7% ABV / 103.4 proof; $370-500 price range.
Appearance: Midway between gold and orange, there is amber. The waif-like legs of this whisky are sexy to behold, with attenuated beading. Call them "heroine chic."
Nose: Maple syrup; cardamom; Honduran cigar wrapper; baked pear in light syrup; pound cake; black rum; pecan wood shavings. The preceding notes affirm sherry and bourbon casks working in harmony with one another.
Palate: Alas, the sherry and bourbon casks are not in complete accord here. Bitter oak from bourbon wood surfaces first, along with notes of baked stone fruit from the sherry. There's a ribbon of caramel and marshmallow nougat that reminds me of batches from Tun 1401. Gunpowder also rears its ugly head, along with fresh cut leather.
The superabundance of alcohol in one's glass (103.4 proof) invites the introduction of some water. Unfortunately, this invitation proves to be short-lived. Half a teaspoon sacrifices a noticeable amount of complexity. To add insult to injury, my two ounce pour of whisky also turned unpleasantly bitter after water was added, even with the passing of 30-40 more minutes.
On the finish, red fruits surface, offering notes of raspberry, boysenberry, and a cherry flavored cough drop thrown in for good measure. This happy ending all but disappears when a reasonable amount of water is introduced. Instead, I'm reminded of the DoubleWood 12 Year Old.
The Takeaway
Does Tun 1509 Batch 4 earn Whisky Kirk's seal of approval? By now, I'm sure you have surmised that the answer is "no," at least when cost per bottle is taken into consideration. Normally, I don't focus on the cost/performance ratio of a whisky under review. In this case, however, I really must make an exception–although it's worth pointing out that a 4 star rating isn't low, by any stretch.
As for other, more attainable, Balvenies out there, I recently tasted Peat Week, and found myself favorably impressed. True, this one's in a different league from the latest tun release, which most likely still has more batches yet to be made. But how many whiskies have a "root beer" tasting note? Yummy on the lips . . . warm in the tummy. To call Peat Week "daily dram material" is something of an understatement.
Balvenie's core range is among the most varied in all of Scotland. I've been known to pick up bottles of Carribbean Cask 14 Year Old and Single Barrel 15 Year Old at stores near my home in Portland, Oregon. Of course, there's also the DoubleWood 12 Year Old to use as a "safety" when nothing more intriguing presents itself in a bar or a restaurant.
User Review
3.67

(

6

votes)

Iconic Spirits recently announced the...
Kirk discovered the brilliance of Scottish whisky in 1987 while vacationing in Edinburgh. Over the course of three and a half decades that followed, he's built upon a knowledge of distilleries and the industry, as well as world whisky. Kirk prides himself on speaking honestly while avoiding the usual flattery...