Ardbeg has expanded its core offerings to include a new bottle on the shelf. This one's called An Oa, which is pronounced "An Oh." The Ten Year Old is not going away any time soon, and neither are the other core offerings. So don't get worried. Your "go to" Ardbeg is safe and sound, at least for the time being.
An Oa incorporates sweet and oaky elements into a No Age Statement presentation. Yes, we're talking about Pedro Ximenez sherry wood, along with virgin oak, which usually is sourced from the United States. The namesake of this new core offering hails from the Mull of Oa, a rocky place that is located at the tip of the Oa peninsula.
Just where in the hell is that, you ask? Be nice, it's on the southern point of Islay, and it's quite a beautiful place. In fact, the Oa has an American monument, which rises up like a wee stone lighthouse. This structure, built in 1920, commemorates the loss of life when two American troop ships went down in Islay's cold, murky waters near the end of World War I.
I've always favored Oloroso sherry wood when it comes to peaty whiskies, but PX can yield more complex results, if done right. I will add a spoiler here that the scent of An Oa reminds me quite a bit of a Berry's single cask 7 year-old Bunnahabhain (bottled at cask strength), which I polished off a few months ago. It was a powerful example of a young Islay peater that packed quite a delightful wallop. Of course, at cask strength the mouth feel of that "Bunna" was considerably different from An Oa, which is bottled at a sedate 46.6%.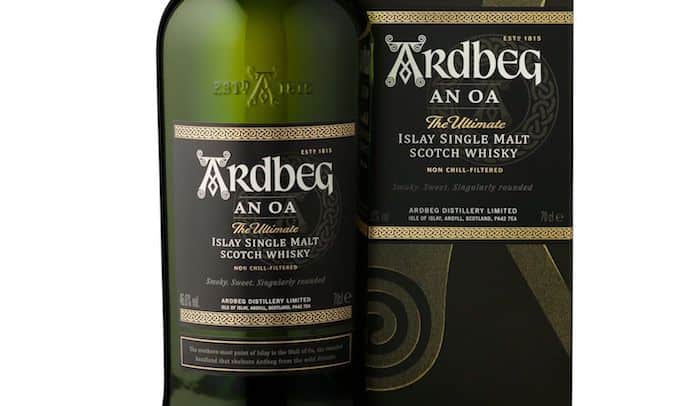 Tasting Notes
Vital Stats: Ardbeg An Oa; 750 ml; 46.6% ABV (93.2 proof); NAS, 100% malted barley; available for $55-$85 (a fairly broad price range for a new release).
Appearance: Light gold with a slight amber hue. The legs tend to wash along the glass in swirls, rather than beading noticeably into "gams," as such. This indicates a young spirit.
Nose: Citrus greets the nostrils with a dash of mulled lemon (crushed rind and all). The PX seems fairly restrained with the faintest hint of clotted cream and some figgy pudding. Peanut butter, honey, and a blast of phenolic peat smoke rise up, along with a gust of sea air. I'm also getting a tarry note, which reminds me, just a wee bit, of Corryvreckan.
Palate: Fairly thin mouth feel; it runs hot at first, and then settles down quickly enough to subdue an "alcohol bite" on the palate. Yes, I rather like the way this feisty broth circulates around the mouth without settling in any one place . . . unlike some other peaty Islays.
As for specific tasting notes, a dramatic brambly wood note brings Kelpie to mind. Or is it the blackened beef jerky that begs a comparison? Either way, this similarity is unexpected since Kelpie was aged in different casks altogether. In addition, there's cinnamon spice, prune, guava, malted milk chocolate, wheat grass, toasty new oak, ginger, industrial "Laphroaig-like" cleaning solvent, artificial vanilla extract, sea salt, dark brown sugar, and slightly under-cooked oat meal.
Finish: The length is barely medium, yet satisfying. Tarry wood lingers. What sort of tar, you ask? Ha, you're as big of a nerd as I am. To be precise, a maritime presence seems bound up with the tarry finish in An Oa. I'm reminded of the scent of ferry dock pylons in Puget Sound. This bracing scent/flavor carries me back in time to my early teens in the 1970's when I scuba dived quite a lot with my father. Okay, now I've out-nerded even you.
The Takeaway
I can see why Ardbeg has decided to nudge An Oa into its line-up. This whisky is different from the rest. It's not a shrinking violet, by any stretch, but it has a delicate nature that seems to embody the spirit of autumn. While sipping and smacking my lips, I'm reminded of the bright New England leaves that I've dearly missed since moving from the East Coast back to my home state of Oregon. Here in the Willamette Valley, where farmers burn their fields in October, I can't think of a better whisky to carry onto my back deck, after work, while gazing upon golden shafts of sunlight setting behind the West Hills.
Okay, enough bloody nostalgia. Let's get down to business. Would I recommend An Oa over Arbeg's Ten Years Old? In 2013, oh hell yes! That was an all-time low for the distillery. But today? No, not really. I just LOVED the Tenner in 2015. Truth be told, I must confess that I haven't bought one since 2015.
Why? Because I stocked up when the gettin' was good, that's why. 25/03/2015 in particular reminds me of the tried-and-true quality I'd grown accustomed to expecting from Ardbeg in the mid-2000's. Back then, most folks didn't know how good they had it. Speak, Memory. What I wouldn't give for an Uigie from 2007 with its venerable old nectar.
Be this as it may . . . if you are anything close to an "Ardbegian," then An Oa is a must-try. It's really quite delicious in its own right. As for nosing (and tasting) a delicate fruity essence of PX, don't hold your breath. Anything more than a passing hint of fortified wine presence is buried in the sands of Islay.
Virgin oak comes out on top, and I could swear the wood tastes a little "toasty." Would Dr. Bill (Cask Master at Ardbeg) dare to toast virgin oak casks? I'm fairly sure the answer is "yes." Untoasted virgins are bitter, indeed. Just ask Bert the troll.
User Review
2.79

(

39

votes)

Editor's Note: This RTD was...
Kirk discovered the brilliance of Scottish whisky in 1987 while vacationing in Edinburgh. Over the course of three and a half decades that followed, he's built upon a knowledge of distilleries and the industry, as well as world whisky. Kirk prides himself on speaking honestly while avoiding the usual flattery...