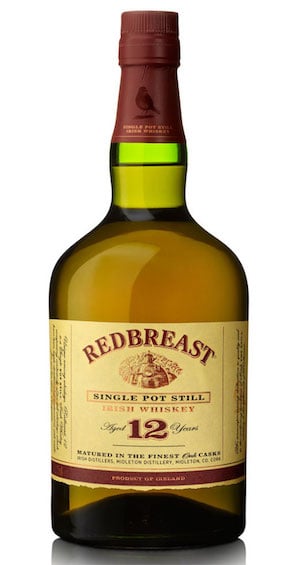 Editor's Note: This whiskey was provided to us as a free sample to review by the party behind it. The Whiskey Wash, while appreciative of this, did keep full independent editorial control over this article.
It only takes three words to capture the essence of Redbreast 12 year old: Grassy, clean, and smooth. The pleasant grassiness makes sense, given it's a single pot whiskey — which means it has green (AKA unmalted) barley in its mash bill. It's smoothness is likewise unsurprising given it is, like most Irish whiskeys and despite the confusing connotations of the phrase "single pot," triple distilled. Clear and light in the mouth, it nonetheless has a intricate and refined array of flavors ranging from a white grape juice to rain
Redbreast is distilled at the Midleton Distillery using copper pot stills and aged in Oloroso sherry casks. Home to several other single pot still Irish whiskeys, Midleton Distillery also produces Jameson and Tullamore Dew. Compared to either of those whiskeys, Redbreast 12 year is smoother but also more complex. Its sweetness is subtler, though still present. Its finish is smoother and lingers longer.
So what exactly is single pot still whiskey, and who do we have to thank for it? Essentially, it's whiskey that is made from malted and unmalted barley and no other grain. It is unblended (thus the "single pot" bit.) And it must be made in Ireland to be considered as such.
Time was — or so we've been told — that Irish whiskey used to be made entirely from malted barley. Then, sometime in the 18th century, malt taxes came down hard and heavy on Irish whiskey producers and, to get around them, they started introducing unmalted barley into their mash bills.
We couldn't be happier that those particular Irish folk were crafty—erm…business savvy, because one man's tax evasion is another man's choice of whiskey. Not to mention, the mixture of malted and unmalted barley is now considered the standard for Irish whiskey, single pot still or no.
Tasting Notes: Redbreast 12 Year Old
Vital Stats: 80 proof (40% ABV), 12 years, 50% malted barley 50% unmalted barley, price around $65
Appearance: Clear yellow-gold, like an IPA. Thin viscosity with light swift legs.
Nose: Petrichor, fresh mown hay, red hots, hint of smoky oak
Palate: White grape juice, raisins, mineral water, buckwheat honey. Finish is velvety, with notes of cinnamon, caraway, and marzipan
Conclusion:
Redbreast 12 year is deliciously fresh, smooth, complex, and light, whilst remaining flavorful. An inexpensive option for toasts or occasions when you want something a little more special than your standard Jameson.
FINAL SCORE: 88/100

Editor's Note: These whiskeys were...