Earlier this year, Jim Beam announced it was introducing a new twice-yearly release called Little Book. Packaged in a Booker's lookalike bottle, Little Book is also an uncut, unfiltered whiskey, but it's not tied to Booker Noe, Beam's previous, famously charismatic master distiller. Instead, Little Book is the first whiskey created by Freddie Noe, Booker's grandson and the son of current master distiller Fred Noe.
The new whiskey takes its name from the nickname Booker gave to Freddie as a child, apparently in a nod to qualities he saw in his grandson that reminded him of himself. (For me, I'm having a hard time banishing Manny's introductory scene from Black Books from my mind every time I hear the phrase.) Now 30, Freddie Noe says blending, tinkering, and experimenting are his passions, hinting that the Little Book line may become a venue for Beam to release unusual, experimental, or non-traditional whiskeys.
The first Little Book expression, called The Easy, certainly kicks things off on a quirky foot. It's a blended whiskey, but unlike the cheapo plastic pint bottles stashed behind the counter, it doesn't contain any neutral grain spirit or flavorings. Instead, it's a blend of four different whiskeys in unspecified proportion: a four-year-old bourbon, a 13-year-old corn whiskey, an approximately six-year-old straight rye whiskey, and an approximately six-year-old straight malt whiskey. According to the marketing materials, the corn, rye, and malt whiskeys were chosen to reflect "the three ingredients commonly found in a bourbon mash bill."
I love a good oddity, so I was delighted when we received a sample of this new release, well ahead of Little Book's proposed October introduction to the market. Will this be the next must-have bottle for Beam fans?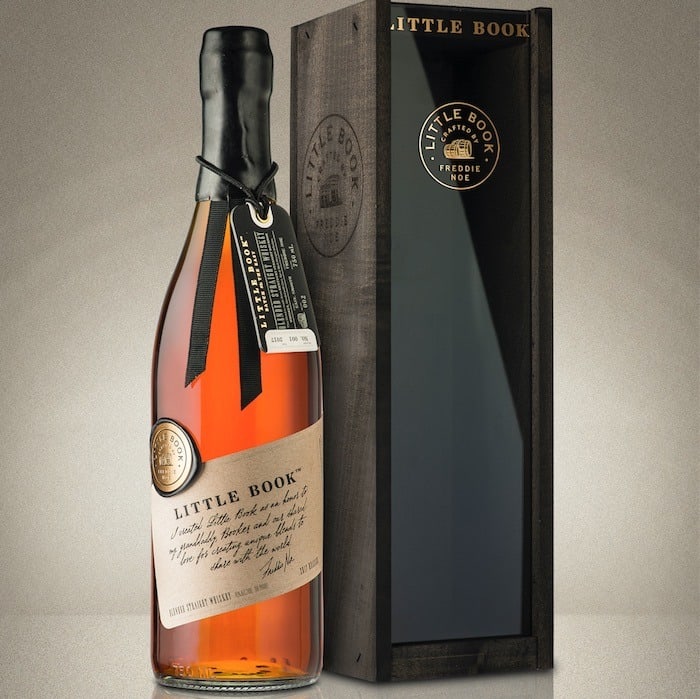 Tasting Notes: Little Book The Easy
Vital Stats: 120.48 proof (wow that's precise!). A combination of bourbon, corn whiskey, rye whiskey, and malt whiskey 
Appearance: Bright copper 
Nose: A very sweet-and-savory nose. I get salted peanuts, fresh corn, sherry, almonds, wood shavings, white wine, caramel corn, and the scent that rises from a fresh loaf of multigrain bread. There's also banana, coconut, caramel, and brazil nut, kind of like a fancy tropical torte served at a Hawaiian resort.
Palate: A syrupy mouth feel introduces sweet waves of citrus, tropical fruits, white peaches, fresh grain, creamy caramel, and strong vanilla. Tingly spice enters at the mid-palate, with cinnamon Red Hots and clove-studded orange. The finish is likewise sweet and a little sticky, with a hearty wallop of alcohol.
Water amplifies the sweetness even more, if such a thing were possible. The combination of intense vanilla and thick mouth feel makes sipping it feel a little like drinking melted vanilla ice cream, studded with a few kernels of candy corn. Freddie invites you to "enjoy it however you like—neat, with ice, or with a splash of water," and over ice actually gets my vote, which helps take the proof down while retaining that nice creamy mouth feel.
The Takeaway
I'm not totally sure what to make of this whiskey. The sweetness and heavy vanilla/caramel notes make Little Book identifiably Beam, but there's a new layer of tropical fruit that pushes it in a different direction. It also tastes quite young, despite the inclusion of that 13-year-old corn whiskey, with pronounced fresh grain and wood flavors.
It's hard to imagine diehard Booker's fans leaping on the Little Book bandwagon, but it might help Beam reach into a different segment of the market that balks at Booker's spiciness. While I didn't love The Easy, it's definitely unique, which makes me excited to see what Freddie comes up with next.
User Review
2.81

(

68

votes)

Margarett Waterbury is the author of Scotch: A Complete Introduction to Scotland's Whiskies and a full-time freelance writer and editor. Her work has appeared in Whisky Advocate, Food and Wine, Spirited Magazine, Artisan Spirit, Edible Seattle, Sip Northwest, Civil Eats, Travel Oregon, Artisan Spirit, and many other publications. She is...