Since 2008, Michigan has had friendly spirit production laws, enabling small distilleries to thrive and creating a burgeoning local industry. And thanks to that success, the Michigan malt business is booming. Locally sourced barley is leading the drive to create uniquely "pure Michigan" beers and distilled spirits. The trend hearkens back to the state's agricultural history, growing up to 300,000 acres of barley per year at points. Production has been in decline since the 1950s, until a recent resurgence of local planting of malting barley.
Although malting barley is not quite the same thing as barley grown for forage, and requires more stringent regulation of nitrogen and blight, these challenges haven't stopped ambitious farmers, brewers, and distillers from trying to build an infrastructure to support local spirits. Sourcing and quality of malt matters to the new school of brewers and distillers, and their consumers.
Michigan's New Holland Brewing Company is one of these industrious companies committed to local sourcing, or at least working at it, with 100% of ingredients for some of their products sourced from within the state. Although the barley used in the Malt House Malt Whiskey isn't completely sourced from Michigan, New Holland is working to create and support the state's agriculture. The brewery is at the front of a movement to create a terroir unique to their state and their brand, a distinct flavor and characteristics of the place, not the process.
"Handcrafted in Michigan means something to us," says New Holland President and Co-founder, Brett VanderKamp. "We have always had a strong connection to agriculture and with each sip of these beers, we'll be celebrating and supporting the hardworking farmers and pioneers that are making these beautiful ingredients available."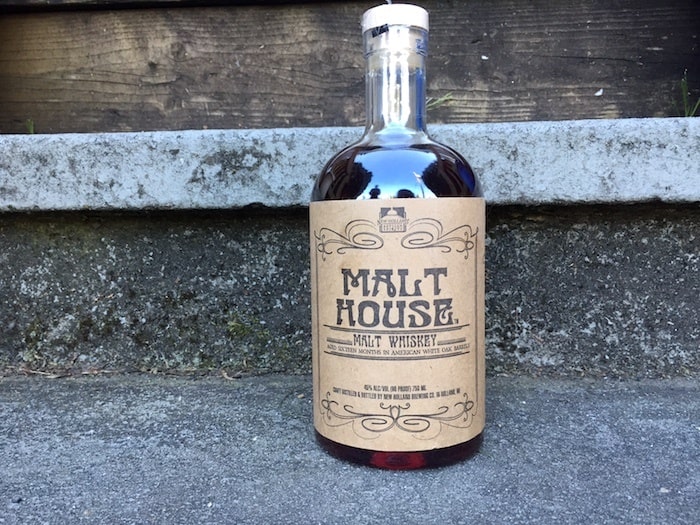 Tasting Notes: New Holland Brewing Company Malt House Malt Whiskey
Vital Stats: This spirit is 45% ABV (90 proof), and was pot distilled from malted barley, smoked barley and rye mash, then aged 16 months in American white oak "quarter-casks and various other barrels." The release is part of the brand's "Brewers Series" and retails for $42- $67.
Appearance: This whiskey is almost the color of aged rum, bordering on deep red or Mahogany, rusted orange, yellow tinges and even copper to brown edges. I notice slow, well-spaced legs around the glass.
Nose: The aroma leads with maple syrup, coffee, vanilla, and nutty praline. Butterscotch,  salted caramel and buttered popcorn underly.
Palate: On the palate, this spirit is a bit on dimensional, possibly from the small barrel aging. I taste maple, burnt molasses, wood spice and cinnamon, with hints of butterscotch, chestnut, and cacao. A long, spicy orange rind tinged with coffee finish leaves a tongue tingling burn.
The Takeaway
I am not a big fan of this sweet, syrupy whiskey style, but the strong flavors would create a nice backbone for a tasty cocktail. The Malt House Malt Whiskey is a good mixer with sweet, spicy, woodsy character, but it's not a great sipper.