Full disclosure: I am not great about organizing. I have a tendency to let stuff pile up, a little at a time, until I find myself in situations like this:
Yeah. That's my whiskey. There are 33 bottles of it, every one of them, at this point, left over from reviews. And yes, it's been living on my bedroom floor, in convenient tripping distance of the closet. I haven't done nothing to address this increasingly dire problem—I've finished a few bottles and given plenty away—but nonetheless, the ones I've decided to keep (or, in a few cases, been unable to foist on others) have been accumulating right there, one at a time, since August of 2015. And of course, the issue is compounding, since the more bottles I get, the more slowly I consume all the whiskey I already own.
So when my editor suggested I do a post on organizing a whiskey collection, I decided the time was ripe for a reckoning.
The first step, obviously, was to find a new home for it. I had a sort of TV stand/bookshelf lying around, which once housed some game consoles and happened to be almost the perfect size for most of my growing collection (if you need more space, take a look at some of these home bars for inspiration). A few bottles were too tall to fit on the bottom shelf, but I figure I'll have to expand to the top soon enough anyway. I also have a wooden box full of Rock Town sample bottles that wouldn't fit anywhere neatly, so I used it as an extension of the shelf: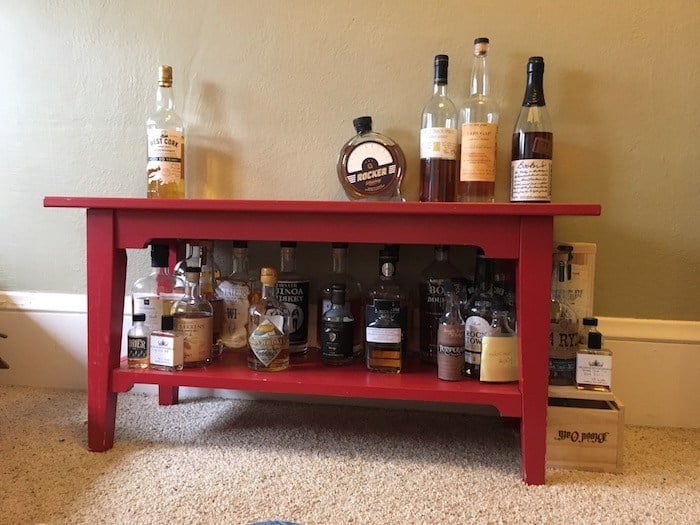 There are as many ways of organizing a whiskey collection as there are kinds of whiskey, and the optimal system will depend on what you've got. Grouping whiskeys by style and/or region is the most basic strategy, but if you have a huge bourbon collection, for example, you'd also want to use some secondary level of organization, like distillery or age. I can also see a "niceness" categorization being useful—if you host parties often, a special section for everything you're willing to offer to randoms could come in handy.
My collection is not huge, skews heavily American-made, and includes tons of little sample bottles, so I broke it down simply into single malts (far left), ryes (far right, on the Blood Oath box), bourbons (far right on the shelf), American whiskeys (to the left of the bourbon), and some oddballs in the remaining space, including two four-grain whiskeys and Corsair's quinoa whiskey. Everything that was too tall or too weird-shaped (ie the oil can-inspired Rocker Whiskey) to fit on the bottom went up top.
Conveniently, the multitude of baby-size bottles I have offers an easy view of the bigger bottles without having to move everything. You can also buy little stairs like you see behind bars to accomplish the same thing—with or without LED lighting.
If you care more about curating your Instagram than ever finding a specific bottle, you could take a cue from book Pinterest and organize everything by color, or height. After all, why keep all that whiskey around if you can't show it off?

Editor's Note: This whisky was...
Katelyn is a freelance writer in Portland, Oregon. She's a regular contributor to the Whiskey Wash with an affinity for the unique and weird side of whiskey.