When it comes to whiskey, there are curious newcomers, appreciative fans, adventurous devotees, judgmental aficionados, and rabid collectors – and then are the cult maniacs. The latter category is a relatively new thing, with admirers of certain distillers or brands who are so obsessed with certain whiskeys that calendars are marked with product release dates like special birthdays, anniversaries, or a long-awaited reunion tour concert from a beloved band.
Most established whiskey producers keep a limited stock of excess whiskeys with unique traits (cooperage deviations, special barrel finishes, interesting mash bills, extreme storage conditions, etc.) in their warehouses that never made it into regular blends or other special releases. It's not that this whiskey is bad, per se, it just wasn't right for a certain job, but might work beautifully in another blend or as a single cask bottling. Instead of letting it go to waste, it's released as a rare, limited edition, one-off product, which, of course, is something fans and collectors go especially nuts about.
These limited editions have been so successful for some producers, they have decided to mine their warehouses for fan bottlings that are released each year at the same time. Three of the most famous fan favorite annual releases come from Ardbeg for Ardbeg Day in May, Laphroaig Cairdeas in late summer and in Colorado, Stranahan's Snowflake in early December.
For both Ardbeg and Laphroaig, their special releases came about to coincide with Islay's annual May Festival of Malt and Music, when the distilleries decided to have an open house for visitors as well as release special whisky. Brendan McCarron, who oversees whisky stocks for the Glenmorangie Company, says "In 2012 Ardbeg Day became a global event, enabling the whisky's passionate international following to take part in a worldwide celebration of all things Ardbeg in their own country… In 2015, Ardbeg Day celebrated the single malt's 200th anniversary by looking forward 200 years to a retro-futuristic version of Islay in 2215. For 2016, Ardbeg Day became Ardbeg Night, as fans at 215 events across the globe recalled Islay's dark past as a smugglers' haunt [with Dark Cove whisky].
Laphroaig global brand ambassador Simon Brooking adds, "​The first Cairdeas [in 2008] was named by current Distillery Manager John Campbell's grandmother. This bottling was only supposed to be a one-time offer, but it was so successful that it became an annual release."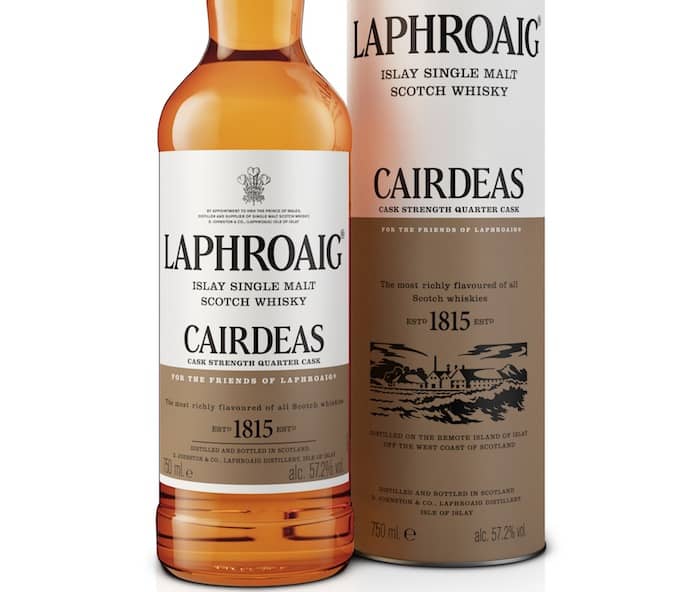 As for Snowflake, Stranahan's Master Blender Rob Dietrich shares a slightly different origin story, "It started out in 2007 as a cask-finishing project by Jess Graber, the founder of Stranahan's Colorado Whiskey. The first three Snowflakes were actually released at the same time, each an individual barrel of roughly 280 bottles each. One was a Port barrel cask-finish, another Hungarian white oak, and the third was Cab Franc, bottled separately. They sat on the shelf for a while, and only sold at our tasting room at the distillery. Each year we started cask-finishing in unique barrels, and releasing only one barrel at a time. In 2011, I started blending in-house cask-finish barrels to create interesting profiles by nose and taste and it took off like a prairie fire. People were lining up the day of the release, and over time, people started lining up earlier and earlier, as more and more people wanted to get their hands on these unique blends."
So how is a fan release determined? Is the whisk(e)y selected by choice or discovered by accident?
McCarron says distillers are always experimenting with new ideas. "In truth, we are always looking for new different casks. We have many 'experiments' maturing in our warehouses, and the reason we released Kelpie [this year's release] with Black Sea oak is that this oak type was ready, and the whisky tasted so good. We wanted to see the difference in this strain of oak, so we toasted rather than charred and kept it at virgin oak. Also from a practical point of view we didn't want to send them to say Kentucky to be filled with a whiskey first. But primarily it was to see what differences this oak had on our whisky." Brooking explains that the typical whisky for Cairdeas is chosen from a specific warehouse for its unique appearance as well as character: "The casks for Cairdeas come from the number one warehouse at Laphroaig. The color is usually lighter than other Laphroaig expressions, as the liquid is exposed to the traditional Islay dampness."
Dietrich goes by batch sample: "The whiskey always tells me when it's ready. When I create a Snowflake batch, I will take samples from each of the cask-finishes and create several different batches by nose and taste and then narrow them down to the one that blows me away. For example, I might put one part tempranillo, two parts Cognac, and one part malbec, and that is a batch. Or two parts madeira, three parts sherry, one part sangiovese, and that would be a batch, and so on. I might build a dozen or more batch samples, and then, over a period of several weeks, narrow it down to the batch I think is the best to release that year."
Fans are so integral to the success of these special releases, which begs the question: Does fan reaction ever have an impact on the final blend? On Islay, it seems fan opinions played a role in the selection of this year's Cairdeas, which returned to a more traditional style after playing with various fortified wine finishes. Says Brooking: "We are always listening to our fans and taking their opinions into consideration when we develop a new expression. This year's Cairdeas was, in part, a result of the extraordinary popularity of our Laphroaig Quarter Cask, so we decided to create a cask strength version to celebrate the Friends of Laphroaig and our fans since we knew that there was so much appetite for that particular expression."
McCarron adds: "Our Ardbeg Day limited edition releases are really an opportunity to play around with new, exciting twists on the classic Ardbeg style, so we're always listening to what Ardbeggians have to say about them! Last year's Ardbeg Day release – Ardbeg Dark Cove – was a more unorthodox take on our classic house style, driven by the influence of dark sherry casks, so this year we decided to release something slightly more traditional based on the big, raw flavors of Ardbeg Ten Years Old, which resulted in Ardbeg Kelpie."
For Dietrich, it's all about building on past successes and pushing the limits: "In a way, yes. I try to always out-Snowflake the last Snowflake, by tasting last year's release against the batches I am building for this year's release. I want to ensure that the flavor profile is very different from what our fans had last year, to keep things unique and fresh. As in nature, no two Snowflakes are alike, and that is what Snowflake fans are expecting. Something unique and unusual, something special."
With these three releases already out in the whiskeysphere, we look forward to what comes next in 2018. Cheers!

InchDairnie Distillery recently announced its...
Amanda Schuster is a freelance writer, marketer and consultant and the Editor in Chief of online drinks site The Alcohol Professor. With advanced training in both wine and spririts, she likes to think of herself as "bi-spiritual." She also makes jewelry and strives to find at least one weekday afternoon...