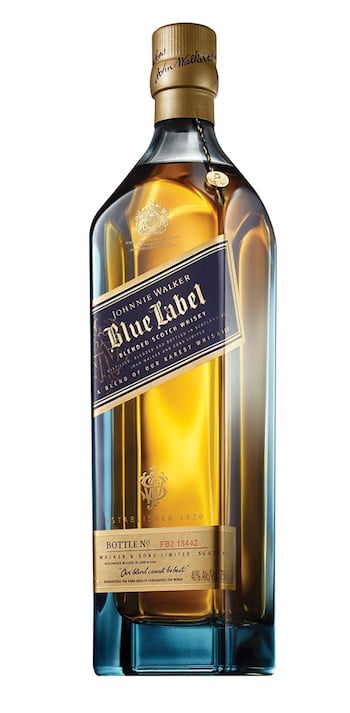 We have arrived. Beginning with Red Label, our journey thus far has seen us making stops at Black Label, Double Black, Green Label, Gold Label Reserve, and Platinum Label on our way upwards through Johnnie Walker's Label series. The crown jewel of the series is Johnnie Walker Blue Label, which is described as being a "blend of [Johnnie Walker's] rarest whiskies."
According to the folks at Johnnie Walker, the roots of Blue Label reach back to 1867 when Alexander Walker – son of John Walker – created what he called "Old Highland Whisky." The story goes that the intent was to create a blend that would feature flavors indicative of the "four corners" of Scotland. Today's Blue Label is an inarguably top-shelf offering capping off the standard lineup from Johnnie Walker.
No matter how one encounters Blue Label, the presentation is always going to be impressive. There are a variety of sizes available, from sampler collections to 1.75 ml oversized bottles. Even the smaller sampler-sized bottles are typically offered in elaborate gift boxes complete with a card and envelope in order to further personalize the gift. The transparent bottles have a subtle blue hue to them through which the whisky inside takes on shades of vibrant green in addition to gold.
Each bottle of Blue Label is individually numbered on the lower label parallel to the base. Blue Label features no age statement and is bottled at 40% ABV (80 proof).
Tasting Notes: Johnnie Walker Blue Label
Vital Stats: 40% ABV (80 proof), no age statement, blended Scotch whisky, available between $175-250 per 750 ml bottle.
Appearance: Amber with bright gold notes around the periphery. Strong legs.
Nose: Cola, bitter cocoa, cedar wood shavings, roasted coffee beans, brown sugar, almond milk, subtle leather and very light tobacco smoke.
Palate: Sweet, subtle, and appropriately luxurious. Wisps of peat smoke, hints of charred oak, rich vanilla cream, sweet chili pepper flake, bittersweet chocolate. Blue Label transitions into the finish like cotton candy melting in the mouth: almost imperceptible from mid-palate through the lingering notes of caramel, cocoa, peat, and cinnamon. The burn is almost non-existent, but very satisfyingly so. Nothing feels like it is muted or missing. Cigar smoke arrives late in the finish.
Conclusion:
I generally steer clear of describing any whisky as being "smooth," as it doesn't really offer any detail as to what exactly "smooth" means. That being said, if there is a whisky that can be justifiably described as being smooth, Johnnie Walker Blue Label is it. The mouthfeel of Blue Label is round and full and soft. The dram easily coats the mouth and feels warm without even a hint of alcohol burn. The finish is soft, layered, and very long. The flavors are balanced exceptionally well throughout. Blue Label is the very definition of dangerously drinkable.
In case it has not been apparent in this series up to this point, I happen to like Johnnie Walker as a brand. There is unlikely to be significant debate as to whether or not Blue Label is a good whisky. It is very good and probably worthy of being considered an exceptionally good whisky, especially amongst whiskies in continuous production and so widely available. The real question becomes whether or not Blue Label is worth the price it commands, especially while considering it is in continuous production and so widely available. The rareness comes not so much from the unlikelihood of encountering a bottle but rather from one's willingness to hand over a not-insignificant amount of money in order to add a bottle to one's own bar.
I know for myself, the question is not whether or not I would like to leave a store with a fresh bottle of Blue Label under my arm, but rather when I will feel the time is right to do so. After all, there is always a bottle sitting behind the register. The challenge becomes one of identifying an appropriate circumstance under which to finally make the investment. Once made, it is an easy one to live with.
FINAL SCORE: 92/100

InchDairnie Distillery recently announced its...
When not sampling whiskey, Joshua St. John can most likely be found running the trails of the Pacific Northwest surrounding his home in Portland, Oregon. A lifelong world-traveler, Joshua was first introduced to single malts while visiting distilleries in Scotland, and continues to explore the world through the countless interpretations...