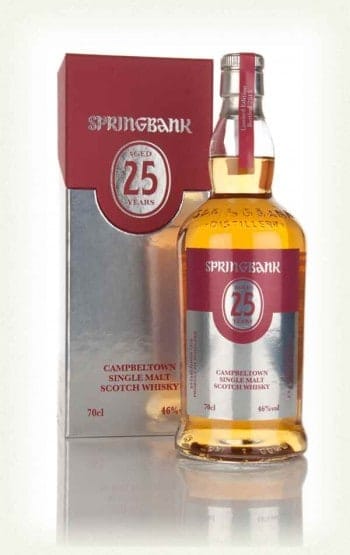 Founded in 1828, Springbank is the oldest family-owned independent distillery in Scotland. The distillery is located in Campbelltown, a community on the Kintyre peninsula, which is just southeast of Islay. Designated a "protected locality" for Scotch whisky by the United Kingdom, this long, thin piece of land has been almost synonymous with distillation for centuries, and its fortunes have waxed and waned alongside the world's desire for malt.
At one time, Campbelltown was home to nearly 30 distilleries, and it billed itself "the whisky capital of the world." In 1891, demand for Scotch whisky was so enormous that Campbelltown reportedly enjoyed the highest per-capita income in all of Great Britain. The city had everything it needed to sustain a thriving whisky industry: ample peat reserves, rich barley fields, clear water, and proximity to a bustling port.
Yet Campbelltown would face great adversity. David Strik writes in his 2005 book The Distilleries of Campbelltown: The Rise and Fall of the Whisky Capital of the World, "Campbelltown's once great distilling region has fared the worst in Scotland, probably worse than any other in the world; a few shock closures in the middle of the 19th century and then an all-out slump after the Great War. Looking back now, it seems an incredible turnaround for a town that seemed destined to be the epicenter of distilling in Scotland."
Today, just three distilleries remain after the heyday of the late 19th century: Glengyle, Glen Scotia, and Springbank. Of the three, Springbank is the largest and most vital, operating virtually without interruption through even the most turbulent years in the scotch industry. Once-defunct, Glengyle was recently revived and rebuilt by the owners of Springbank, and is now marketing single malt under the Kilkerran brand. Glen Scotia, one of the smallest working distilleries in Scotland, was recently acquired by Loch Lomond Group and is planning an expansion.
Springbank is particularly proud of its vertical integration, describing itself as the most self-contained distillery in Scotland. Every step in the whisky-making process, from floor malting through bottling, takes place onsite. Springbank uses a direct-fire wash still, and the Springbank wash is distilled two-and-a-half times. Little of Springbank's distillate is sold to blenders; most makes its way into one of the distillery's three single malt expressions: Springbank, Hazelburn, and Longrow.
This 25-year-old Springbank single malt I'm reviewing was released in 2015, which means it was distilled in 1990, the tail end of another difficult time in Campbelltown. On their website, Springbank describes the 1980s as: "Another general downturn in the whisky business sees a wave of distilleries close across Scotland. Springbank continues to sell whisky, though production is sporadic at best." Yet even during this crisis, Springbank had the forethought to lay down stocks that would one day become this limited-edition release.
The contents of this bottle spent most of their time in bourbon and sherry casks before a final maturation in port casks. Just 900 bottles were made for worldwide distribution.
Tasting Notes
Vital stats: 46% ABV, 25 years old, retail price around $500
Appearance: Clear honey-gold
Nose: The immediate impression after pouring the glass is ripe stonefruit and pear – sweet, perfumed, almost juicy. The sweetness is akin to sugar rather than honey – clear, focused, direct. Underneath there's a rich, buttery backbone of porridge and sun-warmed hay along with a thread of cocoa, raisins, and prunes that hints at the port finish.
Palate: The entry brings dark-skinned plums, sweet cream butter, and candied grapefruit peel dipped in milk chocolate. Leathery, almost tobacco-like flavors in the mid-palate prelude a light hint of medicinal peat, a bit rubbery but nothing overwhelming. Finish is long and cocoa-inflected with soft bitterness and a nice hit of salt, like some kind of fancy artisanal truffle.
Conclusion:
The overall impact is balanced, well-integrated, sophisticated, and a bit understated. There's nothing explosive or ostentatious about this single malt, but boy is it ever delicious – a lovely balance between sweet and bitter, rich and acidic, salty and soft.
FINAL SCORE: 93/100

One of the best-known Irish...
Margarett Waterbury is the author of Scotch: A Complete Introduction to Scotland's Whiskies and a full-time freelance writer and editor. Her work has appeared in Whisky Advocate, Food and Wine, Spirited Magazine, Artisan Spirit, Edible Seattle, Sip Northwest, Civil Eats, Travel Oregon, Artisan Spirit, and many other publications. She is...