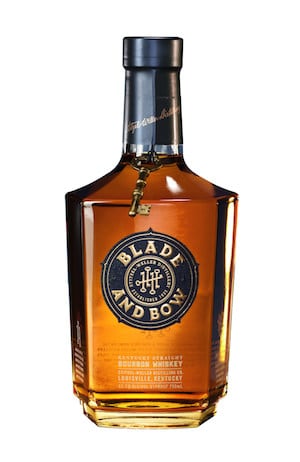 Editor's Note: This whiskey was provided to us as a free sample to review by the party behind it. The Whiskey Wash, while appreciative of this, did keep full independent editorial control over this article.
Very much in line with the recent super-hyped Orphan Barrel releases, the Blade and Bow bourbon is Diageo's new overture at whiskey collectors with a taste for old, rare whiskey of murky origin. Our 3.5 oz sample bottle arrived packaged inside a non-functional miniature barrel approximately six times its volume. I imagine most of these tchotchkes moved quickly from mailroom to trash can, but mine was put to a second (perhaps more dignified) life as a planter for some lobelias.
In addition to the sample bottle, the barrel contained a breathless marketing insert as well as a novelty skeleton key strung on a ribbon. Keys like this will also be appearing at retail, as each bottle being sold in stores will be packaged with one of five different ones, representing "the five steps of crafting bourbon—grains, yeast, fermentation, distillation and aging." Diageo urges you to collect all five keys, which you may someday be able to actually use if you visit the old Stitzel-Weller distillery in a mysterious "interactive consumer experience" currently in the works.
It is difficult to tease out what exactly is in the bottle, where it comes from or how old it is though, according to Diageo, there is some "of the last bourbon produced" from Stitzel-Weller within. The bourbon, before bottling, is cycled through a solera system, which we've covered before, that never completely drains its feed barrels, resulting in an American whiskey that is a mix of various ages. There is also a much more limited edition, 22-year old version of Blade and Bow which sees quite a price jump at $150 for a 750 ml bottle.
Here are my thoughts on the standard, light amber colored Blade and Bow bourbon after tasting the provided sample:
Nose: Floral notes arrive first (violet and lavender), competing with strong notions of cherry and cinnamon red hots. There's a hint of very ripe honeydew melon, too, boxed in by more typical oak aromas and generic bourbon "spice".
Palate: Green apple mingles with pear, peach, licorice, and anise hyssop. There is a strong note of violet lozenge in the finish, which gives the spirit a perfumery character. The mouthfeel is somewhat thin and dry, suggesting there might be some more well-aged and oaky bourbon in the mix.
Finish: The dusty and tannic oak character gives the finish a drying and astringent quality, which is accented pleasantly by some burnt orange peel.
Overall, I found the Blade and Bow bourbon to be enjoyable, but relatively unremarkable. There's not a lot of richness in this glass, but the floral flavors are captivating and the oak isn't as overwhelming as some recent releases in the bourbon world. At $50 for a 750, there are certainly better buys out there but you could definitely do worse. I give this whiskey a score of 86 points.
Margarett Waterbury is the author of Scotch: A Complete Introduction to Scotland's Whiskies and a full-time freelance writer and editor. Her work has appeared in Whisky Advocate, Food and Wine, Spirited Magazine, Artisan Spirit, Edible Seattle, Sip Northwest, Civil Eats, Travel Oregon, Artisan Spirit, and many other publications. She is...