Wolfburn has the honor of being Scotland's northernmost mainland whisky producing distillery. Its first single malt was released in March 2016. The facility is located a mere 350m from the ruins of the original 19th century distillery of the same name. Both distilleries hail from the town of Thurso. Nobody knows for sure, but it's rumored that the first Wolfburn opened around 1822 and remained operational until it was mothballed in 1877. Let's hope the latest incarnation lasts a good deal longer!
I rather like Wolfburn's logo. This caricature, endowed with more character than scientific accuracy, reminds me of some charming biologists' pen and ink sketches from the late 18th century. The face almost looks cat-like. As a matter of fact, the archaic style of its rendering brings to mind the Clynelish wildcat. I'm also reminded of fairy tale depictions of wolf-as-villain.
Contemplating old-fashioned drawings of wild beasts–whether on pub signage, or on the labels of bottles–makes me feel like having a drink. Thankfully, I've got two bottles of Wolfburn sitting on my desk. The first, simply titled "Hand Crafted," offers the illustration of a cask on its label. A three year-old upstart, this whisky was created in the old school way, by pot still distillation, without all of the bells and whistles of automation. Worts were fermented for approximately 75 hours, allowing "yeasty beasties" to mellow the wash. Spanish and American oak were used for maturation in a traditional dunnage warehouse. This three year-old whisky was released in March of 2016.
Aurora, a late 2016 release, was made from spirit laid down in a combination of American oak and Spanish Oloroso sherry casks. 40% was aged in second-fill quarter casks, 40% was aged in first-fill ex-bourbon barrels, and the remaining 20% was aged in first-fill Oloroso Sherry hogsheads. Aurora is also three years of age.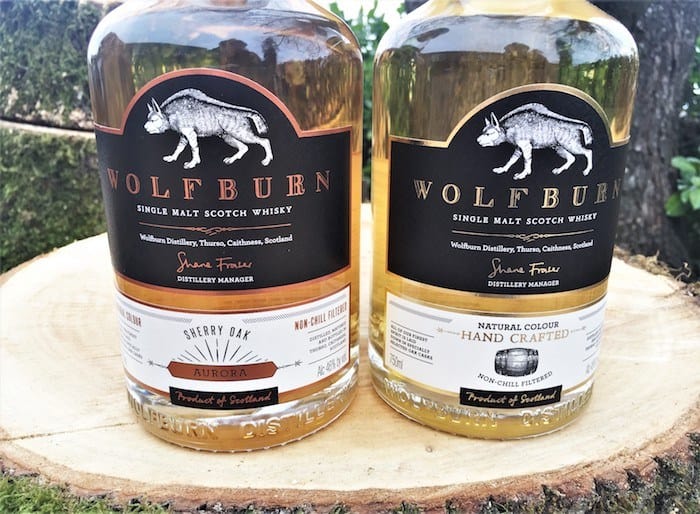 Tasting Notes: Wolfburn Hand Crafted
Vital Stats: 3 years old; natural colour / non-chill filtered; 46% ABV / 92 proof; 750 ml; $50-70 price range.
Appearance: White wine color with fast, young legs. Very little in the way of appreciable beading.
Nose: Malt ascends first with notes of cut grass, green apple, and Pine-Sol. Next comes nutmeg, Nilla Wafer, and the eau de toilette of a very young spirit.
Palate: Youthful spirit prevails, along with a sharp tang that bites back. The addition of water brings out dried flowers, Chinese pepper, and Fuyu persimmon. As a little time goes by, the malt presence in my glass starts to resemble Cheerios, along with a more ethereal, yeasty note which might be likened to sourdough bread. There's also a spicy brush with spearmint, clove, and licorice. The finish seems pretty vacant. There's no point in asking, you'll get no reply, except for a very weak smoke signal . . . most likely from aging in refill casks that formerly held peated whisky.
Rating: 3/5 stars
Tasting Notes: Wolfburn Aurora
Vital Stats: 3 years old; natural colour / non-chill filtered; 46% ABV / 92 proof; 750 ml; $55-75 price range.
Appearance: Pale straw color with hasty, unrefined legs. The beading of this whisky is more encouraging. Even still, it lurks in my glass like some untamed elemental spirit.
Nose: The malt presence, again, is front and center with notes of buttery croissant, pineapple, honey dew melon, and horsehide leather.
Palate: Musty curtains, and a dank, earthy mouth-feel can sometimes be a good thing, especially if you're a D&D dungeon master. There's also a pair of notes that seem to go together: Cream of Rice cereal with soggy white toast. Hey, don't cringe. I used to love that combination as a young boy. My next sip reveals citrus–specifically orange–or is it lemon? I'm feeling a bit indecisive because the whisky is less than forthcoming. No matter, there's also a caress of steel at the sea shore, metallic and salty. What else? Pumpernickel, candied ginger, vanilla bean. And let's not forget the clover honey, along with chimney smoke in the distance.
Note to self: try pouring some Aurora into your flask to take to a holiday party. Even without checking, I suspect this single malt Scotch might play off the slightly metallic overtones in a stainless steel flask. As for the finish, it is bittersweet, understated, and comfortably numb. A blush of Oloroso seems just what the doctor ordered. Most very young spirits cannot manage these sorts of subtle, fruity notes.
Rating: 3.5/5 stars
The Takeaway
Either of these releases are worth trying if you want to learn what high-quality, very young whisky tastes like. In fact, each of the bottles being reviewed today is as young as possible without being disqualified as a single malt Scotch. That's right, in each case we're talking about three years of age.
Confidentially, I can't remember the last time I enjoyed a whisky this young. Bruichladdich's "PC" series grabbed my fancy from 2007-2014. PC6, PC7, and PC8 were quite good, although PC12 was a personal favorite. So you see, I'm not an ageist. Fiery young flames can be as satisfying as mature age statements. To my sense of decorum, however, there is a limit as to how young is acceptable. Seven years of age is usually the youngest I will go with a single malt, but there are always exceptions.
As for future prospects from the Town of Thurso, I'm quite curious to see what else comes out of Wolfburn's dunnage warehouses. In fact, I will go on record as stating that I would gladly try future offerings from this northern-most mainland Scottish distillery. And if the next bottle that comes my way happens to be four or five years old . . . well then, so much the better.
Kirk discovered the brilliance of Scottish whisky in 1987 while vacationing in Edinburgh. Over the course of three and a half decades that followed, he's built upon a knowledge of distilleries and the industry, as well as world whisky. Kirk prides himself on speaking honestly while avoiding the usual flattery...